RUSSIA AND UKRAINE AGREE TO DISAGREE ON GAS SUPPLIES
Publication: Eurasia Daily Monitor Volume: 2 Issue: 228
By: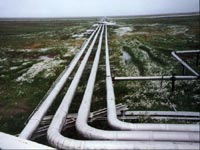 Despite top-level discussions and official pledges, Russia and Ukraine remain deeply divided over natural gas supply terms for 2006.
Russia is satisfied with Ukraine's readiness to review prices for Russian natural gas to be supplied to Ukraine and then piped to Europe via Ukrainian territory, President Vladimir Putin said after a December 7 telephone conversation with his Ukrainian counterpart, Viktor Yushchenko. During the conversation, Putin reportedly hailed Yushchenko's statement that Ukraine is ready to review prices for Russian gas and transit tariffs.
Meanwhile, Yushchenko's office said it was the Ukrainian President who had called Putin to discuss the issue. In either case, both leaders agreed, "This issue needs to be solved, giving special attention to the economic situation," Yushchenko's office said (Interfax, RIA-Novosti, December 7).
Russia's energy giant Gazprom now wants a three-fold price increase for Ukraine next year and payment for gas deliveries in cash. The gas giant also accused Ukraine of "sabotaging" bilateral agreements, which are crucial for securing stable gas supplies to European customers. Gazprom insists that Ukraine's failure to sign 2006 gas supply contracts with Russia threatens steady gas supplies to Europe.
Under the current arrangements, Ukraine buys natural gas from Russia at $50 per thousand cubic meters (tcm, or some 35,300 cubic feet) when the gas is pumped through its territory. But now Moscow wants to abandon the current barter system.
Gazprom demands that Russia's western neighbor pay the same price for natural gas as its European customers, which is expected to reach $160/tcm in 2006. Gazprom has also accused Ukraine of siphoning off Russian gas transiting the country.
Gazprom said that Ukraine had undermined the natural gas talks with Russia. "Yet another round of talks between Gazprom and the Ukrainian delegation achieved no results, despite the Ukrainian leadership's pledges to promptly resolve issues of gas supplies and transit on the basis of market principles," the company said in a statement on December 6.
On December 2 Yushchenko declared he was ready to "resolve the problem of Russian gas supplies and transit via Ukrainian territory in a transparent way, basing on market principles." He said Ukraine should resolve the issue "in the near future."
Subsequently, Ukraine came up with a sort of compromise solution. Valery Yazev, head of the State Duma's energy committee, said Ukraine had offered to buy 17 billion cubic meters of gas from Russia at the current price of $50/tcm, with another 8 billion cubic meters to be supplied at $80-82/tcm at the beginning of the year with prices rising to $90-96/tcm in the fall.
However, Gazprom indicated on December 7 that the offer was unlikely to be accepted. Gazprom spokesman Sergei Kupryanov suggested that the offer had changed little. "Essentially they're proposing to leave the price as it is," he said.
Ukraine's gas company, Naftogaz, also says it has a contract through 2013 with Gazprom that stipulates the price of gas as $50 per thousand cubic meters. Gazprom insists that the price of gas is to be renegotiated every year.
Meanwhile, Russian officials made little secret of the economic motives behind the dispute. Yazev also said that increasing prices to $160/tcm would earn Gazprom $2.6 billion a year in Ukraine, of which the Russian state coffers would receive $1.15 billion.
Not surprisingly, the Russian business community supports Gazprom's position in its dispute with Ukraine, a Russian business association said Wednesday, December 7. "We back Gazprom's position," said Delovaya Rossiya association head Boris Titov. "We should uphold our economic interests," he added. "We should show Ukraine that it could not base its economic policy on cheap feedstock supplies from a neighboring country." Titov also said Russia could find alternative ways for transporting gas to Europe and bypass Ukraine (RIA-Novosti, December 7).
The bilateral gas dispute has been seen as an indication of Russia's wariness regarding Ukraine's drift towards the West. Putin has described the past year as a year of missed opportunities. At a December 7 meeting with visiting Ukraine's parliament speaker, Volodymyr Lytvyn, Putin said that earlier the relations between the two countries had been more dynamic and suggested top Ukrainian officials should visit Russia.
"The Russian President made a blunt assessment" of the state of bilateral relations, the state-controlled Channel One commented. Ukraine insists on preferential treatment by Gazprom, something absolutely unacceptable for us, Voice of Russia radio added (Voice of Russia, December 7).
Lytvyn conceded that the Ukrainian side was more to blame for the gas dispute. However, he said bilateral annual trade could reach $20 billion by the end of 2005 (Interfax, December 7).
Russia remains Ukraine's largest trading partner and gas trade is important for the Ukrainian economy. In 2004, Russian gas transit earned Ukraine $1.5 billion. Russia supplied over 100 billion cubic meters of gas to Western Europe through Ukraine in 2004 and plans to export 112 billion cubic meters this year, or about 80% of all Russian gas destined for the EU.
Subsequently, Russia moved to calm European Union fears over its dispute with Ukraine. "We should sign an agreement on transit with Ukraine very soon," Russian Prime Minister Mikhail Fradkov told reporters after talks with Jose Manuel Barroso, president of the European Commission (RIA-Novosti, December 7).
In the meantime, the gas dispute apparently also has political dimensions. Gazprom has indicated plans to raise 2006 gas prices to $110/tcm for Georgia, up to $160/tcm for Moldova, and the Baltic states Lithuania, Latvia, and Estonia from $80-95/tcm to $120-$125/tcm. Russian politicians saw all these former Soviet nations as not friendly to Moscow. Simultaneously, gas prices for allied Belarus were to remain around $50/tcm.