Russia Begins Tsentr 2011 Military Exercises
Publication: Eurasia Daily Monitor Volume: 8 Issue: 169
By: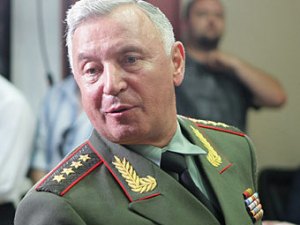 This week Army-General Nikolai Makarov, the Chief of the Russian General Staff told journalists in Moscow that the beginning of the Tsentr 2011 military exercises with Russian and Central Asian allies Kazakhstan, Kyrgyzstan and Tajikistan will be a test of the ability of the Collective Security Treaty Organization (CSTO) to react to the threat of possible mass uprisings, "like in North Africa and the Middle East." According to Makarov, some 12,000 soldiers, hundreds of tanks, aircraft and other heavy equipment will be involved in the exercises that will be personally supervised by President Dmitry Medvedev. The development of events in Central Asia "is questionable," added Makarov, "We will be testing our abilities and preparing for the worst possible political developments" (RIA Novosti, September 12).
The Tsentr 2011 exercise coincides with Union Shield 2011 with Belarus and a limited Ukrainian participation involving another force of some 12,000 soldiers and hundreds of pieces of heavy equipment. Union Shield 2011 has also been declared as part of the preparations to counter possible "Arab Spring" type disturbances (EDM, September 13). The massive military exercises aimed at testing the ability of Russian-lead CSTO forces to suppress "Arab Spring" style revolutions came after a proposal was circulated last month by the Medvedev-sponsored think-tank – the Institute for Contemporary Development (INSOR) – to enhance the ability of CSTO forces to intervene without the need to reach consensus among all member nations (EDM, September 8, 9, 14).
Since the prototype CSTO appeared in 1992 as the Tashkent collective security treaty, Moscow has been trying in vain time and again to transform the amorphous post-Soviet structure into a genuine military alliance, modeled on NATO. The member states that also include Armenia and Uzbekistan are authoritarian or outright dictatorships which seem to have a common goal of guaranteeing perpetual rule by their corrupt elites. NATO nations share common values and interests, while the CSTO members unite as autocrats and tend to be perpetually paranoid over the true intentions of their neighbors, in particular Russia.
Uzbekistan has steadfastly opposed the use of CSTO collective rapid deployment forces in internal conflicts within member nations. The Uzbek President Islam Karimov did not attend the informal CSTO summit last month in Astana that discussed the threat of "Arab Spring" instability (Kommersant, August 13). The Belarusian dictator Alexander Lukashenka, who is now the president of the CSTO, after a meeting in Minsk with CSTO's Secretary-General, Nikolai Bordyuzha, told journalists, Moscow has agreed to use CSTO forces to prevent internal revolutions or "constitutional coups" (ITAR-TASS, August 31). After some hesitation the Kremlin accused Lukashenka of deliberately distorting the situation and that Russia had no intention to defend his regime by suppressing the Belarusian opposition (Izvestiya, August 7). Bordyuzha later announced there is equally no plan to change the CSTO as proscribed by INSOR: "There is no possibility of any reform of the CSTO – only cosmetic changes to its charter are proposed" (Interfax, September 9).
Lukashenka is a personal adversary of the ruling Russian tandem – Medvedev and Vladimir Putin – who would be glad to see him fall. The INSOR think tank was inaugurated by Medvedev in 2008 and has been actively promoting liberal political reforms. None of its projects have ever been endorsed by the ruling tandem and it has long become a laughing stock in Moscow, treated with contempt by the ruling bureaucracy, since it is well known that Putin hates INSORs liberal ideas.
The INSOR report about CSTO reform may have been dead on arrival, but the real question is whether the ruling Moscow kleptocracy really wants to risk its power and wellbeing by embarking on any costly and risky foreign adventure to suppress possible future popular uprisings within the CSTO. And is the Russia military ready to do the job and effectively suppress public unrest or insurrection within the near abroad or in Russia itself?
Makarov told journalists the Russian military leadership wants to radically change its combat posture to be able to act as NATO did during the Libya campaign, launching air operations with precision-guided weapons, and practically no ground troops or losses. Makarov criticized the latest modified armor produced in Nizhni Tagil Uralvagonzavor – the T-90S main battle tank and concluded the defense ministry will not procure it. Makarov announced that all the Israeli-procured unmanned aerial vehicles (UAVs) will be deployed in action during the Tsentr 2011 exercises as well as a newly developed tactical computerized command and control system. Makarov praised French armor and long-range artillery and promised to end the procurement of Russian-made non-precision weapons. In another departure from traditional reliance on the massive use of indiscriminate firepower, a decision was announced to create separate sniper units within every army combat brigade, "since the importance of snipers has increased, especially in urban warfare" (RIA Novosti, Interfax, September 12).
Today snipers are attached to infantry platoons; they are mostly inadequately trained conscripts serving for one year and equipped with Soviet-made low quality SVD 7.62mm rifles. Makarov announced that foreign sniper rifles may be procured. At present the snipers of the Federal Security Service (FSB) special antiterrorist Alpha forces are armed with British AWM-F rifles with special 0.338 Lapua Magnum bullets that are not produced in Russia. The announcement by Makarov has stirred public reaction in Moscow, with some commentators assuming the newly formed army sniper force may be used to suppress political unrest in Russia itself (www.lenta.ru, September 13).
Makarov seems to have envisaged the deployment of snipers primarily in Central Asia, but of course, it is imperative to first acquire the capability to deploy various precision battlefield weapons (including well-armed snipers), while the actual location of the future battle is not yet confirmed. No matter how successfully the Tsentr 2011 exercise is performed or how effectively the CSTO is reinvented, without Western help in the form of arms and technology such as British rifles or French Mistral assault ships, Russia cannot develop a military force capable of projecting any valid force outside its borders.