RUSSIA "BOOSTS" MILITARY PRESENCE IN CENTRAL ASIA
Publication: Eurasia Daily Monitor Volume: 5 Issue: 111
By: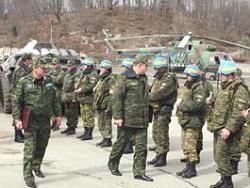 Russia's plans to "reinforce" its airbase at Kant in the Kyrgyz Republic and further strengthen its 201st Motor Rifle Division (MRD) in Dushanbe, combined with other elements of boosting its defense cooperation with the Central Asian states, indicate evolving trends in the region's security dynamics. The timing of such moves to raise Russia's military profile in Central Asia, albeit through the use of minimal quantities of hardware, suggests that Moscow could be playing on concerns within these regimes about the outcome of the U.S. presidential elections, the future nature of American defense, and security cooperation on Russia's southern periphery.
The earliest indication that the base at Kant might receive additional Russian reinforcements came from the head of the Russian Air Force (VVS) and was followed by wider political comment on its importance from within the CSTO. On June 4 Commander-in-Chief of the Russian Air Force Colonel-General Alexandr Zelin, announced plans to reinforce the base with more aircraft but was short on details. His statement centered on sending An-26 transport aircraft and three more Su-27 fighters to the base from the Krasnodar aviation school in Russia. On June 5 Secretary General of the CSTO Nikolai Bordyuzha suggested that the additional deployment of elements of the Russian Air Force to Kant could further establish Russia's seriousness about strengthening the combat potential of the contingent based there, as well as give it greater importance. Kant, which opened in September 2003, has approximately 500 personnel. It is equipped with Russian Su-25, Su-27, An-24 and Il-76 aircraft, along with Mi-8 helicopters, and is supported by Czech-built L-39 training aircraft and helicopters, which Bishkek contributed for use in search and rescue operations (Kabar, June 4; ITAR-TASS, June 5).
Clearly, the additional deployment is not an attempt to build up forces or substantially alter the current structure of the base or achieve any meaningful increase in the combat capabilities of the CSTO airbase. It is, in fact, almost a token effort to increase the political significance Moscow attaches to the base. In order to define the nature of the trends in Russian security thinking on Central Asia, this must be evaluated in the context of Moscow's wider efforts to "boost" its presence in neighboring Tajikistan, where there are signs of a similar pattern but with a little more flag waving. Bordyuzha himself made the linkage between these issues, commenting that "Russia deployed its 201st base in Tajikistan and the airbase at Kyrgyzstan's Kant precisely for the purpose of giving greater security to the CSTO member countries in Central Asia." Again, the "rearmament" of the base in Dushanbe, which had housed the 201st MRD prior to 9/11, serves largely as a way of providing emergency support for border forces on the Tajik-Afghan border and reveals a light-touch approach by the Russian military. It is equally noticeable, at a time of controversy and misunderstanding about the use of Russian armed forces in Abkhazia, that within Central Asia the style is less controversial and, in fact, is "low-key." In the effort to strengthen the 201st base in Dushanbe, the delivery of Russian military hardware has been slowed down by delays caused in transiting the equipment through neighboring Uzbekistan. Bordyuzha believes these technical and logistical issues will soon be resolved, allowing the successful completion by the set deadline (ITAR-TASS, June 5).
Noteworthy was the recent visit to the region of Deputy U.S. Secretary of State on Eurasia David Merkel. He emphasized the continued importance of Central Asia to the United States, noting that when President George W. Bush announced the new national security strategy in 2006, Central Asia was designated as an area of permanent foreign policy interest for Washington. However, in an interview with Gazeta publishing house, Merkel explained, "We have many issues on the desk concerning Central Asia; they include diversification of global energy sources, combating terrorism, preserving security, ensuring sustainable development and promoting justice and democracy." Democracy has slipped down the agenda, reflecting longer-term trends in the region and in Russia that the U.S. can do little to change (Gundogar, June 4).
Changes in how the West formulates policy toward Central Asia seem inevitable. On June 2 Uzbek President Islom Karimov welcomed U.S. Assistant Secretary of State for South and Central Asian Affairs Richard Boucher in Tashkent. Both sides are intensifying their efforts to heal the bilateral relationship, both countries' agendas for bilateral cooperation are moving closer together. Karimov told Boucher, "Your visit to Uzbekistan will produce good results and will give a new impetus to strengthening relations between Uzbekistan and the United States. Indeed, your visit to Uzbekistan is a wonderful opportunity to discuss the current state of affairs in our relations and the level of our relations and to consider the issues that require discussing in terms of the interests of Uzbekistan and the U.S." (Uzbek Television Second Channel, June 2).
When Russia "boosts" its military presence or offers additional security support in Central Asia, it does so after careful planning, consultation and through multilateral mechanisms, such as the CSTO, which supply an added sense of legitimacy for all parties. In reality, inside the planning staffs of the defense and security structures in Central Asian CSTO member states, there is little appetite for questioning Russia's motives or attempting to misconstrue such actions. The relationship is reasonably stable and works in practical terms. Moscow does not need to set in motion any grand schemes in order to convince its Central Asian allies that it takes issues relating to their security and the security of Russia itself seriously. The slow, steady approach has essentially paid off, serving to build trust and dispel speculation about hidden agendas.