Russia Considers Increased Gas Production
Publication: Eurasia Daily Monitor Volume: 7 Issue: 193
By: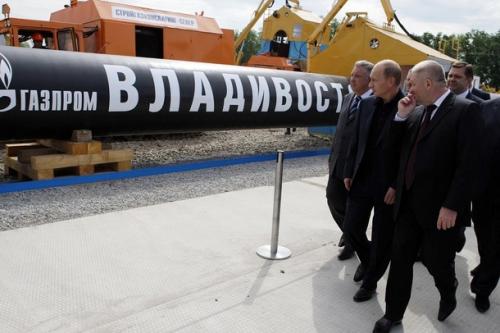 Moscow has reiterated its pledges to develop the Russian natural gas sector and significantly increase domestic production and exports. However, it remains to be seen whether Russia will be able to deliver on its permanently increasing gas output plans against a background of growing domestic costs.
The country is expected to increase natural gas production from the current 650 billion cubic meters (bcm) of gas per year up to 1 trillion cubic meters (tcm) by 2030, Prime Minister, Vladimir Putin, announced earlier this month. Natural gas will have no realistic alternative in the foreseeable future, Putin told a top-level meeting on the development of the country's gas sector to 2030.
The government also pledged to develop the gas sector's infrastructure. Russia will continue developing new deposits and intends to build 25,000 kilometers of new gas pipelines to export natural gas, Putin said. But the energy sector should diversify in order to produce more gas-chemical products domestically, Putin stressed (Interfax, ITAR-TASS, RIA Novosti, October 11).
The authorities also revised upwards their long-term gas export estimates. By 2030, Russia is due to export 455-520 bcm of natural gas per annum, according to Russia's Energy Minister, Sergei Shmatko. Russian gas producers should work to cut their transportation costs so as to make their products more competitive, Shmatko said (Interfax, ITAR-TASS, RIA Novosti, October 11). Therefore, Russian energy officials appeared to concede that growing domestic costs were making the country's gas exports less and less competitive internationally.
As the new plans sounded too ambitious, even largely pliant Russian media outlets voiced some reservations. Ekspert magazine described plans to increase the country's natural gas production up to 1 tcm per year as "super-optimistic" (Ekspert, October 17). In other words, the latest example of governmental over-optimistic thinking apparently did not convince at least some Russian analysts.
Last year, government energy planning included more conservative estimates. Russia's energy strategy to 2030, adopted by the government in August 2009, envisaged the continued increase of the country's gas production. According to the blueprint, the country was expected to extract 885-940 bcm of gas per year by 2030, including exports of 349-368 bcm. The blueprint appeared to be based upon an assumption of increasing output and a largely stable domestic demand, hence the bulk of the planned surplus was destined for exports.
The government's ambitious plans were based on expectations that the country's energy sector would become increasingly attractive to private investors. The blueprint stipulated 60 trillion rubles ($1.95 trillion) in investments in the Russian energy sector by 2030. According to the blueprint, up to 90 percent of the planned 60 trillion rubles in investments in the energy sector by 2030 would come from private sources. In 2022-2030, the government expected some $300 billion to be invested in the gas sector. However, the blueprint apparently lacked any explanation as to how Russia's aging energy facilities could attract huge inflows of new private investments.
The latest gas production and export plans was yet another product of governmental planning based on expectations of increased production and growing international demand. However, in November 2009, the International Energy Agency (IEA) estimated that global natural gas consumption could decline by 17 percent by 2030. In that scenario, the Russian authorities may be forced to review their gas production and export plans to 2030, while the country's gas suppliers would have to focus on the domestic market.
Moreover, Russia's gas giant Gazprom has insisted that its gas exports and domestic sales should be "equally profitable." In other words, Gazprom wants the domestic gas prices to be fully market-based from the beginning of 2011 in order to secure similar margins from foreign sales and domestic supplies. "Equal profitability" is due to bring Gazprom up to 1.5 trillion rubles ($48.7 billion) in the next decade, Gazprom CEO, Alexey Miller, announced on October 11. The domestic market is due to become a major source of investment resources for the company, Miller said. However, in response Putin told Miller that Gazprom's domestic prices must remain "acceptable and economically justified" (Interfax, ITAR-TASS, RIA Novosti, October 11).
Russian domestic gas sales still remain strictly regulated by the government. Natural gas accounted for some 40 percent of Russian energy consumption in 1991, but the figure exceeded 50 percent in recent years. Gazprom has repeatedly blamed low domestic gas prices for encouraging higher consumption, claiming it had suffered losses due to domestic sales at regulated prices. However, the government made it clear that it would not accept unpopular domestic price hikes, apparently favored by Gazprom.