Russia, CSTO, SCO Struggle to Settle Kyrgyz Unrest
Publication: Eurasia Daily Monitor Volume: 7 Issue: 124
By: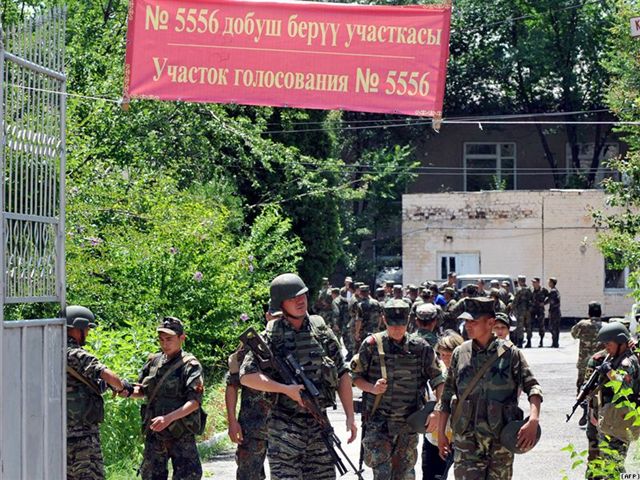 The Russian authorities, Russian-led security grouping, the Collective Security Treaty Organization (CSTO), and the Shanghai Cooperation Organization (SCO) made repeated pledges to tackle the Kyrgyz crisis. However, agreement on any practical moves appeared to remain elusive.
The CSTO has repeatedly urged restoring stability in Kyrgyzstan. The CSTO, which includes Armenia, Belarus, Kazakhstan, Kyrgyzstan, Russia, Tajikistan and Uzbekistan, is currently in charge of the Collective Rapid Reaction Forces (CRRF), which is due to be replaced by the Russian-led Collective Operational Reaction Forces (CORF). On June 14, the CSTO chiefs of the Security Council's met in Moscow and pledged joint measures to stabilize Kyrgyzstan, including increased technical assistance to Kyrgyz law enforcement agencies, but released no specific details. The head of the Russian Security Council, Nikolai Patrushev, only commented that all options were being considered (Interfax, ITAR-TASS, RIA Novosti, June 14).
The CSTO has secured important backing in its efforts to stabilize Kyrgyzstan. On June 15, China's foreign ministry voiced "understanding" regarding the CSTO's measures to restore order in Kyrgyzstan (Interfax, June 15).
On June 14, Russian President, Dmitry Medvedev, said that the CSTO may convene an extraordinary summit meeting to discuss developments in Kyrgyzstan. On June 15, he reiterated his order to send humanitarian aid to Kyrgyzstan. In remarks released on June 18, Medvedev argued that Kyrgyzstan's interim authorities revoked the request to send Russian troops to Kyrgyzstan (Interfax, ITAR-TASS, RIA Novosti, June 14-15, 18).
However, the earlier decision by the Belarusian authorities, to grant asylum to the deposed Kyrgyz President, Kurmanbek Bakiyev, revealed division between the CSTO member states. On June 14, in a statement in Minsk, Bakiyev advocated sending CSTO forces to restore order in Kyrgyzstan. On June 18, Belarusian President, Aleksandr Lukashenka, stated that the Kyrgyz crisis could not be resolved in any legitimate way without Bakiyev (Interfax, June 14, 18).
While disagreeing on other matters, Kyrgyz politicians appeared unanimous on the need for a Russian military deployment. On June 15, Kyrgyzstan's interim leader, Roza Otunbayeva, urged Moscow to send troops to Kyrgyzstan. On June 16, the former Kyrgyz President, Askar Akayev, also advocated for the use of CSTO forces in Kyrgyzstan (Interfax, June 15-16).
However, the CSTO expressed no rush to become directly involved. On June 17, CSTO Secretary-General, Nikolai Bordyuzha, announced plans to send law enforcement experts to Kyrgyzstan, but ruled out any immediate plans to deploy collective armed forces (Interfax, June 17).
On June 18, the Russian defense ministry confirmed that Kyrgyzstan's interim authorities had requested the deployment of Russian armed forces to protect "strategic facilities," but said no decision was made. Four days earlier, the ministry was forced to dismiss rumors that Russian conscripts could be sent to Kyrgyzstan (Interfax, June 18). Russian media outlets alleged that Moscow's pledges of aid to Kyrgyzstan were conditional. The New Times claimed that Russia urged Bishkek to annul the constitutional referendum on June 27 and sustain presidential rule in Kyrgyzstan in exchange for deploying troops. When Kyrgyzstan's interim authorities allegedly declined, Moscow again refused to send troops (The New Times, June 21).
The Kremlin had earlier stated it would refrain from becoming directly involved in the Kyrgyz unrest. Medvedev announced on June 11 that the CORF would not interfere in the crisis, (Interfax, June 11). The June 11 SCO summit, (including Russia, China, Kazakhstan, Kyrgyzstan, Tajikistan and Uzbekistan), also offered a muted response following the latest outbreak of violence in Kyrgyzstan. The continued unrest in one of the SCO founding members inevitably became a matter of concern for the group. SCO leaders pledged to assist Kyrgyzstan to stabilize the domestic situation. They also promised to grant humanitarian assistance to Bishkek.
Medvedev promised Kyrgyzstan additional "humanitarian" aid, including preferential loans. He promoted the idea of stabilizing the country and legitimizing the new authorities by holding an election, adding that the SCO could send observers to Kyrgyzstan (Interfax, ITAR-TASS, RIA Novosti, June 11).
The SCO has refrained from any formal statement on Kyrgyz affairs and diplomats clarified that the grouping may only "consider" multilateral aid to Kyrgyzstan. The SCO might grant coordinated humanitarian assistance to Kyrgyzstan, according to the Russian Foreign Minister, Sergei Lavrov (Interfax, ITAR-TASS, RIA Novosti, June 11). The SCO summit also approved rules on accepting new member states. According to these rules, new members must be Eurasian nations, and must have diplomatic relations with all current member states, with either observer or dialogue partner status. Potential member states must not to be subject to UN sanctions, or involved in any armed conflict (Interfax, ITAR-TASS, RIA Novosti, June 11).
In the past several years, the SCO has expanded its partnership program. Iran, as well as India, Mongolia and Pakistan, are currently SCO partners, while Belarus and Sri Lanka are dialogue partners. Tehran has repeatedly requested full SCO membership to replace its current observer status. By excluding Iran with the new accession rules, the SCO apparently decided not to adopt an anti-Western stance. Unsurprisingly, Iranian President, Mahmoud Ahmadinejad, opted not to travel to Tashkent to attend the SCO summit.
During the summit meeting in Tashkent on June 11, Kazakhstan assumed the SCO rotating presidency, and the next SCO summit is due to be held in Astana in 2011. Kazakh President, Nursultan Nazarbayev, said that he would prioritize stabilization in Kyrgyzstan during his country's SCO presidency.
The CSTO and SCO have long claimed to be capable of undertaking measures of joint prevention to forestall instability in the region. However, continued instability in Kyrgyzstan appears to indicate the group's limited ability to safeguard security even within the borders of its smaller members, let alone the Eurasian region as a whole.