Russia Expands Military Presence in Armenia, Deepens Confrontational Rhetoric
Publication: Eurasia Daily Monitor Volume: 12 Issue: 222
By: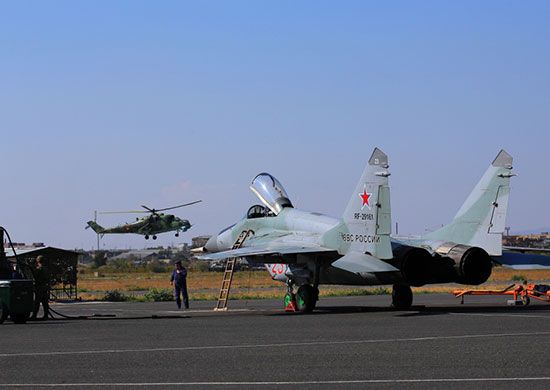 The November 24 downing of the Russian Su-24 bomber by the Turkish air force has resulted in a serious deterioration in bilateral relations and the deployment of additional Russian units to Syria (see EDM, November 30, December 3), as well as an upsurge in anti-Turkish propaganda inside Russia. In a televised interview, Russian Prime Minister Dmitry Medvedev even called the downing of the plane a "casus belli," noting that although President Vladimir Putin decided to abstain from a "symmetrical response," Turkey will have to pay (Rbc.ru, December 9).
Quite logically, this growing hostile rhetoric has raised concerns regarding Russia's intended actions in the one area sharing a land border with Turkey where Russian troops are permanently deployed—Armenia. Presumably, Russia could use the present tensions as an excuse to increase its military presence there. And indeed, just two weeks before the downing of the Russian plane, plans were already publicly announced to extend the Russian air defense system to Armenian airspace in order to contain Turkey in particular, and the North Atlantic Treaty Organization (NATO) more generally (see EDM, November 18).
The Armenian newspaper 168 Zham (168 Hours) reported that according to some sources, the Russian troops stationed along the Armenian-Turkish border had been put on high alert. Moreover, Russian Defense Minister Sergei Shoigu apparently paid a brief visit to the Russian base in Armenia after last month's downing of the Su-24. The paper noted that if these reports were true, Armenia could be in danger of becoming an arena for a military confrontation in which it has no stake. Additionally, it noted that "a handful of marginalized politicians" had been warning for years that the price for stationing Russian troops in the country could ultimately be high (168 Zham, December 1). Apparently, 168 Zham was referring to numerous warnings voiced by a group of opponents to Armenia's membership in the Eurasian Economic Union, who had earlier been derisively labeled as "twenty or thirty individuals having convulsions" and "marginalized" because of their suspicion toward Russia (Anc.am, October 10, 2014; October 24, 2014).
The information about Shoigu's visit was not officially confirmed. However, a week later, seven Mi-24P attack helicopters and some Mi-8 transport helicopters were delivered to the Russian base in Armenia. The press service of Russia's Southern Military District also stated that before the end of the year, more helicopters would be deployed (RIA Novosti, December 8). Seemingly, Moscow also has finally managed to persuade the army chiefs of staff of the Collective Security Treaty Organization (CSTO) members to support Russia's Syrian operation and to denounce Turkey's "aggression" (TASS, December 9). Earlier, some Russian observers had bitterly remarked that Russia's CSTO allies (primarily Belarus and Kazakhstan) had not showed eagerness to contribute to "the struggle against Islamist terrorism in the Middle East" (RIA Novosti, December 2).
The head of the Armenian Center for National and International Studies, Manvel Sargsyan, has suggested that as Russia tries to involve Armenia in its standoff with Turkey, the latter could also try to involve Armenia in the confrontation, possibly even urging Azerbaijan to attempt some subversive operations. In his opinion, Armenia has little capacity to avoid becoming involved: It has pursued a non-balanced pro-Russian policy for many years, and now, Yerevan has allowed Russia to expand its air defense system over Armenian territory (1in.am, December 1).
Meanwhile, the head of the Yerevan-based Regional Studies Center, Richard Giragosian, suggested that increasing Russian military presence in Armenia may have an impact on the region's delicate balance of power; and instead of bolstering deterrence, it could actually lead to an escalation of the Karabakh conflict. Besides, he noted, "as Armenia has already been drawn into supporting Russian operations in Syria by providing operational and logistical support, this may only further weaken and limit Western influence and leverage in the broader South Caucasus region" (Al Jazeera, December 9). Political and International Studies Center analyst Ruben Mehrabyan noted that keeping the usual pattern of relations with Russia is potentially dangerous because of the possibility of becoming a target for any of Russia's adversaries (Tert.am, December 8). Similar concerns had already been expressed before the current wave of Russo-Turkish tensions (see EDM, November 18). While the situation may not be as severe as analysts consider, further growth of Russian military presence in Armenia seems unavoidable. At the same time, even if there is no danger of an imminent large-scale conflict, open hostility between Russia and Turkey creates serious additional regional risks and does not suit Armenia's interests.
Yet, despite all the trouble since the downing of the Russian plane, Yerevan seems more preoccupied with future regime succession. A referendum on constitutional amendments to radically change the country's political system, from a presidential to a parliamentary republic, just took place on December 6. According to widespread opinion, the amendments' main goal is to allow acting President Serzh Sargsyan to rule as prime minister or parliamentary majority leader after the end of his second term. The voting was preceded by an expensive government-supported "Yes" campaign accompanied by the manipulation of voters' lists. As a result, the number of registered voters increased this year despite official demographic data to the contrary, which highlights high levels of emigration and population decline in the country (Hetq.am, November 16). Numerous irregularities during the voting process were reported, including 100 percent of votes being cast in favor in a number of municipalities, where independent observers were not present at the polling stations (Armtimes.am, December 8).
Although both Russia and Turkey may be eager to avoid a direct military confrontation, some additional growth of tensions, at least regarding rhetoric, seems inevitable. Moscow's main propaganda goal seems to be sustaining Putin's regime by means of promoting strong patriotic (or rather chauvinistic) feelings, so as to distract the population from the deepening economic troubles. However, Russia's actions may become even less predictable, especially if the global decline in oil prices continues. At the same time, despite the growth of regional security risks, Yerevan remains focused on a single internal political issue—the 2017 parliamentary elections, amid economic stagnation and growing discontent. This confluence of factors could contribute to a miscalculation or underestimation of the threat environment, with dangerous consequences for Armenia and the South Caucasus at large.