Russia Exploits Israel-Hamas Conflict to Spread Disinformation About War in Ukraine
Publication: Eurasia Daily Monitor Volume: 20 Issue: 168
By: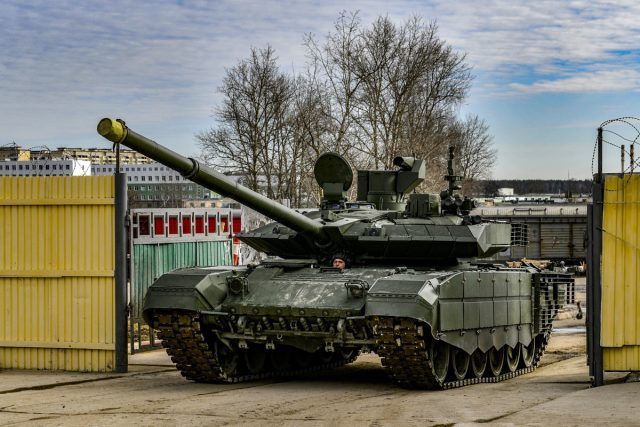 On October 8, well-known Russian propagandist Andrey Rudenko published a video appearing to show an Israeli Merkava tank that Hamas militants allegedly destroyed with an anti-tank guided missile. According to him, the system that was used to launch the missile had originally been provided to the Ukrainian military by the West but was later sold to Hamas. Both the video and Rudenko's statements proved to be false. The damaged vehicle was in fact a modern Russian T-90M Proryv tank. The Ukrainian Armed Forces destroyed the tank near the village of Makiivka in the Luhansk region earlier this year (Novinarnia, October 8). Furthermore, no concrete evidence has been provided of Ukrainian soldiers selling Western military aid to Hamas or any other group.
The situation with Rudenko demonstrates the extent to which Russian propaganda is using the Israel-Hamas conflict to spread disinformation about the war in Ukraine. Kremlin propagandists are quick to exploit certain breaking news events that have captured the public's attention to craft their narratives, hoping to gain more influence from their psychological operations. The efforts of the Ukrainian Armed Forces' Strategic Committee to shine a light on Rudenko's disinformation were, nonetheless, quite effective. The Russian military-patriotic "blogger" immediately deleted his post after being exposed (Novinarnia, October 8).
In this particular case, the Russians tried to take advantage of the fact that the world's attention is focused on the war in Israel. The purpose of Rudenko's post was to create the false perception that Ukraine poses a threat to civilized countries because it allegedly sells weapons on the black market. Accordingly, the West should cut off all military aid to Kyiv.
This narrative began to dominate the Russian information space following the outbreak of fighting in Gaza. Vladimir Solovyov, considered by some to be Moscow's "chief propagandist," cited a screenshot of an article that does not seem to exist and cannot be found in open sources (T.me/SolovievLive, October 8). The supposed article claims that Israeli soldiers detained terrorists in Gaza who were using weapons from Ukraine. Other Russian (and pro-Russian) journalists and bloggers disseminated similar fake news stories without citing actual sources or providing solid evidence. At times, they even used shots from video games as "proof" of their allegations (Gazeta.ru, October 9).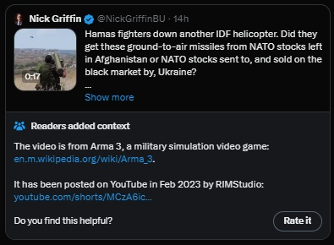 Russian propaganda has also used the Israel-Hamas conflict to try to stir up tensions between the West, Israel, and Ukraine. Such narratives allege that the United States has turned its back on Ukraine and re-focused its attention on Israel (The Moscow Times, October 20). They also claim that the American population has "given up" on supporting the Ukrainians. As proof, Kremlin propagandists posted several memes that they said were circulating in the United States (T.me/dimsmirnov, October 8). Most of these memes, however, were created some time ago. For example, one meme was created by Brazilian cartoon artist Carlos Latuff in 2022 and has often been used by Iranian, pro-Palestinian media and social network accounts (Mondoweiss, August 22, 2022). Another Telegram channel linked to the Russian Armed Forces attempted to accuse Ukraine of complicity in future terrorist attacks against Israel. The account posted, "When some civilian airliners near Ben-Gurion airport are hit by a Stinger or another European-style MANPADS [Man-portable air defense systems], then we'll have some fun. I wonder whether the 'civilized European community' will then have any questions for Ukraine or not" (T.me/rusich_army, October 8).
Some propagandists have alleged that the lack of significant photo or video evidence from the war in Ukraine means the conflict has been "imagined." They compare what they term as a lack of evidence to the abundance of content from the war in Israel after only a few days of fighting. This narrative has been spread mainly by English-language social media accounts, in particular on X (formerly Twitter). These messages were often almost identical, which suggests the possible use of bot networks in spreading the narrative (see below). Unfortunately, some accounts belonging to influential public figures, including Donald Trump Jr., shared the same message (Twitter.com/DonaldJTrumpJr, October 7). The X account GeoConfirmed provided perhaps the best response to such posts when it identified over 23,000 videos from the war in Ukraine (Twitter.com/GeoConfirmed, October 7).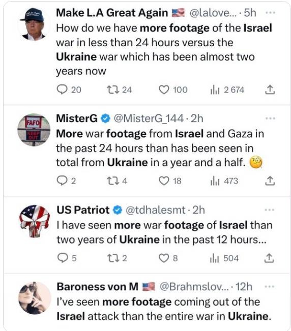 This is not the first time Russia has exploited the hype around events that have captured the world's attention. On February 20, US President Joe Biden made an unexpected visit to Ukraine to meet with President Volodymyr Zelenskyy (Whitehouse.gov, February 20). Russian propagandists used this event to spread information about an alleged conflict between two Ukrainian commanders, General Oleksandr Syrskyi and General Valerii Zaluzhnyi, in determining the future of Bakhmut. A network of bots pretending to be Ukrainians was used to spread this narrative. (See, for example, Twitter.com/VictoriaGerman, February 20.)
Former British Prime Minister Boris Johnson's visit to Ukraine on September 9 was also used to create a fake story. According to Russian propaganda, the sole purpose of Johnson's trip was to personally hand over a British passport to General Kyrylo Budanov, head of Ukraine's Defense Intelligence (Cpd.gov.ua, September 13). Budanov again became the subject of Russian propaganda in October with the increased attention to the fighting around Avdiivka. Some Russian sources began spreading the false story that the Ukrainian general had been captured by Russian forces (StopCor, October 22).
A similar approach was used each time Kyiv's Western partners announced the delivery of various weapon systems to Ukraine. Russian channels would almost immediately publish evidence of the new arms being destroyed long before they were physically delivered to Ukraine. The Russians have used this strategy in depicting "destroyed" Leopard and Abrams tanks and even F-16 fighter jets. Often, old pictures from Iraq, Syria, or Afghanistan have been touched up and used to illustrate propagandists' assertions (Ukrainska Pravda, January 20).
Russia will likely continue to exploit breaking news stories to spread disinformation and distract attention from its war against Ukraine. Such propaganda will flood social media and Western press to promote Moscow's dubious narratives. The rapid dynamics of the modern information space and the lack of adequate fact-checking means that more people are becoming susceptible to Russian disinformation. Identifying and recognizing the main strategies and narratives of Kremlin propaganda is a critical step in limiting the effectiveness of such efforts.