Russia Insists Ambitious Plans for Developing Far East Are Immune to Crisis
Publication: Eurasia Daily Monitor Volume: 5 Issue: 225
By: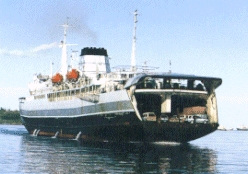 Russia's top officials insisted that the country's plans to develop the Far Eastern regions remained unaffected by the global economic downturn. The crisis will not force Russia to abandon its strategic development plans, Russian Prime Minister Vladimir Putin told the congress of the United Russia party on November 20. "We are not going to put off our strategic plans," he said (Interfax, ITAR-Tass, RIA-Novosti, November 20).
Russia has given priority to major transportation projects in the Asia-Pacific region, which will complete a land connection between the Pacific and Europe, Russian President Dmitry Medvedev said in an article published on November 21. Interregional ties are particularly important for Russia's Siberian and Far Eastern regions, hence Russia will be hosting the APEC summit in 2012, Medvedev wrote (Interfax, November 21).
Medvedev also voiced support for some specific projects. The Sakhalin bridge project will go ahead despite the financial crisis, Medvedev announced in Izhevsk on November 18. "The development of the transportation infrastructure will remain our priority; we will not abandon it," he said. This project became part of the Federal Road Construction Program until 2015 and Russia's Transportation strategy until 2030, Medvedev said. The government had tentatively allocated 11 billion rubles $400 million) to fund the feasibility study and preparatory stage of the Sakhalin bridge project, he stated (Interfax, ITAR-Tass, RIA-Novosti, November 18).
Russia has long considered a project to build either an undersea tunnel or a bridge to link Sakhalin Island and the mainland to replace the Vanino-Kholmsk ferry. The construction of a 13-kilometer (7.8-mile) undersea railway tunnel beneath the Nevelsky Strait was first ordered by Soviet dictator Joseph Stalin in 1950, but the project was later considered wasteful and was halted. In October 2001 the government approved a blueprint to build a bridge between the mainland Khabarovsk region and Sakhalin at an estimated cost of $4 billion, but critics questioned wisdom of building a new link because of the lack of clarity about its economic value.
The Kremlin has been urging faster growth in Russia's Far Eastern regions for quite some time. In early 2007 Russia's federal government pledged to allocate up to 600 billion rubles ($21.7 billion) to fund development projects in Eastern Siberia and the Far East by 2013 and 9 trillion rubles ($326 billion) by 2025. Officials also indicated plans to build 4 refineries and petrochemical plants, 4 gas-chemical plants, as well as aluminum plants and a nuclear power plant. They also intend to construct a new steel plant in Yakutiya with the capacity to produce 10 million tons per year. The overall goal of these investments is to raise the gross regional product by 12-fold by 2020.
In recent weeks, however, officials have appeared to have some second thoughts about the economic viability of earlier pledges of massive investments. The Russian government plans to sustain investment programs in the country's "natural monopolies," notably Gazprom and Transneft, deputy Economic Development Minister Stanislav Voskresensky announced on November 18. He conceded, however, that the "natural monopolies" might cut the costs of their programs due to crisis. Transneft and Gazprom could also consider issuing "infrastructure bonds" in order to fund these projects, said Voskresensky (Interfax, November 18).
Russia's gas monopoly Gazprom voiced confidence in its financial abilities. Gazprom's priority projects would be implemented regardless of the economic crisis, Gazprom spokesman Sergei Kuprianov told Russia's state-run Vesti 24 channel on November 22. The ongoing correction of the 2009 investment projects only involved auxiliary facilities, he claimed.
Kuprianov specifically noted that the Yamal project and its new gas pipeline, the development of the Far Eastern gas network, and the planned Kamchatka gas pipeline were among Gazprom's priority projects. "Gasification of Eastern regions cost Gazprom 1.4 billion rubles ($51 million) in 2008, and our investments there will go up," he said (Vesti 24, November 22).
Russia's pipeline monopoly Transneft, however, has yet to comment on its investment obligations. It is scheduled to spend up to $12.5 billion to build the Eastern Siberia Pacific Oil Pipeline (ESPO), the first stage of which would have a capacity of 30 million tons per year and the second stage, 80 million tons per annum.
Russia's state-run Rosneft had also promised to supply 25 million tons of crude for the ESPO in 2009 from Vankor oilfield. However, the launching of Vankor was reportedly put off from later this year until mid-2009, making Rosneft's earlier promises unrealistic.
Russian officials also pledged to pursue high-profile projects of political significance. All projects designed to prepare for the APEC summit in Vladivostok, as well as Primorie regional development projects, should remain on track, Regional Development Minister Viktor Basargin told a meeting in Vladivostok on November 15. After the meeting, Primorie regional governor Sergei Darkin and Vladivostok mayor Igor Pushkarev said that they had received pledges from the federal government that all regional projects would be funded as planned (RIA-Novosti, November 15).
In January 2007 the Kremlin promised to spend nearly $4 billion in government funding to boost economic growth in the region. During a visit to Vladivostok, then-President Putin suggested spending 100 billion rubles ($3.6 billion) to build a resort area on Russky Island, off the Pacific port of Vladivostok, to host the APEC 2012 summit.
In the meantime, Primorie region has increasingly been affected by the financial crisis. As commodity prices plunged, local mining companies, including Dalpolimetall, BOR chemical-mining company, and the Primorsky, Yaroslavsky and Lermontovsky mines, cut output volumes and salaries or halted production and laid off staff (New Region, November 20).
Thus, Russian government officials continue to insist that their ambitious goals to develop Far Eastern regions remain firmly on track, although the economic viability of these plans has yet to pass the test of the crisis.