Russia, Kazakhstan Keep Focusing on Multilateral Cooperation
Publication: Eurasia Daily Monitor Volume: 9 Issue: 133
By: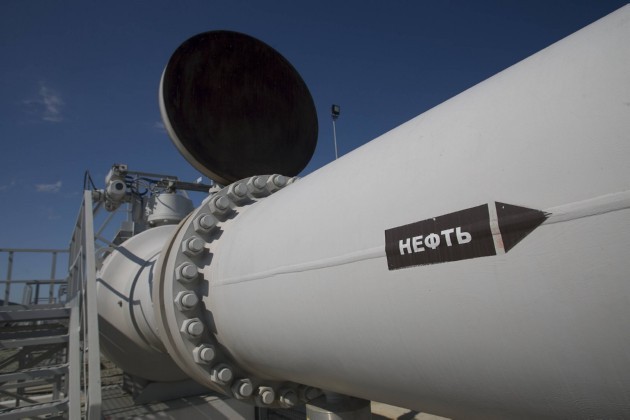 Russian and Kazakhstani leaders indicated plans to prioritize multilateral economic ties within the Customs Union and the Common Economic Space (CES). Meanwhile, some of their planned bilateral projects appear to have dropped off the agenda.
Russia has continued to extol the growing trade volumes inside regional Eurasian groupings, and again pushed for the creation of a joint post-Soviet currency. On June 15, Russia's Prime Minister Dmitry Medvedev met his Kazakhstani and Belarusian counterparts, Karim Masimov and Mikhail Myasnikovich. Medvedev announced that their trilateral trade turnover reached $125 billion last year, or an increase of more than 35 percent year-on-year. He also suggested that the three nations, member-states of the Customs Union, needed a common currency.
Masimov refrained from commenting on the common currency plans, but suggested considering the creation of a joint railway venture. The new entity would facilitate freight forwarding from the border between Kazakhstan and China toward the border between Belarus and the European Union (Interfax, Itar-Tass, RIA Novosti, June 15).
The meeting between Russian and Kazakhstani prime ministers followed a trip to Kazakhstan by President Vladimir Putin. During a visit to Astana on June 7-8, Putin and his Kazakh counterpart, Nursultan Nazarbayev, signed an added protocol to the bilateral friendship treaty, dated May 25, 1992, and extend it for ten more years.
They also signed an agreement that removed a mandatory 30-day registration requirement for citizens of both countries who plan on traveling to another state. Both sides discussed a possible project to build a nuclear power plant in Kazakhstan. Russia's RusHydro and Kazakhstan's Kazakhmys energy giant also signed a cooperation agreement. During talks with Nazarbayev on June 7, Putin suggested drafting a joint Russian-Kazakhstani action plan for 2013-2014 that would set forth priority areas of bilateral cooperation (Interfax, Itar-Tass, RIA Novosti, June 7-8).
Russian and Kazakhstani officials have repeatedly pushed for increasing mutual foreign trade. At a meeting with Putin on June 7, Nazarbayev announced plans to increase the two neighbors' annual bilateral trade volume up to $40 billion in 2012, or up from $24 billion last year (Interfax, Itar-Tass, RIA Novosti, June 7).
In 2010, trade between Russia and Kazakhstan amounted to some $15.3 billion, according to the Russian customs statistics. In 2008, trade between Russia and Kazakhstan amounted to $20 billion, but it had dropped to about $13 billion in 2009 due to the global financial crisis.
However, some of the earlier pledges by the two countries to pursue bilateral energy projects have tended to remain only on paper. In 2005, Russia's gas giant Gazprom pledged to set up a joint venture with Kazakhstan's state-owned company KazMunaiGas to process natural gas from northwestern Kazakhstan at the Orenburg plant. It was expected that the Orenburg gas processing plant would handle 17.6 billion cubic meters (bcm) per year of Kazakhstani gas by 2012 (see EDM September 28, 2009). But this has not happened, and during the latest senior-level talks in Astana, both sides once again refrained from mentioning the Orenburg gas project.
Both sides have also been slow to tackle the issue of the Caspian Pipeline Consortium (CPC), a major bilateral project expected to come on stream this year that owns the Baku-Novorossiysk pipeline. The CPC has been operating at low volumes due to Kazakhstan's reluctance to commit more crude oil to the pipeline. In 2008, Russia and Kazakhstan agreed to increase the capacity of the CPC from 32 million tons per year up to 67 million tons per year by 2012 (see EDM September 28, 2009). The deadline passed, but the planned increase of the CPC pipeline's capacity apparently still remains a distant vision.
Furthermore, the region's multilateral economic integration has apparently created new problems for Russia and Kazakhstan's bilateral trade. For instance, the Customs Union arrangements stipulate duty free commodity trade. But Russian officials complain that processed oil products, supplied to Kazakhstan free of Russian export tariffs, entailed losses to the Russian federal budget amounting to an estimated $780 million in 2012. Subsequently, both sides are discussing a new bilateral arrangement that would involve reciprocally increasing shipments of crude oil to Russia free of Kazakhstani export duties (Interfax, June 21).
On June 21, Russia's Energy Minister Alexander Novak said a new agreement on oil product trade was due to be signed with Kazakhstan by July 1 (Interfax, June 21). The deal envisages Kazakhstan supplying some 1-2 million tons of duty free crude oil to Russia. However, in early July both countries have remained slow in clinching this arrangement. The trade agreement was previously expected to take effect from January 1, 2012.
Russia and Kazakhstan continue to prioritize multilateral economic ties within the Customs Union and the CES. But, in the meantime, both states have remained slow in implementing their earlier bilateral commitments and tackling new problems in their economic ties.