Russia Moves to Strengthen Ties with Uzbekistan
Publication: Eurasia Daily Monitor Volume: 7 Issue: 82
By: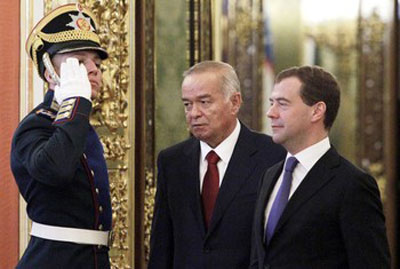 As the Kremlin intensified its efforts to develop relations with Uzbekistan, the leadership of the most populous nation in Central Asia appears to remain non-committal. Following talks in Moscow, Russian President, Dmitry Medvedev, and his Uzbek counterpart, Islam Karimov, hailed the bilateral summit on April 19-20 as a move towards strengthening the partnership. Russia and Uzbekistan remain strategic partners, Medvedev reportedly commented.
Both sides discussed regional stability, notably the situation in Kyrgyzstan, and advocated political stabilization there. Medvedev and Karimov signed a joint statement, and witnessed the signing of cooperation programs in military supplies and humanitarian affairs in 2010-2012 (Interfax, ITAR-TASS, RIA Novosti, April 20).
In their joint statement, Medvedev and Karimov pledged to develop investment cooperation, including the development of transport infrastructure in Uzbekistan. They stressed that energy and water use issues in Central Asia should be solved on the basis of international law (ITAR-TASS, RIA Novosti, April 20). While both sides diplomatically mentioned Central Asian "energy and water use issues," they refrained from any reference to the Kambara hydropower project in Kyrgyzstan that has become a significant source of tension in relations between the three former Soviet states. Both leaders also preferred to avoid the unresolved issue of Uzbekistan's debt to Russia, estimated by Moscow at $700 million.
On April 20, Medvedev also noted that Russia had ratified and implemented the bilateral agreement on migration. On March 27, Moscow and Tashkent agreed a joint roadmap on migration matters in 2010-2012. The roadmap followed the bilateral agreement on migration signed in July 2007, and enacted in July 2009 (Interfax, March 27, April 20).
Meanwhile, Medvedev and Karimov advocated continued cooperation between member states of the Collective Security Treaty Organization (CSTO) and the Shanghai Cooperation Organization (SCO), in order to stabilize Afghanistan. They indicated shared interests in Afghanistan's eventual settlement (Interfax, ITAR-TASS, RIA Novosti, April 20).
The SCO was apparently mentioned ahead of its summit meeting in Tashkent next June. Uzbekistan currently chairs the SCO and appears to be keen to avoid any diplomatic problems during the June summit. Moscow's partnership with Tashkent involves multilateral cooperation within the framework of the Russian-led CSTO. In 1992, Uzbekistan joined the post-Soviet security organization, then known as the Tashkent Treaty group, but later left in 1998. In December 2006, Uzbekistan restored its membership of the CSTO.
At the summit meeting in Moscow in June 2009, the CSTO leaders signed an agreement to form the Russian-led Collective Operational Reaction Forces (CORF). However, Belarus and Uzbekistan failed to sign the KSOR agreement and the leaders of these two states declined to visit the Russian capital in an apparent affront to the Kremlin. Tashkent was understood to insist that the CORF should be deployed based only upon a consensus decision, not by a majority vote.
During the visit on April 19-20, the CORF issue was not discussed. However, Karimov lashed out at some Russian media outlets, notably Komsomolskaya Pravda, for its allegations that the Kyrgyz events could be repeated in Uzbekistan. In response, Medvedev only said that Karimov's criticism served as good publicity for the newspaper.
Russian officials also conceded that economic ties with Uzbekistan have stagnated. On April 20, Medvedev noted the discrepancies in trade statistics. "According to our data, Russian trade with Uzbekistan dropped to $2.5 billion in 2009," but Uzbek statistics indicated that trade with Russia remained unchanged year-on-year at some $4.5 billion in 2009. He also urged implementing bilateral programs and projects to increase trade volumes (Interfax, April 20).
Furthermore, in November 2008, Uzbekistan suspended its membership in the Russian-led Eurasian Economic Commonwealth, citing economic considerations. Nonetheless, earlier this year, Moscow moved to revive its energy ties with Uzbekistan. On March 31, Karimov met the Russian Deputy Prime Minister, Sergei Ivanov, who headed the Russian delegation at a meeting of the bilateral inter-governmental commission. After the meeting, Ivanov announced that Russia would prefer to have long-term gas supply contracts with Uzbekistan, but gas pipeline projects apparently were not touched upon.
In May 2007, the Russian, Kazakh, Turkmen and Uzbek leaders agreed to jointly develop gas pipeline networks in Central Asia. Their declaration agreement paved the way for reviving the Central Asia-Center pipeline network to its original capacity of about 100 billion cubic meters (bcm) annually, aimed at funneling increased gas volumes from Turkmenistan, Kazakhstan and Uzbekistan. The May 2007 declaration said that the joint project should be launched in the first half of 2008, but the project has yet to materialize.
Russia's natural gas monopoly, Gazprom, pledged to develop oil and gas deposits in the Ustyurt plains, and the Shakhpaty gas deposit in Uzbekistan. In 2004, the Russian oil producer Lukoil agreed to develop the Kandym, Khauzak and Shady gas fields in the south of the country. Lukoil was reportedly planning to start limited production there in late 2007. In March 2008, Lukoil joined a project to develop south-western Guissar hydrocarbon deposits. Russian companies pledged to invest heavily to develop projects in Uzbekistan, but have been slow to deliver on their promises.
Russian media outlets noted an apparent decline in bilateral, political, and economic ties. Karimov declined to recognize it had any obligations to Russia, according to Kommersant business daily (Kommersant, April 21). Russian businesses in Uzbekistan continue to face red tape. Russian carrier Aeroflot, carmakers AvtoVAZ and GAZ struggle to repatriate earnings from Uzbekistan. The Tashkent subsidiary of the Russian food company WBD was shut down indefinitely in December 2009, officially on unsanitary grounds (Vremya Novostei, April 20).
Russia remains keen to pursue its economic, energy, and security engagement with Uzbekistan. However, the Uzbek leadership apparently prefers to refrain from making any firm commitments and continues to keep a safe distance from Moscow.