Russia Muddles Through Fog of Libyan War and Haze of Syrian 'Peace'
Publication: Eurasia Daily Monitor Volume: 17 Issue: 81
By: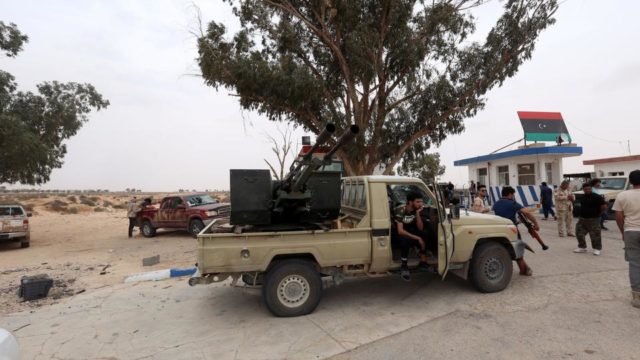 Ambiguity can be a useful political tactic, securing for a state the advantage of flexibility while leaving its adversaries guessing; but sometimes it simply camouflages confusion. Russia seeks to present its policy in the Middle East as usefully ambiguous. But in fact, it is at a loss about how to respond to the many regional conflicts, from the violent war in Yemen to the hard turns in Israeli-Palestinian relations, and its own policies suffer from poor coordination. In the last several weeks, Libya has further illuminated this confusion.
The decisive offensive on Tripoli, launched by "Field Marshal" Khalifa Haftar in April 2019, has turned into a rout after his motley forces suffered several defeats in the suburbs (Nezavisimaya Gazeta, June 3). The official commentary in Moscow is limited to expressions of "deep concern" and describes this retreat as "regrouping" (RIA Novosti, June 4). The Russian Ministry of Foreign Affairs apparently expected that some limited separation of the combatants would enable a genuine ceasefire and allow for a new round of talks, so a delegation of the United Nations–backed Government of National Accord (GNA) in Tripoli was invited to Moscow (Kommersant, June 4).
Russian experts believed that Haftar would maintain a significant military superiority against the GNA and engage in the bargaining from a position of strength but with somewhat curtailed ambitions (Nezavisimaya Gazeta, May 31). The situation on the ground has, however, shifted so dramatically that the incentives for talks have mostly evaporated. The withdrawal of Russian mercenaries signaled to several local warlords that the moment was ripe for deserting Haftar's Libyan National Army (LNA), which promptly lost most of its strongholds in western Libya (Svobodnaya Pressa, May 28). Seeking to give a boost to the LNA's capabilities, Moscow has deployed to the Al-Jufrah airbase in central Libya a mixed squadron of MiG-29 fighters and Su-24 bombers, but these assets have remained idle so far (Rosbalt, May 26). This heavy new engagement has yet to be officially confirmed, and Russia remains wary of a new clash with Turkey, which is firm set at providing military support for the GNA.
Russian diplomatic efforts led by Deputy Foreign Minister Mikhail Bogdanov are not in sync with military activities, which appear hampered by indecisiveness. The diplomats tend to see the maverick Haftar as a liability and try to build ties with the Libyan parliament in Tobruk, whose experienced speaker, Aquila Saleh Issa, is also due to visit Moscow (RIA Novosti, June 6). The Libyan money printed in Moscow and intercepted in Malta was supposed to keep this government solvent (RBC, May 30). Russia's top brass prefers to work with Haftar, however, and expect him to secure greater support from Egypt, which appreciates his tough stance on jihadists of various persuasions and is deeply suspicious of Turkey's sympathetic attitude toward the Muslim Brotherhood (Nezavisimaya Gazeta, June 1).
What is missing in these discordant maneuvers is attention from President Vladimir Putin, who is increasingly irritated with chaotic domestic developments (Ezhednevny Zhurnal, June 4). The only Middle Eastern problem for which Putin has time these days is oil; he recently had an uneasy conversation with Saudi Crown Prince Mohammad Bin Salman on the extension of the OPEC+ deal on production cuts (Carnegie.ru, May 21). Oil was also a topic during his recent phone call with US President Donald Trump, but the Middle East was not (Kremlin.ru, June 1). Putin continues to believe cartel agreements will propel the oil price to a comfortable level and refuses to acknowledge the possibility of a long-term global decline in demand (Novaya Gazeta, June 5). The best hope for Russia is China's economic recovery, but the latter's government guidelines on priority investment in a "green economy" are clearly detrimental to Russian plans for expanding energy exports (Kommersant, June 5).
The most demanding problem for Russia's policy in the Middle East remains Syria. Nonetheless, Putin was apparently content with the single-sentence video report from Defense Minister Sergei Shoigu, who assured him of smooth progress in executing the Syrian mission (Kremlin.ru, May 26). Shoigu apparently did not want to bother the commander-in-chief with detailed assessments of a new series of Israeli air strikes (Izvestia, June 5). What he seeks to secure is funding for expanding Russian military infrastructure in Syria, including new airbases and the construction of a proper naval base in Tartus (Nezavisimaya Gazeta, June 1; see EDM, June 3).
Shortage of money is only one part of the problem with this incomplete plan (RIA Novosti, May 29). Russian experts find it increasingly difficult to formulate and explain the feasible goals of Russia's strategy in Syria (Russiancouncil.ru, May 26). Cooperation with Turkey works only when it comes to patrolling the ceasefire lines, but Putin cannot talk President Recep Tayyip Erdoğan into accepting the Bashar al-Assad regime as the core of Syria's post-war reconstruction. Iran, meanwhile, has been hit by a severe second wave of the coronavirus pandemic, and its badly damaged economy undercuts its ability to project power and influence into Syria.
Russia cannot sponsor the al-Assad regime generously enough to make it stable, whatever amounts of Syrian currency are printed in Moscow. The concerning prospect of a sudden unravelling looms for the Kremlin; hence the nervous reaction to the point by David Schenker, the United States' Assistant Secretary of Near Eastern Affairs at the State Department, who mentioned Russia's "destructive role" in the Middle East (RIA Novosti, June 4). During a video-conference at the Middle East Institute, Schenker expressed the opinion that Russia "should get out" of Syria, and Russian officials rushed en masse to condemn this suggestion as "cynical and arrogant" (Duma.gov.ru, June 5).
Just a year ago, Syria appeared to be a stronghold, from which Russia could experiment with "hybrid" power projection into Libya. But presently, the war-torn North African country exhibits nothing but setbacks and defeats for the Russian military; and in the Kremlin's Middle Eastern client state, a "no-win" deadlock is evolving into high-risk exposure. Russia has no qualms about playing a destructive role, but it needs to worry about these engagements becoming self-destructive for the regime. Ever-greater resources are necessary to sustain both campaigns; however, the foreign interventions are increasingly unpopular at home and accelerate the erosion of public support for Putin's autocratic rule. In the stressful uncertainty of a persistent pandemic, Putin is, more than ever, afraid to show weakness. Yet, his refusal to reckon with disagreeable realities in the Middle East is an unmistakable sign of the weak hand he currently holds.