Russia Never as Strong as It Looks
Publication: Eurasia Daily Monitor Volume: 19 Issue: 29
By: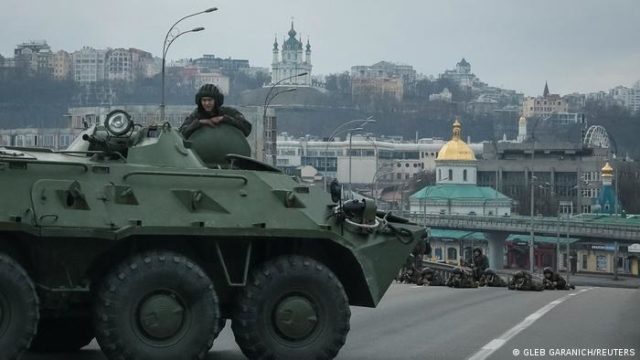 In the early hours of February 24, President Vladimir Putin announced a "special military operation" in Ukraine, and tens of thousands of Russian soldiers and tanks poured into Ukraine, preceded by a massive cascade of sea-, land- and air-launched precision missiles aimed at airbases, radars and other vital infrastructure (see EDM, February 24). The Russian Ministry of Defense claims to have decimated Ukrainian military infrastructure and achieved complete air supremacy. According to the Ukrainian General Staff, by February 28, Russian forces launched some 113 long-range ballistic and cruise missiles at Ukraine. Still the small Ukrainian Air Force and anti-aircraft missile batteries are fighting back, boosted by a constant flow of weapons and supplies coming in from the West (UNIAN, February 28). The massive Russian invasion was accurately predicted by the United States. The Joseph Biden administration declassified much of the analytical intelligence material it was receiving without disclosing its sources and published it, apparently hoping this could distract and confuse decision makers in Moscow; but it failed to prevent the re-invasion (see EDM, February 24).
Russia has an immense regular standing army permanently ready for war. According to Defense Minister Army General Sergei Shoigu, there are 168 battalion tactical groups (BTG) in the Russian military. Shoigu boasted, "This is a lot." A BTG is a reinforced battalion with tanks, other armor, heavy guns and missile launchers, anti-aircraft assets, scouts, special forces and so on, depending on the mission. A typical BTG is composed of 700–800 men and may fight separately if needed or form part of a larger task force. Before the present outbreak of fighting in Ukraine, the North Atlantic Treaty Organization (NATO) deployed in Poland and the Baltic States four stand-alone multi-national battalions of up to 1,200 men each (TASS, August 10, 2021).
Shoigu (66), who entered politics in 1991, as the Soviet Union was collapsing, was appointed "general" without ever serving in the ranks. He is maybe one of the best masters of public relations in the Russian elite, which, at present, almost exclusively consists of faceless bureaucrats. President Putin appointed Shoigu defense minister in 2012, and the latter has, since then, successfully created the image of a reformed, modernized, rearmed and deadly Russian military. The campaign ostensibly against Islamist guerrillas in Syria, which Moscow began in 2015, has been used to promote Russian military might. Most Western experts predicted: An incoming juggernaut of over a hundred Russian BTGs, supported by a refurbished and deadly Russian air force, will swiftly overrun the Ukrainian Armed Forces (UAF). The Chairman of the Joint Chiefs of Staff, General Mark Milley, reportedly told the US Congress that the Ukrainian capital of Kyiv could fall within 72 hours of a full-scale Russian invasion. Some 15,000 Ukrainian soldiers could perish together with some 4,000 Russian combatants; organized Ukrainian resistance would collapse, though guerrilla-style resistance could continue after the fall of Kyiv. Milley's forecast was noted in Moscow with satisfaction (RIA Novosti, February 6).
The reality turned out much differently. The Russian "special military operation" in Ukraine is entering its second week; but although multiple Russian BTGs are on its doorstep, Kyiv remains in Ukrainian hands and organized UAF resistance has not been crushed—military staffs are working, and the chain of command does not seem to have been broken. Intense bloody fighting can be seen on many fronts, and both sides acknowledge casualties but claim the other side is taking more punishment, all of which is impossible to verify independently. The Russian defense ministry announced 498 of its service members had been killed in action and 1,597 were wounded, while claiming to have killed 2,870 UAF soldiers, wounded some 3,700 and taken 572 prisoner. The Russian side also contended that it destroyed an incredible amount of Ukrainian tanks, war jets and other heavy equipment (Interfax, March 3). The UAF general staff, in turn, claimed to have killed in action some 8,000 Russians and to have destroyed large numbers of aircraft and other heavy weapons (Krymr.com, March 3).
After a week of intense fighting, the Russian military nonetheless holds the initiative on all of the numerous battlefields. Putin has declared that the "special military operation" in Ukraine is "proceeding according to plan" and will be pressed on until full victory, no matter the costs. Ukraine will become a neutral country, will be "demilitarized" and will never be able to pose any threat to Russia. Attempts to prolong the conflict by pursuing protracted negotiations will only lead to Moscow imposing more severe future ceasefire conditions, according to Putin (Interfax, March 3). It seems the Kremlin leader is in no mood to compromise or retreat despite some battlefield setbacks and the crippling sanctions imposed by a united front of Western countries.
The invasion of Ukraine is separated into two distinct operations. In the south, the Southern Military District (UVO) command has been overall successful in breaking out of Crimea and spreading out east and west. Russian forces have taken over a number of Ukrainian urban centers there, including the port the Berdyansk on the Sea of Azov and the major Black Sea port of Kherson, after regular UAF forces withdrew from both. The Russian units in the south are closing in on two other major Black Sea port cities: Odesa and Mykolaiv. The siege of these ports along with Mariupol, on the Sea of Azov, may be a long and bloody affair if the UAF decides to vigorously defend them. But in any case, Ukraine may soon become, in effect, a landlocked country. The Russian forces are, apparently, aiming to link up with the breakaway Moldovan region of Transnistria to the west, where Russian has long kept a small "peacekeeping" garrison, raising the possibility of a standoff with Moldova and Romania (Interfax, March 3).
In the north the operation run by the Russian Western Military District (ZVO) has faltered. Russian formations are attacking Kharkiv and close to Kyiv, but they seem to have lost the advance momentum. The weather is becoming warmer, the fields are turning into wet mud bogs, and Russian forces are increasingly tied to roads, which are narrow and scarce in many parts of Ukraine. Putin may have sent his army in too late; its fighting spirit and armaments seem to be less superb than many in the West had feared. The "special military operation" may turn into a bloody quagmire.