Russia Pushes Kyrgyzstan to Adopt Draconian Legislation Ahead of Joining Customs Union
Publication: Eurasia Daily Monitor Volume: 11 Issue: 190
By: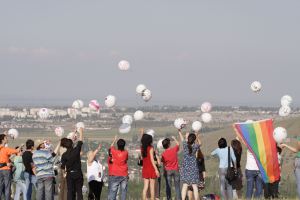 On October 15, Kyrgyzstani lawmakers in the Jogorku Kenesh (Kyrgyzstan's parliament) voted on an "anti–gay propaganda" bill to criminalize and impose up to year-long prison sentences for distributing information about homosexuality or LGBT issues that is reflected in a positive light. The bill was overwhelmingly approved by 79 out of 86 members of parliament (MP) (Akipress, October 15). Human rights abuses against the LGBT community in Kyrgyzstan and the bill against "gay propaganda," first proposed in parliament on March 12 by deputy speaker of parliament Torobaev Zulpukarov (Social Democratic Party) (knews.kg, March 12), have been the subject of much controversy as the country prepares to join Russia's Customs Union. At the same time, the Kyrgyz Republic's parliament is advancing a separate but related bill that will require local nonprofit and non-governmental organizations (NGO) to legally register as "foreign agents" under the proposed "foreign agents law." Similar legislation has already been adopted in Russia in 2013, and those laws have allowed the authorities to crack down on and attack several NGOs and LGBT groups there (see EDM, May 23, 2013). In recent months, Kyrgyzstan's leadership has shown strong political willingness to join the Moscow-led Customs Union of Russia, Kazakhstan and Belarus by adapting numerous economic policies as criteria for integration. However, Bishkek's additional moves to restrict the rights of LGBT groups and civil society reflect not only the political nature of the Customs Union, which it aspires to join, but also Russia's exertion of dominance over the most democratic state in Central Asia.
LGBT issues in Kyrgyzstan gained increasing media attention this year following the release of a Human Rights Watch report (January 29) that exposed police torture and violence against gay and bisexual men. Moreover, Kyrgyzstan's public opinion, for the first time, was familiarized with some of the advocacy work LGBT organizations carry out in the country despite threats of violence. Several protests were then staged by Kyrgyz nationalist groups, such as Kalys, criticizing "American and EU [European Union]-funded civil society projects and non-governmental organizations" for spreading these ideas (EurasiaNet, March 5). Many, including Ruslan Kim, head of the Bishkek-based LGBT rights group Kyrgyz Indigo, believe that Kalys and other similar initiatives were in fact funded and supported by the Kremlin (Author's interview, August 3). Notably, since March, several parliamentary hearings were scheduled where MPs argued that the government "should not protect the rights of people of an undefined category" (VB, October 6).
On August 11, Kyrgyzstan's President Almazbek Atambayev, in a meeting with his Russian counterpart in Sochi, reaffirmed his country's intention to join the Customs Union—a Russia-led regional economic bloc set to expand as of January 2015 into the Eurasian European Union, which is superficially modeled on the European Union (YouTube, August 11). Over the past few months, the government of Kyrgyzstan has accelerated its operational functions to adapt to the Customs Union's requirements as well as received over $500 million in Russian assistance to facilitate the country's accession by year's end. Details of these funding agreements have been vague from both countries' officials; but according to Russia's top diplomat, Sergei Lavrov, Moscow's financial assistance is meant to "develop the Kyrgyz economy and harmonize it with the process of Eurasian integration" (mid.ru, August 12).
Kyrgyzstan's civil society is considered among the strongest and the most vocal in the region. Since the 2010 revolution, which saw the overthrow of former president Kurmanbek Bakiyev, Kyrgyzstan's civil society organizations (CSO) have "played a significant role in monitoring elections and are becoming more active in efforts to reform the court and police systems," according to the International Center for Non-Profit Law (icnl.org, September 12). Over 10,000 CSOs are currently registered in Kyrgyzstan and work on a variety of sensitive issues, including human rights, support to vulnerable groups, health and environmental protection, among others. In recent months, however, pressure on NGOs has been mounting from state officials who have increasingly called for these groups to be scrutinized for their activities. Kyrgyzstani authorities have often alleged that these NGOs' actions could pose a threat to national security and stability. In early October, parliamentarian Irina Karamushkina (Social Democratic Party) urged the government to pay close attention to the activist training conducted by NGOs with youth in Bishkek, arguing that these civil society groups had conducted similar educational sessions in Ukraine prior to the Maidan "riots." She also called for the bill on the "foreign agents law" to be re-introduced by the Jogorku Kenesh (24kg, October 3).
If this draconian, Russian-styled law is passed, "All of the [Kyrgyzstani] NGOs would be under attack," warned Ruslan Kim of Kyrgyz Indigo. "Donors are paying attention to this since all our projects could become illegal, including trainings and advocacy" (Author's interview, August 3).
Kyrgyzstan celebrated its 23rd independence from the Soviet Union this summer, but lately many analysts have observed the rise of nationalism, Islamic influence, as well as heavy Russian pressure on the Central Asian republic's domestic politics. Consequently, local human rights defenders are facing a strong societal backlash as a result of Kyrgyzstan's aspirations to reclaim its national identity while simultaneously responding to Russia's political interests. In the early 1990s, following the collapse of the Soviet Union, Kyrgyzstan welcomed Western support and financial assistance for NGOs promoting democratic values and liberalism. However, the role that such groups and CSOs played in the Georgian and Ukrainian revolutions soon became a source of concern for the region's autocratic regimes, which have been increasing the restrictions on foreign funds attributed to local NGOs (The Economist, September 13).
As the most democratic republic in the region, Kyrgyzstan maintains perhaps the most active civil society in Central Asia. Given that the majority of regional civil society organizations receive funding from abroad (most often from funding sources that seek to promote liberal values such as democracy and human rights), these activist groups are similarly encouraged to demand accountability from state officials on political and economic issues. For example, these CSOs actively remind Kyrgyzstan's government of its obligations under United Nations conventions, previously signed and adopted by Bishkek, to protect the country's democratic principles. Yet, this dynamic can pose a real challenge to Russia's influence and dominance of Kyrgyzstan and the wider region, over which Moscow seeks to more fully reinstate its control through integrationist efforts such as the Customs and Eurasian Unions. So for the Kremlin, an active and independent civil society hinders its ability rebuild full control over Bishkek's leadership, thus explaining the recent attack on these NGOs in Kyrgyzstan.