Russia Reacts to US Afghanistan Policy
Publication: Eurasia Daily Monitor Volume: 16 Issue: 3
By: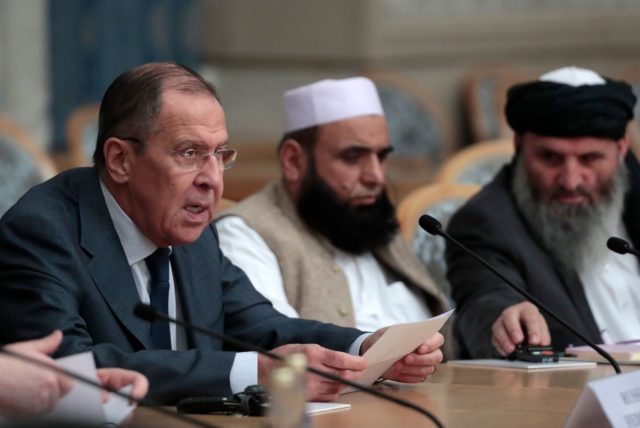 Russia has opposed the United States' policy in Afghanistan for years. Indeed, Moscow's own support for the Taliban, in the form of intelligence sharing and arms transfers, goes back to about 2014 (see EDM, January 6, 2016). Therefore, President Donald Trump's stated intention to withdraw half of the US troops from Afghanistan, coupled with his suggestion that Russia, Iran and Pakistan do more there to fight terrorism, play directly into Moscow's hands—and Tehran's and Islamabad's as well. Although some Russian newspapers have complained that Moscow is losing out to the US in Central Asia (Nezavisimaya Gazeta, August 30, 2018), this is not likely to be the way Moscow now sees the situation. In fact, just before Trump's announcement, Nikolai Patrushev, the secretary of Russia's Security Council, blasted the US for its alleged responsibility for the deteriorating situation in Afghanistan (TASS, September 27, 2018).
During the fall of 2018, Russia actively sought to arrange a peace conference with the Taliban, insisting that this militant group must play a role in any future government, much to the anger of Kabul and Washington. Predictably, at this conference, the Taliban refused to meet with Kabul and provocatively described itself as the Islamic Emirate of Afghanistan (see EDM, November 13, 2018). In other words Russia's support enabled the Taliban to stage a major propaganda coup (Long War Journal, November 9, 2018). If anything, these Russian diplomatic maneuvers made the Taliban-US negotiations even more difficult.
Equally predictably, Pakistani newspapers supported these moves (Pakobserver.net, November 13, 2018) inasmuch as Moscow has now taken major steps toward rapprochement with Islamabad—not least when it comes to the latter's perceived right to influence in Afghanistan. Likewise, Russia's Special Representative Zamir Kabulov lambasted Washington for failing to solve a problem that supposedly is right near Russia and charged that the US has lost the war (Interfax, November 20, 2018). Since Kabulov overlooked that all of Central Asia (combined area of over four million square kilometers) stands between the Russian Federation and Afghanistan, his remarks show just how imperial Russian thinking remains.
So by the time, in late December, that Trump announced this partial withdrawal, Moscow's policy orientation had already been set. Whereas, in 2017, Russia reacted to rumors of a pull back by blaming the US for failing in Afghanistan, this time it formally and piously decried anything that might lessen stability in Afghanistan. However, foreign affairs commentator Vladimir Frolov caught the Kremlin's true frame of mind when he observed that, "Trump implements Russia's negative agenda by default, undermining the U.S.-led world order, U.S. alliances, [and] U.S. credibility as a partner and an ally. [He did] All of this on his own. Russia can just relax and watch and root for Trump, which Putin does at every TV appearance" (The New York Times, December 21, 2018).
At the same time, the Russian foreign ministry, perhaps mindful of Trump's unpredictability and inconstancy, told the audience at its weekly briefing that it had asked the US many times about the latter's strategy regarding not only Afghanistan but also Syria. Therefore, it is impossible to count on there actually being a withdrawal of US forces from Afghanistan (Mid.ru, January 11, 2019). This was a step backwards from the foreign ministry's last briefing for 2018, when it claimed that Washington had not been interested in serious negotiations about Afghanistan until now and that Moscow had frequently lectured it that only a political solution involving the Taliban would work. And here also, the ministry claimed that a withdrawal of half of the US forces from Afghanistan would be a step in the right direction, namely a step toward starting a peace process (Mid.ru, December 26, 2018).
Thus, it seems clear that Moscow not only welcomes the withdrawal but is—at least cautiously, if not more so—hopeful that this will lead to the total withdrawal of the US from Central Asia. Additionally, Russia apparently believes that this will bring about the formation of a new Afghan government that crucially includes the Taliban, which, it expects, will be responsive to Russian and Pakistani influence. Lastly, and perhaps even more importantly, Moscow believes that the US pullout from Afghanistan will give Russia an even freer hand with regard to Central Asia. The Russian government has long believed that the US had designs on Central Asia that were inimical to its interests which, as Kabulov's remarks indicate (see above), still manifest a colonialist ambition to subordinate the region to its policy preferences.
In this light, President Trump's expressed ignorance about why Moscow invaded Afghanistan forty years ago, as well as his call for grater Pakistani, Iranian and Russian activity there, is could turn into an invitation for more violence and terrorism. This is particularly likely since Islamabad, Tehran and Moscow are now all sponsoring the Taliban or other militant groups in Afghanistan.
So even if it may be possible and necessary for Washington to withdraw from Afghanistan after 17 years—especially if it can secure a negotiated settlement—Trump's capricious rhetoric is already having some negative results for the region: for example, the Taliban canceling the latest round of projected talks with the US. Russia may think that, as the US pulls back, it will be able to extend its own influence to fill the vacuum. And Moscow apparently believes that it has the capability to restrain the Islamic State in Afghanistan while coming to some sort of understanding with the Taliban if it prevails. But arguably, that is as big an illusion as the belief that the US can easily withdraw from Afghanistan without any negative consequences to regional or global security.