Russia Seeks Closer Energy Partnership with China
Publication: Eurasia Daily Monitor Volume: 10 Issue: 42
By: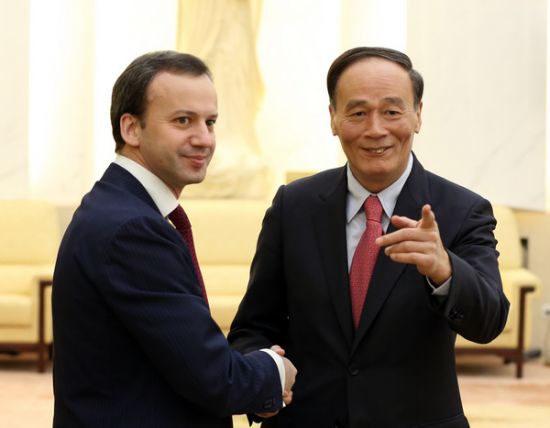 On February 25, Russian Deputy Prime Minister Arkady Dvorkovich traveled to China to attend a first meeting of the bilateral intergovernmental commission on energy cooperation. The commission was formed in December 2012 to replace the bilateral Russia-China energy dialogue. Dvorkovich held talks with his Chinese counterpart, Vice Premier Wang Qishan to discuss ties in the oil, gas, electricity and nuclear power sectors. Dvorkovich also stated the Russian authorities were preparing for an upcoming visit to Moscow of the new Chinese leader Xi Jinping, due in late March (Russian Governmental Press Service, February 25).
Following talks with Chinese officials, Dvorkovich announced that Russian oil giant Rosneft aimed to increase crude oil supplies to China. Rosneft head Igor Sechin visited China earlier in February and achieved "strategic agreements," while, as Dvorkovich noted, actual contracts were expected in the coming months (Russian Governmental Press Service, February 25).
Russia initiated crude oil supplies to China via the East Siberia–Pacific Ocean (ESPO) pipeline on January 1, 2011. According to the agreement concluded in 2009, Rosneft and Transneft pledged to supply 15 million tons of oil to China for 20 years in exchange for Chinese loans totaling $25 billion (see EDM, June 24, 2011).
During his late February visit to Beijing, Dvorkovich also argued that "basic agreements" on gas supplies to China were expected by the end of March, and it then would take "several months" to agree on terms of the contracts (Russian Governmental Press Service, February 25). Gazprom's plans to build gas pipelines to China have been stalled for years as both sides struggled to agree on a gas price. Back in 2006, Moscow first pledged to export Russian gas to China via a 6,700-kilometer Altai pipeline. In March 2006, Gazprom and the Chinese National Petroleum Company (CNPC) signed a memorandum on the delivery of Russian natural gas to China from 2011. Gazprom planned to supply 30 billion cubic meters (bcm) of gas per year to China via the Western route, and 38 bcm per year via the Eastern route. Gazprom had initially offered to supply gas to China at European price levels, but CNPC insisted on lower prices, and the disagreement resulted in the ongoing delays (see EDM, June 24, 2011).
In October 2009, Gazprom and CNPC signed a framework agreement on gas supplies, including the construction of a gas pipeline. The two state-owned energy giants agreed that gas prices would be connected to the "Asian oil basket" (see EDM, October 26, 2011).
In April 2011, then-Russian President Dmitry Medvedev voiced hopes that Moscow and Beijing would soon agree on the price of Russian gas to be supplied to China. But both sides remained divided by more than $100 per trillion cubic meters (see EDM, June 24, 2011). By October 2011, however, then-Prime Minister Vladimir Putin said that bilateral discussions on the terms of Russian gas supplies to China "were nearing completion." Russian officials had previously expected a final agreement on gas prices to be concluded in June 2009, and gas supplies to start in 2014–2015 (see EDM, February 22, 2012).
After Dvorkovich's trip to China, the official Russian news outlet Rossiiskaya Gazeta argued that the Chinese government voiced interest in importing liquefied natural gas (LNG) supplies from Russia, including from the Far Eastern and Yamal projects. The daily noted that Russian suppliers would be able to offer competitive prices (Rossiiskaya Gazeta, March 1).
In the face of faltering domestic and European demand, Russia's eastern projects remain the only potential driver of growth for Gazprom, the Finam news agency commented. However, Gazprom's planned 38 bcm per year contract with CNPC is only expected to be completed by the end of 2013, while actual supplies would start only in 2017 (Finam, February 28).
As both sides continued to struggle to agree on energy prices, they also raised mutual expectations of further increases in Sino-Russian trade. Chinese experts estimated that bilateral commerce could exceed $100 billion in 2013. In 2012, Russia's trade with China reached $88.1 billion, according to China's statistics (ITAR-TASS, March 1). This was a significant increase from the low point of $38.8 billion caused by the global financial crisis in 2009. In June 2011, Medvedev pledged to increase bilateral trade turnover up to $100 billion per year by 2015, and to $200 billion per year by 2020 (see EDM, June 24, 2011; October 26, 2011).
Furthermore, investment ties between Russia and China also moved ahead. In 2012, investment cooperation between Russia and China amounted to $4.1 billion—a 118-percent increase year-on-year, according to Chinese statistics (ITAR-TASS, March 1).
In 2012, Russia also boosted electricity exports to China. Last year, electricity supplies to China amounted to 2.63 billion kilowatt hours (kWh)—nearly double the amount exported in 2011, year-on-year. In 2013, Russian energy companies pledged to export more than 3 billion kWh to China (Zolotoy Rog, Zrpress.ru, March 1). Nonetheless, Chinese officials have repeatedly complained that Russian suppliers insisted on inflated electricity prices (see EDM, June 24, 2011).
Russia's plans in recent years to increase bilateral trade with China has hinged upon prioritizing energy supplies. However, a further expansion of bilateral commerce continues to be hindered by the two countries' inability to come to a consensus on natural gas prices. The high-level state visit to Russia by Chinese Communist Party General Secretary Xi scheduled for the end of March may bring some new momentum to bilateral negotiations. But years of postponements of pipeline projects and incomplete energy agreements will likely sober the expectations of both sides.