Russia Seeks Long-Term Military Presence In Tajikistan and Kyrgyzstan
Publication: Eurasia Daily Monitor Volume: 8 Issue: 174
By: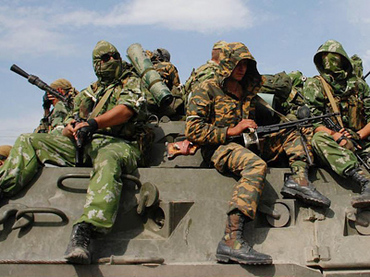 In early September, Moscow persuaded Dushanbe to extend the agreement on hosting its military base by 49 years. The official agreement between Russian President Dmitry Medvedev and his Tajik counterpart Emomali Rakhmon will be signed in early 2012 (www.vesti.ru, September 2). In exchange for the long-term lease Moscow will supply military equipment and train Tajikistan's army personnel.
The Russian base in Tajikistan was created in 2005 on the basis of the former 201st Motorized Rifle Division, a remnant of the Soviet period. The initial agreement concluded in 2004 allowed the base to function until 2014. Russian military units are located in Dushanbe, Qurghonteppa and Kulab. Twenty years after the Soviet Union's collapse, the Kremlin continues to consider Tajikistan important for its own security because of Tajikistan's 830-mile border with Afghanistan. Tajikistan hosts the second largest Russian base (between 5,000 and 7,000 troops); while Sevastopol has the largest Russian contingent (12,500 troops).
Moscow has been pursuing a similar policy in Kyrgyzstan. According to unconfirmed reports from Kyrgyz government officials, Russia is pressuring the Kyrgyz Prime Minister, Almazbek Atambayev (the most likely winner in the forthcoming presidential election), to sign a 49-year lease on the Kant airbase. This year, Atambayev said that he welcomes the Russian base in Kyrgyzstan and has agreed to cancel any rent payments in exchange for lower levies on Russia's fuel exports. "Kyrgyzstan needs the [Kant] base. Russia is our strategic partner… [this year] marks 150 years since Kyrgyzstan voluntarily joined the Russian Empire," Atambayev said, who is known for his pro-Russian foreign policy (www.kyrtag.kg, March 21). To date, however, Atambayev has been avoiding agreeing to Russia's long-term basing request.
The Kant airbase opened in 2003 for a period of 15 years with subsequent renewal for five years. In 2009, former President Kurmanbek Bakiyev had quietly agreed to host the Kant base for 49 years, but the deal fell through after he was ousted in April 2010. Exactly one year ago Moscow renewed its talks on a long-term lease. The Kremlin wants to boost its military presence in Kyrgyzstan and Tajikistan ahead of the International Security Assistance Force (ISAF) withdrawing from Afghanistan. Both the Russian-led Collective Security Treaty Organization (CSTO) and the Shanghai Cooperation Organization (SCO) have been gearing up for post-NATO engagement in Afghanistan.
Central Asian leaders often welcome Russia's military assistance, which is usually allocated to protect the ruling regimes from mass unrest. Tajikistan and Uzbekistan have been warily watching developments in the Middle East, both preferring to block any media reports covering the unrest. The CSTO's military drills "Tsentr-2011" held in Tajikistan during September 19-27, aim at preventing possible uprisings similar to those in the Middle East and North Africa (www.telegraph.co.uk, September 20, www.vedomosti.ru, September 13). According to Army-General Nikolai Makarov, the Russian Chief of the General Staff, "Tsentr-2011" drills are designed to prepare states to respond to mass unrest similar to that seen in Libya and Syria, and to potential spillover of instability from Afghanistan after NATO's withdrawal. According to the exercise scenario, the CSTO jointly responds to a 3,500 strong uprising aimed at ousting a government (www.asia-plus.tj, September 21).
Moscow has also been pressuring Dushanbe to install Russian border guards on the Tajik-Afghan border. The prospect of Russian troops returning to Tajikistan has become a recurring theme in bilateral meetings on various levels. The Kremlin has been criticizing Tajikistan for its incapacity to prevent Afghan heroin trafficking across the border. The Russian Federal Drugs Control Service has claimed that Russian border guards used to seize 5 tons of Afghan heroin annually, while Tajikistan can barely interdict 200 kilograms. However, according to the Tajik government, Russian border guards seized 11.3 tons of drugs from 1998 to 2005, roughly the same volume as Tajik border guards confiscated since 2005 (www.avesta.tj, September 1).
Tajik experts are mostly skeptical about the efficiency of Russian border guards. According to one Tajik NGO leader, since Russian border guards withdrew from Tajikistan in 2005, corruption rates have declined. "With the Russian base staying until [approximately] 2050 and the possibility of Russian troops controlling the Afghan border, it will feel like Tajikistan is back to its level of compliance with Moscow seen in the 1990s, during the civil war years," he said.
Negotiations on Russian bases in Tajikistan and Kyrgyzstan are being held behind closed doors. Moscow has also been guiding Kyrgyzstan and Tajikistan toward its other regional initiatives, including the Customs Union in which Belarus and Kazakhstan are also members.