Russia Seeks to Increase Energy Supplies to China
Publication: Eurasia Daily Monitor Volume: 8 Issue: 124
By: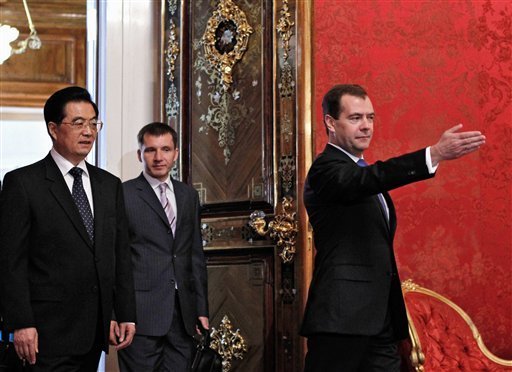 Moscow has indicated its interest in increasing trade with China but a major bilateral gas deal remained elusive. During talks with his Chinese counterpart, Hu Jintao, in Moscow on June 16, Russian President Dmitry Medvedev hailed what he described as the positive development of bilateral relations and economic ties. After the talks, Medvedev pledged to increase the bilateral trade turnover up to $100 billion per year and in 2015 to $200 billion annually in 2020 (Interfax, ITAR-TASS, RIA Novosti, June 16).
Earlier this year, Medvedev had already pledged to increase trade with China up to $100 billion per year. In 2010, Russia's trade with China amounted to nearly $60 billion or some 50 percent up year-on-year, according to Russian and Chinese statistics.
Hu Jintao visited Russia on June 15-18, following the Shanghai Cooperation Organization (SCO) summit in Kazakhstan. On June 17, Hu told the St. Petersburg Economic Forum that China wants to prioritize energy cooperation with Russia. During the visit, both sides intended to conclude an agreement on Russian gas exports to China, but the deal remained elusive amid pricing disagreements.
Only some minor economic agreements were actually signed. On June 16, Russia's VEB bank and the Industrial and Commercial Bank of China (ICBC) signed a MOU on mutual lending programs worth some $500 million. On June 16, Hu Jintao visited Gazprom's head office in Moscow. Gazprom CEO Alexei Miller told China's leader that in January-May 2011 the Russian gas giant increased gas production by 30 billion cubic meters (bcm) year-on-year and exports were up by 24 bcm. Miller apparently tried to convince Hu that Gazprom remained a reliable supplier (Interfax, June 16).
Meanwhile, Russian gas executives continued to nurture inflated price expectations. According to a poll among participants of the St. Petersburg Economic Forum, they expected gas prices at $200-$400 per thousand cubic meters (tcm) in 2012. However, Miller told the forum he anticipated the price to reach $500 per tcm by the end of 2011 (Interfax, June 17).
In April, Medvedev expressed hope that Moscow and Beijing would agree on prices of Russian gas to be supplied to China, adding the matter was discussed during his talks with Hu Jintao.
On June 16, Medvedev promoted the development of an energy partnership with China, including the hydrocarbon and nuclear sectors. He noted that both sides continue to hold talks on Russian gas supplies to China (Interfax, ITAR-TASS, RIA Novosti, June 16).
Last April, Russian media quoted Chinese sources as saying that during the gas price talks both sides remained divided by more than $100 per tcm (Interfax, April 28). Russian negotiators were understood to insist on higher gas prices, apparently expecting increased Japanese demand. Meanwhile, Chinese officials noted the availability of cheaper gas supplies from Central Asia, notably Turkmenistan.
The latest round of price negotiations between Gazprom and China National Petroleum Corp. (CNPC) achieved no results. On June 13, Energy Minister Sergei Shmatko argued that gas talks with China will continue. Gazprom and CNPC held talks in Moscow on June 13-14 (Interfax, June 13-14).
Gazprom's project to build the Altai gas pipeline to China has been stalled for years as both sides struggle to agree on gas prices. Five years ago Moscow first pledged to export up to 40 bcm of Russian gas to China via a 6,700-kilometer Altai pipeline. In March 2006, Gazprom and CNPC signed a memorandum on the delivery of Russian natural gas to China from 2011. Gazprom first offered to supply gas at European prices, while CNPC insisted on lower prices.
In October 2009, Gazprom and CNPC signed a framework agreement on gas supplies, including construction of a gas pipeline. Gazprom and CNPC agreed that gas prices would be connected with the "Asian oil basket." Russian officials had previously expected a final agreement on gas prices to be concluded in June 2009, and gas supplies to start in 2014-2015.
In July 2010, Gazprom and CNPC discussed financing the Altai pipeline but the negotiations reached no conclusion. Gazprom first estimated the pipeline's construction costs at $10 billion, but then raised the estimate up to $14 billion. Despite an apparent failure to agree on gas prices, on June 16 deputy Prime Minister Igor Sechin reiterated pledges to supply 30 bcm per year of gas to China via the Western route, and 38 bcm per year via the Eastern route. He said that Rosneft has entered talks with China on increased oil exports (Interfax, ITAR-TASS, RIA Novosti, June 16).
Earlier this year, China's CNPC tried to cut the price of oil supplied from Russia, arguing that Rosneft inflated the price of crude supplied via the East Siberia Pacific Pipeline (ESPO) by 2-3 percent. CNPC was said to unilaterally cut payments to Rosneft, thus accruing what the Russian executives described as debts of some $250 million. In April, Sechin approached Chinese government officials in a bid to solve disagreements over oil prices. The Chinese foreign ministry hoped that both sides would negotiate a resolution of the pricing dispute (Interfax, April 21).
In May, Russian media quoted energy ministry sources as claiming that Gazprom and Transneft wanted to sue CNPC in 2-3 weeks unless the Chinese company cleared its debts. But on June 10, Rosneft CEO, Eduard Khudainatov, said CNPC fully paid for oil supplied to China (Interfax, June 10). Russia started oil supplies to China via the ESPO from January 1, 2011. According to the agreement concluded in 2009, Rosneft and Transneft pledged to supply 15 million tons of oil to China for 20 years in exchange for Chinese loans totaling $25 billion.
Meanwhile, Moscow also hopes to increase electricity exports to China. On June 16, Sechin pledged to increase electricity exports to China up to 1.4 billion kWt/hour in 2011 (Interfax, ITAR-TASS, RIA Novosti, June 16).
Russian energy companies had pledged to export 60 billion kWt/hour by 2020, but last year Russian suppliers only exported about one billion kWh to China. Chinese officials have repeatedly complained that Russian suppliers doubled the price of electricity in the past five years, and warned Moscow that China would not accept further price increases.
Despite Russian pledges to increase trade with China, further expansion of bilateral commerce remains limited due to Moscow's insistence on high energy prices.