Russia Seeks to Sustain its Crude Oil Output
Publication: Eurasia Daily Monitor Volume: 8 Issue: 1
By: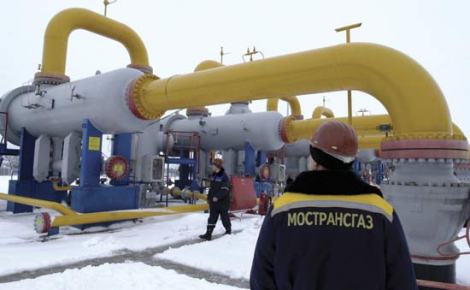 Moscow has pledged to sustain its crude oil production at high levels and increase exports. However, the economic model of the Russian oil sector still seems to remain largely export-oriented, while the government seemingly views it as a major cash-cow.
The authorities have increased the oil sector's financial burden. On November 27, Prime Minister, Vladimir Putin, signed a decree to increase export tariffs levied on crude oil and oil products. According to the decree, effective from December 1, the tariff levied on crude oil was raised from $290.60 per ton up to $308.80 per ton. Also, on November 27, President Dmitry Medvedev signed into law a bill to increase the crude oil extraction tax (Interfax, RIA Novosti, November 27). Although these increases were not significant, such measures indicated the government's continued over-reliance on petrodollars.
Russian authorities have long prided themselves on being a major energy power. Russia's total oil reserves are estimated at 22 billion tons, sufficient to sustain the current output levels for 40 years, Energy Minister, Sergei Shmatko, announced on October 28. Russia is expected to pump 501 million to 505 million tons of oil annually until 2020, Shmatko said. Russian oil export capacities would be increased up to 350 million tons per year by 2015, from the current level of 270 million tons, according to Shmatko (Interfax, RIA Novosti, October 28).
Russia's energy strategy until 2030, adopted by the government in August 2009, envisaged a continued increase in the country's oil production. According to the blueprint, by 2030 Russia would pump 530 million to 535 million tons of oil annually, or up by 8.6-9.7 percent from 2008, including exporting 329 million tons.
Therefore, Russian government planners revised their oil export estimates up by 21 million tons per year. In other words, Moscow apparently expects the country's oil companies would speed up efforts to develop new deposits. The Kremlin regularly urges oil tycoons to act in accordance with government strategy. Russian oil companies must invest in development of their production facilities, Putin said. Putin also pledged granting additional tax incentives to new oil projects (Interfax, RIA Novosti, October 28).
However, Russian government officials make no secret that the tax environment still remains largely unfavorable for the domestic oil sector. Shmatko conceded that under the current system of taxation, the development of nearly 30 percent of the country's oil deposits makes no economic sense. Shmatko also promised that the tax burden on oil companies is due to decline to 65 percent of sales by 2020 from the current level of 73 percent (Interfax, October 28). The Kremlin is apparently prepared to grant oil tycoons some tax breaks in exchange for investments in increased crude production.
Meanwhile, Russian authorities also announced new measures to encourage investment in the country's oil refinery sector. Obsolete oil refineries would not be allowed to be connected to oil pipelines, Putin said. Putin also stated that Russian oil companies would be required to sell no less that 15 percent of oil products using exchange trading in order to make price-setting more transparent (Interfax, RIA Novosti, October 28).
In October, Russia launched a major petrochemical production facility. On October 26, President Medvedev inaugurated the first stage of a petrochemical complex in Nizhnekamsk. The 7 million tons per year refinery was the first new major oil processing facility built in Russia in more than two decades. Russia's Tatneft oil company spent 170 billion rubles ($5.5 billion) financing the construction of its Nizhnekamsk project. The authorities lost no time to encourage further development of the Nizhnekamsk project. On October 28, Deputy Prime Minister, Igor Sechin, ordered Tatneft to double the capacity of the new plant up to 14 million tons annually (Interfax, October 28). The second stage is now expected to be completed by 2013.
As the government revised its oil export estimates up, Russian oil companies were also told to invest in the development of existing export infrastructure. Russian pipeline monopoly Transneft was to lead the drive to upgrade the country's oil export infrastructure. In 2010-2013, Transneft would spend 510 billion rubles ($17.9 billion) to build some 3,500 kilometers of new pipelines, Transneft CEO, Nikolai Tokarev, announced. In 2010-2017, Transneft aims to invest 79 billion rubles annually ($2.6 billion) to upgrade and repair its existing network of pipelines, Tokarev said (Interfax, October 28).
The Eastern Siberia Pacific Ocean (ESPO) project has emerged as Russia's highest profile energy initiative in recent years. ESPO's first stage has a capacity of 30 million tons per year, while the second stage would yield 80 million tons of oil per annum. On November 1, Transneft announced that it started "technical" oil supplies to China via the ESPO (Interfax, November 1). However, Transneft's huge expenses were apparently intended to be financed by oil companies. Transneft repeatedly urged the government to raise oil transit tariffs, arguing it needed more funding to build ESPO and other new pipeline projects.
On the other hand, there have been concerns that eastern Siberia may not have enough oil to fill the ESPO. In order to operate the ESPO at its capacity, eastern Siberian oil deposits are due to produce more than 50 million tons per year of oil by 2020 and sustain production at this level. The latest government pledges to grant additional tax incentives to new oil projects were apparently aimed at addressing these concerns. However, as the Russian oil sector appeared to remain mainly export-oriented, it is also dependent on unpredictable fluctuations in international oil prices. Therefore, Russian government estimates of oil production and exports are likely to face a reality check.