Russia Struggles to Settle Kyrgyz Unrest
Publication: Eurasia Daily Monitor Volume: 7 Issue: 110
By: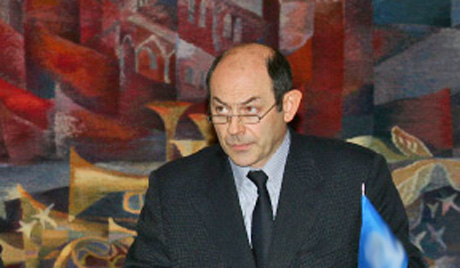 As Russia hosted the Commonwealth of Independent States (CIS) and the Eurasian Economic Commonwealth (EEC) meetings of heads of governments, the gathering appeared to be overshadowed by the continued instability in Kyrgyzstan. On May 21, Kyrgyzstan's interim government did not attend the CIS and EEC meetings in St. Petersburg. Russian Prime Minister, Vladimir Putin, commented that the interim leaders in Bishkek did not attend due to "procedural and protocol" issues.
On May 22, Putin also pledged to grant Kyrgyzstan additional "humanitarian" aid, including financial assistance, oil products and grain. He urged stabilizing the country and legitimizing the new authorities by holding an early election (Interfax, ITAR-TASS, RIA Novosti, May 21-22).
The security situation in Kyrgyzstan also became a matter of concern for another regional grouping: the Shanghai Cooperation Organization (SCO). On May 22, SCO foreign ministers met in Tashkent and pledged to assist Kyrgyzstan in stabilizing the country. The SCO members also promised to provide humanitarian assistance to Bishkek. Subsequently, the Kyrgyz crisis appears to remain a matter of top-level concern. On May 23, Russian President, Dmitry Medvedev, and his Uzbek counterpart, Islam Karimov, held telephone talks to discuss the continued tensions in Kyrgyzstan. This discussion was initiated by the Kremlin (Interfax, May 23).
Earlier in May, Medvedev appointed former Interior Minister, Vladimir Rushailo, as his special envoy to Kyrgyzstan. On May 14, Rushailo traveled to Bishkek to meet Roza Otunbayeva, the head of the provisional government, and pledged continued Russian assistance. On May 22, Rushailo held a press-briefing in Bishkek and called for an end to the crisis in Kyrgyzstan, while he also pledged $30 million in extra preferential loans to the new Kyrgyz authorities.
After the Kyrgyz President, Kurmanbek Bakiyev, fell from power, the Kremlin's official statements tried to retain some semblance of neutrality. Yet, Russian officials made no secret that Moscow had become disillusioned with Bakiyev's regime. "The events in Bishkek … indicated the bankruptcy of Kyrgyz policies in the past five years, since March 2005," the Russian Deputy Foreign Minister, Grigory Karasin, stated on April 14 (Interfax, April 14).
Moscow was understood to be unhappy with Bakiyev, who failed to deliver on his earlier pledges to end the US military presence in Kyrgyzstan. Russia granted Kyrgyzstan $150 million in aid, $300 million in concessionary loans and wrote off $100 million in Kyrgyz debt, while Bakiyev failed to transfer the Dastan defense plant to Russia. Russia and Kyrgyzstan have been struggling to agree on the future of the Dastan defense plant, which was formed in 1993 on the premises of the Bishkek defense industry plant, which once produced high-speed "Shkval" torpedoes and other military hardware. In October 2007, the Kyrgyz authorities promised to grant Moscow a 37.3 percent stake in the country's major defense industry company, Dastan, in exchange for $30 million and writing off outstanding debts. However, Dastan apparently was placed under Maksim Bakiyev's control.
Moscow also lost no time in developing ties with the new Kyrgyz authorities. At a cabinet meeting on April 14, the Russian government pledged to allocate a $20 million grant and an additional $30 million preferential loan to the new Kyrgyz authorities and supply 25,000 tons of fuel and oil products to the country. Kyrgyzstan consumes about one million tons per year in fuel and oil products supplied from Russian refineries. In early April, Russian customs authorities requested export duties on oil products supplied to Kyrgyzstan thus effectively blocking exports there. The move was understood to have undermined Bakiyev's authority.
However, the modest humanitarian assistance offered by Moscow apparently fell short of expectations among the new Kyrgyz authorities. Bishkek apparently expected to discuss $1.7 billion in loans promised by Russia to finance the Kambaratin hydropower projects. The Russian authorities had already made clear that Bakiyev was not welcome in the Russian capital. In contrast, the Kremlin offered asylum to the former President, Askar Akayev, who fled the country in March 2005 after similar violent protests. On May 18, Akayev told journalists in Moscow that the Kremlin was not behind Bakiyev's downfall and argued that he had lost power due to his own failures (Interfax, May 18).
Meanwhile, Russian diplomats have strongly dismissed allegations that the unrest in Kyrgyzstan was connected with Moscow's policies and described these claims as "fabricated information." On May 14, the Russian foreign ministry dismissed Otunbayeva's allegations that the riots in southern Kyrgyzstan had been coordinated from Moscow (Interfax, May 14).
The Russian-led Collective Security Treaty Organization (CSTO) has repeatedly called for the restoration of stability in Kyrgyzstan. The CSTO informal summit in Moscow on May 8 voiced concerns about the Kyrgyz unrest. The organization also indicated that its Collective Operational Reaction Forces (CORF) would not interfere in Kyrgyzstan because it was not designed to intervene in internal conflicts, according to the CSTO Secretary-General, Nikolai Bordyuzha. Bordyuzha also hailed the Belarusian decision to offer asylum to Bakiyev and argued that the move did not entail any rift within the CSTO (Interfax, May 14).
Moscow appears to remain interested in pursuing a close political relationship with Bishkek. However, the Kremlin's cautious approach and its apparent reluctance to grant any sizable aid to the new Kyrgyz authorities may undermine efforts to forge better ties with the new leadership in Bishkek than it had with the Bakiyev regime.