RUSSIA STRUGGLES TO SUSTAIN PARTNERSHIP WITH INDIA
Publication: Eurasia Daily Monitor Volume: 4 Issue: 213
By: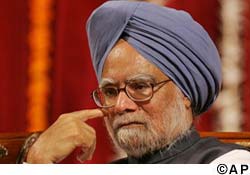 During Indian Prime Minister Manmohan Singh's November 11-12 visit to Moscow, Russia and India signed agreements on space cooperation — including a possible joint lunar program — rupee debt investment, drug trafficking and transnational crime, as well as a deal on joint development and production of multi-role transport aircraft (MTA).
In talks with Singh Russian President Vladimir Putin stated that Russia and India share similar positions on key international issues, including Afghanistan, Iraq, and the Iranian nuclear problems. Both states also reiterated that international law and the United Nations should play a pivotal role in tackling international crises.
Ahead of his visit, Singh was keen to dismiss claims about a chill in bilateral ties, saying he was "optimistic" about the future of their strategic partnership. "Russia occupies a special and unique place in India's foreign relations," Singh said in an interview with Russia's state-run RIA-Novosti news agency. Singh also indicated that Indian and Russian oil and gas companies were engaged in discussions to expand their cooperation beyond the Sakhalin-1 project (RIA-Novosti, November 9). Putin also hailed bilateral energy partnership in Sakhalin-1 and suggested using this experience in Russia, India, and other countries (Interfax, RIA-Novosti, November 12).
The potential recoverable resources of Sakhalin-1 are estimated at 2.3 billion barrels of oil and 17.3 trillion cubic feet of gas. India holds 20% stake in the oil- and gas-rich block. State-owned ONGC Videsh has made the largest overseas investment of $1.7 billion, which is expected to go up to $3.5 billion in the exploration stages.
The $12 billion project at Sakhalin-1 is operated by ExxonMobil, which holds a 30% stake in the project, while Sodeco of Japan has a 30% share, and Russia's Rosneft holds the remaining 20%. Sakhalin-1 may eventually generate up to 8 million tons of oil and 9.5 billion cubic meters of natural gas a year. The arrival of the first oil from Sakhalin in India was reported in 2006.
In the past few years, Russia had promised that ONGC Videsh could bid for a stake in Sakhalin-3 block, but the auction is yet to materialize. Back in 2004, the state-run ONGC indicated interest in bidding for the assets of embattled Russian oil major Yukos. However, foreign companies were not allowed to bid, and Yukos assets ended up under control of the state-run Rosneft.
In recent years, India has accounted for about 30% of Russia's total arms exports. Moscow and New Delhi have pledged to jointly develop about 200 joint armament projects totaling some $18 billion. On October 18, Russia and India signed an agreement to jointly produce spare parts for Sukhoi Su-30MKI jet fighters and to develop a fifth-generation fighter jet,
Singh's visit is an opportunity for Russia to smooth over problems in its defense relations with New Delhi, the Moscow Times commented on November 9. Instead of fuming over New Delhi's intensifying relations with Washington, Russia should do its best to remove unnecessary irritants in its own ties with India, notably delays in refitting the Admiral Gorshkov, an aircraft carrier India bought from Russia in 2004, as well as spiraling costs in defense deals, the daily wrote (Moscow Times, November 9).
On November 12, Singh voiced interest in expanded nuclear cooperation with Russia. A memorandum of intent for the construction of four additional power reactors at Kudankulam in Tamil Nadu, built with Russian assistance, was signed in January this year, Singh said, adding that both sides were drafting an intergovernmental nuclear agreement to build the four reactors.
In the meantime, bilateral trade has been increasing, although both sides conceded that trade volumes have not reached their full potential. According to Russian data, in 2006 Russia's exports to India was $3 billion, or up 29% over 2005, while India's exports to Russia totaled only $950 million. In January-August 2007, bilateral trade reached $2.7 billion or up 30%, including $1.9 billion in Russian exports (Interfax, November 12).
"These numbers indicate a serious success," Putin said, adding that the development of this "positive trend" fit the interests of both countries. Meeting with Singh on November 12, Russian Prime Minister Viktor Zubkov noted what he described as the "positive dynamics of bilateral trade and economic ties," and urged increasing two-way trade up to $10 billion annually by 2010 (Interfax, RIA-Novosti, November 12).
The Kremlin also indicated continued interest in developing an informal alliance among Russia, China, and India, presumably as a counterweight to the West. According to Putin, "This cooperation tends to broaden and deepen in a number of directions."
The "strategic triangle" was first proposed by then-Russian Prime Minister Yevgeny Primakov during a visit to India in 1998. A Moscow-Beijing-New Delhi axis would represent an alliance of three nuclear-armed countries of some 2.5 billion people.
However, Russian officials were careful to soothe over Western concerns that the "strategic triangle" could evolve into an anti-Western military bloc. When Russia's Foreign Minister Sergei Lavrov met his Chinese and Indian counterparts in Harbin on October 24, he reiterated that the three countries have no plans to form any military alliance in response to U.S. missile defense plans in Poland and the Czech Republic.