Russia Threatens a Renewed War in Georgia to Prevent NATO Enlargement
Publication: Eurasia Daily Monitor Volume: 15 Issue: 120
By: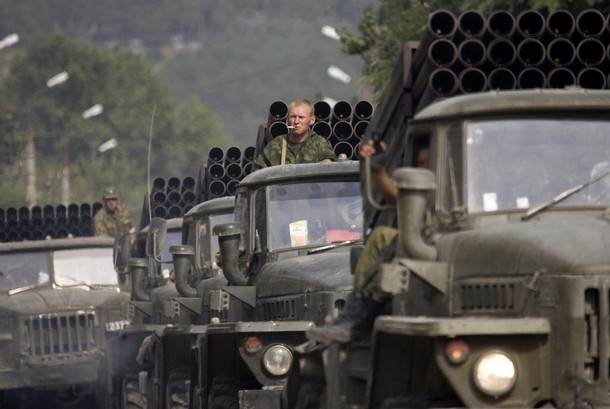 On August 8, 2008, the simmering confrontation with constant shooting and shelling between Georgian government forces and Ossetian separatists armed, financed and supported by Russia suddenly turned into an all-out Russo-Georgian war. As detailed in the 2009 study The Guns of August 2008: Russia's War in Georgia, edited by Svante E. Cornell and S. Frederick Starr, the subsequent conflict was a strategic and military mismatch. A couple of brigades of Georgian soldiers and paramilitary police, essentially trained and equipped for anti-insurgency warfare, without an operational air force and a tiny navy of several old patrol boats, suddenly found themselves facing an onslaught of Russian armor and a demoralizing barrage of Russian bombs and ballistic missiles hitting targets deep inside Georgia. The Georgian forces retreated in disarray. Tens of thousands of Georgian civilians were ruthlessly uprooted and cleansed from South Ossetia, which, together with Abkhazia, were recognized by Moscow in August 2008 as separate independent states, allied to Russia.
In Moscow, the tenth anniversary of the war is being celebrated as a resounding Russian victory (see EDM, August 6, 2018), with state-run TV channels running lengthy coverage of gallant Russian soldiers and armor defeating the crazy and criminal Georgian President Mikheil Saakashvili and his American masters. The tightly knit Moscow elite is unapologetic about the invasion of Georgia or the recognition of its breakaway regions. Their hate for Saakashvili seems to burn as intensely as ever. Natalia Timakova—the press secretary of Prime Minister Dmitry Medvedev, who in August 2008 was technically president, though always subordinated to Vladimir Putin—declared Saakashvili "a crazy gutless clown on the international wanted list." She insisted, "Anything he [Saakashvili] says is all lies" (Militarynews.ru, August 8). In turn, Saakashvili, who has been stripped of his Georgian citizenship by the present authorities in Tbilisi and later expelled from Ukraine after a clash with President Petro Poroshenko, in an interview with Ekho Moskvy radio, called Medvedev "totally worthless" and "a zero." Saakashvili claimed that, in 2008, at a summit of the Commonwealth of Independent States (CIS—an organization Tbilisi officially left in mid-2009), then-president Medvedev told him, "I do not make decisions—they are taken in Moscow…" (Ekho Moskvy, August 7).
In a lengthy interview to mark the tenth Georgian-Russian War anniversary, Medvedev insisted a confrontation could have been avoided, were it not for the "Georgian attack on Tskhinvali [the capital of South Ossetia]." Moscow was not actually preparing to fight, he contended (Kommersant, August 7). This is of course window-dressing. For months or longer, Moscow was mobilizing forces as well as moving heavy equipment and munitions into forward position. According to Russian military sources, in 2007 a battery ("division") of ballistic Tochka-U missiles (range: 120 kilometers) was secretly moved into the so-called "demilitarized zone" in Abkhazia patrolled by Russian peacekeepers. Precision-targeted Tochka-U missiles were massively employed by the Russian forces on both the Abkhazian and South Ossetian fronts during the conflict (M. S. Baranova, ed., Tanks of August, 2009).
According to former defense minister and deputy prime minister Sergei Ivanov, the Russian military had a prepared detailed plan to fight Georgia. The key first objective was to secure the strategic Roki Tunnel under the main Caucasian mountain ridge connecting North and South Ossetia. Two reinforced armored battalion tactical groups moved into the Roki Tunnel before Medvedev officially announced the Russian intervention. The mass of Russian forces followed, clogging the narrow underground passageway with a terrible traffic jam. But as the invasion proceeded, Russian vehicles frequently broke down and had to be unceremoniously pushed off the road. Commanders carried outdated maps and did not know how to use the satellite-based GLONASS navigation system; their communications and logistic supply systems collapsed. Moreover, according to Ivanov, Russian military intelligence underestimated Georgian anti-aircraft defenses, and Russia's air force suffered unexpectedly heavy losses (Kommersant, August 8).
As the unending column of troops and armor poured through the Roki Tunnel and down on to Tskhinvali, the Georgian forces were ordered to fall back. Central Georgia—from Tskhinvali to Gori and, from there, to Tbilisi—is mainly open plain with scattered hills. It is good tank country, and the Georgians there had no chance of stopping the Russian advance, which was supported by air power. Several kilometers northwest of Tbilisi, the road from Gori passes through Mtskheta—the ancient Georgian capital. At Mtskheta, the road to Tbilisi proceeds through a steep gorge surrounded by high mountains—a good natural defense position. By August 12, 2008, the Georgian command had gathered what forces it had at Mtskheta for a last desperate stand, but the Russian military units stopped and a French-brokered ceasefire was signed. According to what Medvedev says today, fully defeating the Georgian military, proceeding to Tbilisi and overthrowing Saakashvili was never the objective (Kommersant, August 7). Yet, in August 2011, in an interview with Russia Today (since renamed RT), on the third anniversary of the war, Medvedev said something different: The main objective of the invasion was to "destroy and demolish the Georgian military" and effectively demilitarize the country (Kremlin.ru, August 5, 2011).
In 2008, the Georgian military had intelligence of all Russian moves, gathered by Israeli-purchased drones the Russians did not possess at the time. Consequently, Georgian forces managed to escape being encircled. The military suffered losses but had practically no prisoners of war, and it managed to retrieve much of its heavy equipment. No speedy regime change occurred in Tbilisi. In 2012, Saakashvili lost a parliamentary election to the Georgian Dream coalition, led and bankrolled by Bidzina Ivanishvili, who had made billions in Russia in banking and metals and computer trading. Trade relations, tourism and direct air flights between Russia and Georgia were revived under Georgian Dream rule. But there are still no diplomatic relations, and Tbilisi continues to infuriate Moscow for actively seeking membership in the North Atlantic Treaty Organization (NATO). Furthermore, a thousand US soldiers with tanks and other armor have been deployed to Georgia in August for Noble Partner 2018 international military exercises (some 3,000 soldiers from 13 countries will participate). The US armor was transported along the main Georgian East–West highway, through Gori to Tbilisi—the same road the Russian tanks used in 2008, which traverses just several kilometers south from Russian occupying forces' present positions in South Ossetia (Militarynews.ru, July 28).
According to Medvedev, NATO is encroaching on and surrounding Russia; and if Georgia becomes a member, "this could provoke a terrible conflict" (Kommersant, August 7). The noisy celebration of the 2008 war was apparently not simply an attempt to whip up some additional jingoism in the populace, but also a signal to the West: The 2008 war ended with a ceasefire, which may be broken.