Russia Warns Georgia Against Signing Association Agreement With European Union
Publication: Eurasia Daily Monitor Volume: 11 Issue: 100
By: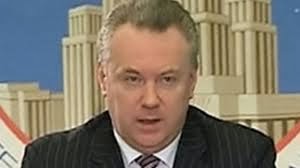 On May 22, Alexander Lukashevich, the spokesman for the Russian Ministry of Foreign Affairs (MFA), grimly declared that there would be consequences for Georgia if it signed the Association Agreement (AA) with the European Union, which is scheduled for June 27. In a somewhat lukewarm tone, Lukashevich added that Russia respected any country's sovereign right to join international formats of its own choosing. Nevertheless, Lukashevich's threat about possible negative consequences to Georgia stemming from signing the AA certainly challenged the assertion that Moscow truly respected Georgia's or any other country's sovereign right to sign a treaty of its own choosing (Vestnik Kavkaza, May 22).
Last week's warning appears to reverse a number of firm assurances Moscow previously made to EU and Georgian officials that the Kremlin would not disturb the EU-Georgian negotiations and agreements—which politicians in Brussels and Tbilisi had sounded optimistic about (Civil Georgia, May 22). And despite Lukashevich's clear warning, Georgian Prime Minister Irakli Garibashvili somewhat carelessly responded to the verbal threat, stating that "everything [would] be all right," following up with praise for himself and his government for "normalizing ties with Russia" (epn.ge, May 23).
It is difficult to argue against Russia's apparent desire to disrupt Georgia's integration process with the West—especially judging from the long and troubled record of Russian-Georgian relations. But does Moscow have the ability to disrupt the signing of the AA or later punish Georgia for doing so? For its part, the Georgian government doubts that Russia has the means to do so. Specifically, Prime Minister Garibashvili asserts that Georgia is less economically dependent on Russia than Ukraine was, which Moscow easily derailed from signing the AA last November (netgazeti.ge, November 30, 2013).
However, the Georgian prime minister could not be any more mistaken. Russia remains in a strong position to undermine or punish Georgia for pursuing European integration. First and foremost, following the acclaimed reopening of Russian markets to Georgian wines and agricultural products, Russia became Georgia's third largest trading partner in the first quarter of 2014 (https://www.geostat.ge/cms/site_images/_files/georgian/bop/FTrade_January_%20April_2014_GEO.pdf). The hard-earned diversification of foreign markets that the fledgling Georgian economy achieved after the 2006 Russian embargo on Georgian products (see EDM, March 28, 2006) now seems to have been undone. Consequently, Russia is in a stronger position now than it was 2–3 years ago to pressure Georgia with trade sanctions. And Russian MFA spokesman Lukashevich made this plainly clear when he loudly reminded Georgians that Russia was their third largest trading partner (Civil Georgia, May 22). It is evident that Moscow could apply a renewed embargo on Georgian exports to the Russian market, thus inflicting punishing damage on the small country's economy.
But Russia's leverage does not end there. On April 15, Russian occupying forces in Georgia's breakaway region of South Ossetia abducted three Georgian journalists, who were handed over to the local separatist authorities. Russia stated that the journalists were arrested for violating South Ossetia's "state" border (TV3 Channel, April 15, 16). Moreover, between May 2 and May 12, the Russian forces used the same pretext to justify arresting 26 Georgian villagers in five separate cases across the South Ossetian occupation line (pia.ge, May 2; Civil Georgia, May 12). Needless to say, Russia can easily accelerate such detentions, gradually escalating the tensions in the region in order to force Georgia to back away from signing the AA—or punish Tbilisi if it still goes ahead with it on June 27.
Meanwhile, EU officials have been cautious in their rhetoric so as not to anger Moscow in the run up to AA signing ceremony. For instance, on May 14, European Council President Herman Van Rompuy, while visiting Georgia, underlined that political association and market integration with the EU "should not be seen as a rejection of close relationships with other partners," clearly referring to Russia. He also emphasized that integration with the EU was not a zero-sum game, which would be incompatible with improved trade across the Caucasus (Civil Georgia, May 14). Moreover, on May 21, the president of the European Commission, Jose Manuel Barroso, took pains during his joint news conference with Garibashvili in Brussels to underline that offering EU membership to Georgia for now was not possible. He also expressed his hope that Russian authorities would stick to their promise not to disturb the process of formalizing the EU-Georgia agreement (Civil Georgia, May 21).
It is yet to be seen, however, if Moscow keeps its promise. Indeed, Lukashevich's recent warning could be an overt sign to the contrary. If so, signing the Georgia-EU Association Agreement, which at this point seems imminent, may not be as painless and smooth for Tbilisi as its government believes. Clearly, Russia retains strong economic and political leverage that it can use to apply pressure on Georgia, if it decides to do so. And it would be surprising if Moscow took no such steps at all in the coming weeks.