Russia Will Construct Turkey's First Nuclear Power Plant
Publication: Eurasia Daily Monitor Volume: 7 Issue: 98
By: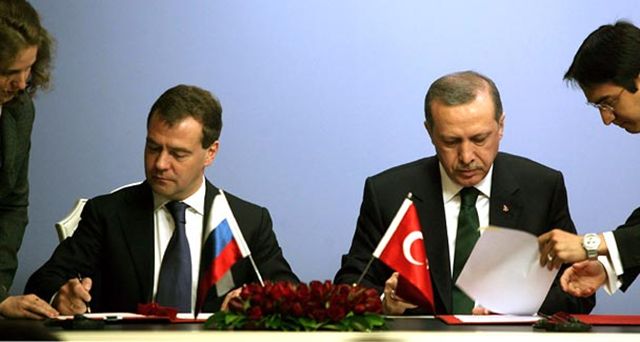 During Russian President, Dmitry Medvedev's, visit to Ankara last week, Turkey and Russia enhanced their multi-dimensional partnership by signing 17 agreements. Major deals concerned energy cooperation, which has been the driving force in bilateral relations. In what might be considered as the most substantial achievement of the trip, a protocol signed between the two countries ended the uncertainty surrounding the construction of Turkey's first nuclear power plant (EDM, January 15). If the agreement receives parliamentary ratification, the Russian company Rosatom will form a 100 percent Russian-owned subsidiary which will construct, operate and finance the nuclear plant in Turkey. Later, it could sell up to 49 percent of the subsidiary's shares, while maintaining the right to retain the controlling stake (Star, May 13).
Other items relating to an energy partnership were developed around previous agreements (EDM, October 23, 2009; August 7, 2009). The parties reiterated their commitment to further cooperation in the Blue Stream and South Stream projects. Moscow also expressed its readiness to support the Samsun-Ceyhan oil pipeline. Reportedly, no clear commitment was made to provide Russian crude oil for the pipeline, while Moscow promised to invest $3 billion towards the construction of the pipeline (www.turkrus.com, May 13). Overall, no other concrete step was announced that can be considered as a significant breakthrough in the energy partnership (EDM, May 17), but diplomatic sources claim that a further agreement on South Stream might be signed in November (Cihan, May 17).
The most publicized achievement was an agreement that would allow visa-free travel for citizens of the two countries visiting the other country for tourist or business purposes (up to 30 days). While approximately 2.5 million Russian tourists visit Turkey annually, Turks making similar trips are a fraction of those who visit Russia as the number of Turks visiting Russia amount to only 40,000. Since many Turks travel to Russia for business purposes and obtain visas after a lengthy process, unlike Russians who only need entry permits at the border, this decision is largely welcomed in Turkey. Moreover, this development has a symbolic value, as it underscores growing mutual confidence. Further reflecting this mood, Medvedev announced that they would work towards a complete visa liberalization in the near future (www.turksam.org.tr, May 9; Anadolu Ajansi, May 13).
Overall, abandoning visas resonates well with the Turkish government's recent efforts to enter into similar agreements with various countries in order to stress that Turkey is pursuing a "zero problems" policy with its neighbors. However, the Turkish press speculated that Moscow was reluctant to remove the visa requirements due to security concerns. Reportedly, Moscow agreed to the visa regulation only after Ankara conceded on the nuclear deal, and Russia will not implement this before the Turkish parliament ratifies the nuclear agreement (Radikal, May 17).
Through such flourishing ties, which gained momentum over the past decade, the two countries have overcome bitter memories from the centuries-old historical rivalry. As a result of several summits, Turkey and Russia forged economic interdependence and laid the groundwork for fostering political dialogue on a wide array of issues. Prior to the economic crisis, bilateral trade volume had reached almost $40 billion, mostly accounted for by Turkey's hydrocarbon (mainly natural gas) imports from Russia. Russia also served as a major destination for Turkish exports, while Turkish construction companies in Russia reached a trade volume of nearly $30 billion. Turkish and Russian leaders emphasized that they would boost mutual trade and investment to pre-crisis levels, and, within the next few years, might reach $100 billion annually (Star, May 13).
The key question, however, is how far the two countries might deepen their political partnership. The ease with which Turkey proceeded to render itself dependent upon Russian energy, or Ankara's plans for procuring Russian weapons systems, reflects Russia's declining threat perception in Turkey. Thus, the Turkish security elite, though maintaining a pro-Western orientation, have been eager to form a common position with Russia on many international issues, including the 2003 Iraq war, maintaining stability in the Black Sea, the Iranian nuclear issue and the Middle East peace process.
The Turkish-Russian relationship was already defined as a strategic partnership during Medvedev's earlier contacts with Turkish leaders (EDM, February 17, 2009). During this trip, Turkey and Russia also launched the High Level Strategic Cooperation Council. This format follows similar agreements that Ankara signed with other countries, especially its Middle Eastern neighbors. Under this framework, Turkish-Russian relations are expected to develop simultaneously in the economic, political and cultural realms.
This trip provided further evidence that the two countries might adopt joint positions in international diplomacy, and Turkey could mobilize Russia's support on issues of importance to itself. Some indications of such a development were provided by Medvedev's remarks on the Palestinian-Israeli conflict. The Turkish government has been actively working to promote the rights of Palestinians. Turkey's insistence that Hamas should be included in the peace process has drawn the ire of Israel, as well as causing tension in its relations with the West. During a joint press briefing with his Turkish counterpart, Abdullah Gul, Medvedev also warned against an impending humanitarian tragedy in Gaza, and called on the international community to include all groups in the peace process and support a unified Palestinian administration. What is also interesting is that this statement follows Medvedev's trip to Syria earlier in the same week, where he met the Hamas leader, Khaled Mashal (EDM, May 17). Moscow's willingness to become involved in the Middle East peace process in this manner attracts the sympathy of the Turkish leadership and public.
Turkey has also valued Russian support on the frozen conflicts in the South Caucasus, which was another item on the agenda. Since the Turkish-Armenian normalization was put on the backburner, Ankara's main priority has been to mobilize the international community, especially the Minsk group, to accelerate the efforts toward the resolution of the Karabakh issue. Medvedev again reiterated Moscow's support on this issue, but it remains to be seen how far Turkey could rely on Russia, as it has previously failed to live up to Turkish expectations (EDM, January 15).