Russian Economist Denounces Yevkurov's Record in Ingushetia
Publication: Eurasia Daily Monitor Volume: 11 Issue: 142
By: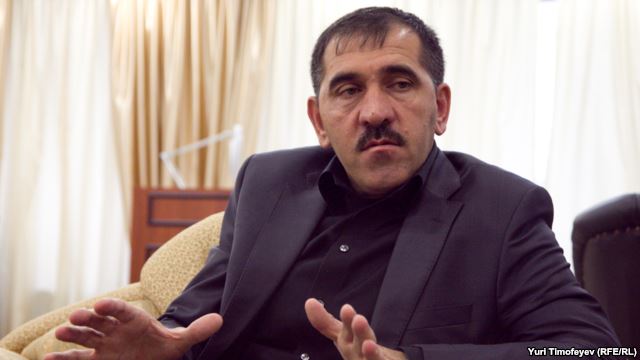 Nikolai Petrov, the well-known economist from Moscow's Higher School of Economics, has scathingly criticized the glowing reports made by Ingushetia's Governor Yunus-Bek Yevkurov. In an article, published by the Vzglyad website on July 28, Petrov pointed out that Ingushetia's economy showed some positive dynamics, but that this was thanks to the federal program of pumping more than $2 billion into the republic over the period of 2010–2016. For a territory with a population of less than 500,000, that was an extremely significant amount of funding, the economist pointed out, but it has been spent inefficiently. The only neighboring republic where the economic situation is worse is Dagestan, according to Petrov. Ingushetia ranks among Russia's economic laggards: indeed, some 89 percent of its budget comes directly from Moscow while its debt equals 108 percent of its yearly revenue and it has an extremely low level of innovation. The official yearly unemployment rate in Ingushetia under Yevkurov was consistently 50 percent until 2013, when it miraculously dropped to 40 percent (vz.ru, July 28).
Politically, Yevkurov's focus on fighting corruption, rather than uniting the elites, increases conflict in the republic, with Ingushetians joining the insurgency and even fighting in Ukraine. Petrov noted that Yevkurov has been in power in the republic for six years, which is the same as his predecessor, the highly unpopular Federal Security Service (FSB) general, Murad Zyazikov. The analyst rhetorically asked: "If the blissful situation in terms of socio-economic dynamics portrayed by the Ingush authorities is a reality, then why is it that (Yevkurov's) efforts relating to talks with the militants and their relatives are not leading to stabilizing the situation in the republic?" (vz.ru, July 28).
Yevkurov indeed regularly reports breathtaking achievements and trumpets the shining prospects of Ingushetia (putin-today.ru, April 23). In a recent interview with the government newspaper Rossiyskaya Gazeta, Yevkurov stated that in 2014, the republic expected to attract the equivalent of $400 million in private investment. He did not even bother to disguise his failures well. For example, he stated that Ingushetia "is located on the peripheries of the country and thus foreign investors saw more opportunities elsewhere in Russia." Yet, the fact that Ingushetia is a border region could potentially benefit the republic, rather than hamper foreign investment were it not for the problematic security situation in the republic. In Yevkurov's view, the security situation in Ingushetia is now fairly stable and among the regions of the Northern Caucasus Federal District, it is among the two most secure republics, along with Stavropol region, which is the only predominantly ethnic-Russian region in the district (rg.ru, July 25).
In reality, the security situation in Ingushetia remains highly precarious. On July 28, 33-year-old Rustam Azhigov, reportedly a former Russian "death squad" officer, was killed in the village of Plievo. According to the Habar.org website, Azhigov committed atrocities against his fellow Ingush. His family, which was among the poorest and the least significant in the village, amassed considerable wealth, allegedly through their cooperation with the Russian security services. Unidentified attackers had tried to kill Azhigov several times, but he survived. In 2010, his cousin Alikhan Azhigov, also a serviceman, was assassinated (habar.org, July 28). On July 27—the day before Rustam Azhigov was killed—unidentified people attacked a group of Russian soldiers based in Ingushetia. One serviceman was killed and another was hospitalized in critical condition (habar.org, July 28).
While Yevkurov keeps talking about the improving security and economic situation in Ingushetia, some Russian experts and politicians appear to be tired of what they increasingly regard as his empty talk. The violence in Ingushetia has significantly reduced since 2010, but there has been little progress in stabilizing the republic beyond that, and insurgency-related violence persists there. Moreover, the latest wave of attacks shows that the trend may be negative, which is not surprising given that Yevkurov has largely failed to resolve the republic's pressing issues, including economic stagnation, political issues concerning the territorial dispute with neighboring North Ossetia, and the security forces' harsh tactics, which arouse resentment in Ingush society.
The fact that Yunus-Bek Yevkurov was appointed to a second term as Ingushetia's governor in September 2013 does not mean that the Kremlin will tolerate him to the end of his second term. If popular opposition to Yevkurov's rule rises, Moscow will be forced to reconsider its reliance on him. With the Russian government facing a serious economic downturn due to a range of problems, including Western sanctions, it will have to become more attentive to popular opinion in the North Caucasus and allow highly unpopular figures to leave their government positions; otherwise, Moscow risks a social backlash. Or in the case of Ingushetia, it could result in greater public support for the insurgency.