Russian Forces Deploying for Possible Action in Georgia
Publication: Eurasia Daily Monitor Volume: 6 Issue: 73
By: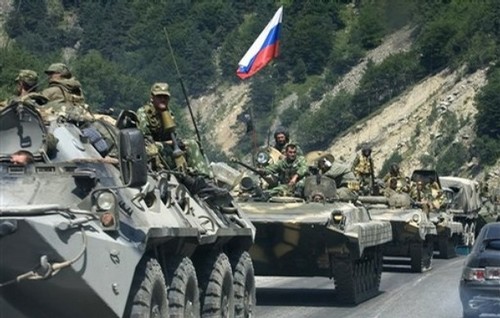 Last week Georgian opposition parties prepared to mount street protests to force President Mikhail Saakashvili to resign, while Russian forces began military exercises in the Caucasus that might be a direct preparation for an intervention in Georgia -in response to the country being further destabilized. Massive rallies by opposition supporters have not forced Saakashvili to yield and tension is mounting in Tbilisi (EDM, April 14). The possibility that radical elements on either side of the political divide in Georgia might provoke violence is high, while Russia seems to be ready to intervene to defend a brotherly Christian Orthodox Georgian nation from the Saakashvili regime, which it considers as an ultimate enemy. After the war with Georgia last August, President Dmitry Medvedev declared in an interview with Italian RAI TV, "For us president Saakashvili does not exist, he is a political corpse" (www.kremlin.ru, September 2, 2008). While in a recent BBC interview, Medvedev reiterated: "We love and value the Georgian people. I do not want to have any relations with president Saakashvili and will not communicate with him. But if as the result of democratic processes power in Georgia changes, we are ready for discussions" (www.kremlin.ru, March 29).
It is inappropriate for a leader of a small neighboring nation, who has been officially pronounced by Moscow as a "political corpse," to remain in power. As the Georgian opposition was gathering force, the Russian military were already on the move. The Russian Black Sea Fleet left Sevastopol, Crimea in force, lead by its flagship missile cruiser "Moskva." The Georgian Foreign Minister Grigol Vashadze accused Russia of "continuing aggressive policies" by deploying warships and reinforcing its troops in Abkhazia and South Ossetia. Vashadze expressed the hope that Russia "will not dare a new aggression against Georgia, since this will put it against the entire civilized world" (Novosti-Gruzia, April 11). Russian military officials said that the deployment of troops and warships was part of routine military exercises, while the Georgian reaction was described as "hysterical and provocative" (RIA-Novosti, April 11, 13).
It is important that the Russian military acknowledges its mobilization and forward deployment of troops and ships. At present, it is impossible to know precisely how many additional army units have been moved within striking distance of Georgian territory. However, the composition of the naval force that disembarked from Sevastopol is not secret, since the Ukrainian authorities must be informed. It seems to be larger than the force that was deployed against Georgia last August. Four large amphibious landing craft left Sevastopol last week, while in August 2008 only two were reportedly deployed to insert a regiment of marines into Abkhazia in the small port of Ochamchira, close to the border with Georgia (Vlast, August 18). The marines were later deployed in the invasion of Western Georgia.
Before the war in August, the Georgian navy was small, armed only with old ships and not ready for serious action. First Deputy Defense Minister Batu Kutelia (now Georgia's ambassador in Washington) told EDM last November that all seaworthy Georgian navy ships were moved at the start of the war from their main base in Poti, and relocated south to Batumi. The Russian navy announced it sunk a Georgian "missile ship" during a naval encounter after it attempted to attack the Black Sea flotilla (Interfax, August 10).
Kutelia says the Georgian Defense Ministry denies knowledge of such an encounter. Georgia did have two small guided missile ships: an old Soviet vessel "Tbilisi" and an even older French-build ship "Dioskuria." Both were left stranded in Poti and sunk in port by the occupying Russian army. Recently the wreckage of these ships has been auctioned off for $61,000 for salvage as scrap metal to clear the Poti harbor (Interfax, April 3). In the view of the Georgian Ministry of Defense, the naval encounter reported by the Russian navy last August was either a propaganda ploy, or simply a delusion.
After the war, Georgia disbanded its navy, handing over its surviving ships to the local coast guard. The Russian naval flotilla lead by "Moskva" will not find any opposition at sea, but the deployment of a large amphibious force formed of thousands of marines armed with heavy weapons on board is a threatening sight. The low capacity narrow roads leading from Russia into Georgia (one into Abkhazia and another leading into South Ossetia) create immense logistical problems in rapidly deploying large military contingents into Georgia if Moscow opts for a "humanitarian intervention" to bring about "regime change." The insertion of a sizable marine force with heavy weapons was used last August to bypass the clogged up overland routes and this could prove important again. The Russian military knew beforehand the exact timing of its pre-arranged invasion and fully controlled the pre-war armed provocations by the South Ossetian forces, whereas in the present crisis the situation is much more volatile.
Saakashvili and his ministers have been expressing confidence that the present Russian military deployments are a game of bluff, and that Moscow will not risk an attack that hinders the "resetting" of its relations with Washington (Novosti-Gruzia, April 2). But from Moscow's perspective only a tacit acceptance by the United States of Russia's dominance of the South Caucasus and control of energy transit routes from the Caspian and Central Asia is a prerequisite of any "reset." Washington's acceptance of Russia's dominance over these regions might be the unspoken precondition for a genuine improvement in bilateral relations.