Russian Journalist Community Stands up to FSB
Publication: Eurasia Daily Monitor Volume: 17 Issue: 100
By: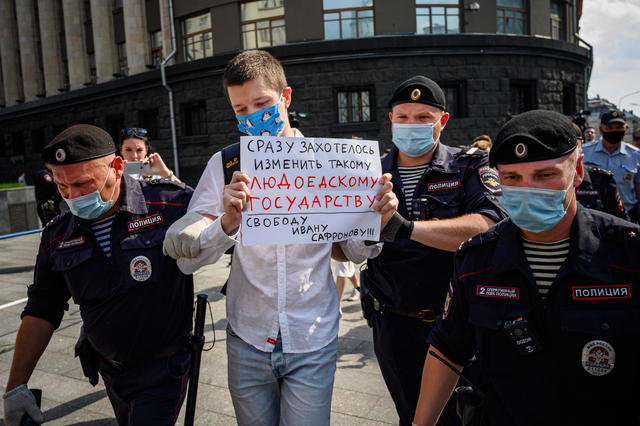 Ivan Safronov, Jr. (30), a former Kommersant and Vedomosti defense correspondent, was arrested by the Federal Security Service's (FSB) counterintelligence arm, in Moscow, on July 7, 2020, accused of treason (spying for the West and the North Atlantic Treaty Organization). After graduating from journalism school in 2010, Safronov worked at Kommersant until the spring of 2019, when he published an article about the possible resignation of Federation Council speaker Valentina Matviyenko (she did not resign). Special correspondent Safronov and editor Maxim Ivanov were forced to step down from Kommersant on May 20, 2019. The paper's entire politics department and a deputy managing editor resigned in solidarity (Interfax, May 21, 2019). Safronov moved on to Vedomosti; but in 2020, the ownership of its publishing house changed hands. Vedomosti is today in deep crisis: many journalists and practically the entire editorial board have resigned to protest censorship (Interfax, June 22). Safronov stepped away from the sinking Vedomosti and, in May 2020, became a top public relations manager for the state space industry corporation Roscosmos and an adviser to its general director, Dmitry Rogozin. On the morning of July 7, Safronov was arrested by FSB agents while preparing to enter his personal corporate limousine (Kommersant, July 9).
The junior Safronov's father, Ivan Safronov, Sr., retired from active service in the Russian Space Troops in 1997, with the rank of lieutenant colonel, and began working for Kommersant as a defense columnist and correspondent. The elder Safronov's reporting on space and ballistic missile technology was always superbly detailed and insightful thanks to his solid knowledge of the subject matter and deep unofficial connections. Safronov, Sr., also wrote about Russian arms exports, which apparently landed him into trouble. In 2007, Safronov, Sr., died after falling from the fifth floor of a Moscow apartment building. His death was officially pronounced a suicide but continues to be something of a mystery. Safronov the elder was apparently investigating planned Russian arms sales to Syria and Iran at the time of his death (Kommersant, September 12, 2007). Safronov, Jr., apparently retains some of his father's sources: His publications on space and ballistic missile issues were always written at a comparably high level. At the same time, the son had good connections at Roscosmos and with Rogozin, which evidently helped him obtain his last lucrative job. Importantly, Safronov, Jr., also wrote extensively about the Russian arms trade. These publications and connections may have contributed to his arrest and allegations of treason (Interfax, July 8).
Safronov, Jr's., journalism has always been of professional quality, and he never developed the reputation as anti-Kremlin or openly opposed to Vladimir Putin. Indeed, he was vetted to be part of the so-called "Kremlin press pool"—a privilege in Russia. Illustratively, the opposition-minded Novaya Gazeta is not permitted a Kremlin-accredited correspondent despite having circulation equal to or larger than Kommersant's. President Putin knows Safronov and so did many others at the highest levels of the Russian government. The arrest led to a strong and instantaneous pushback from the journalist community, including within pro-Kremlin and official media. The editor-in-chief of Kremlin propaganda mouthpieces RT and Sputnik, Margarita Simonyan, demanded the FSB explain "to society" what happened, and she called Russia's treason law too broad and vague: "[P]ractically any journalist may be hit for doing his job" (RIA Novosti, July 7). The pro-Kremlin news site Vzglyad also demanded an explanation, speculating that the case against Safronov could have been trumped up by the FSB to eliminate a journalist they disliked or that it was aimed against Rogozin as part of a scheme to remove the latter from Roscosmos (Vzglyad, July 8). More than 20 different well-known journalists and public figures were detained in Moscow on July 7 for protesting against the arrest in front of the FSB's Lubyanka headquarters as Safronov was being arraigned in court. All were soon released, pending future possible fines or short administrative prison sentences (Kommersant, July 8).
Leading Russian media outlets published editorials supporting Safronov and demanded an open investigation. Many in Moscow, including pro-Kremlin journalists as well as defense analysts who frequently have connections with foreign media, speak at international conferences, receive honorariums, etc., considered the attack against one of them to be an attack against them all (Newsru.com, July 8). But it soon became apparent Safronov's case had the full backing of the Kremlin and, most likely, was cleared personally cleared by Putin. Kremlin spokesperson Dmitry Peskov praised "our counterintelligence" as "hardworking people who do their job diligently." Peskov insisted, "Safronov quit journalism [by joining Roscosmos], and his arrest is not linked to his publications." Peskov called publications in Safronov's defense "emotional" and not reflective of public opinion (Interfax, July 8).
Safronov will be jailed for two months at the FSB's notorious Lefortovo detention center. The former journalist told his lawyer he is being prosecuted for his publications but does not understand for which in particular. The authorities insist Safronov was recruited by Czech intelligence in 2012 and, in 2017, sent them information about Russian arms sales and military activities in the Middle East, for which he was paid. The intelligence Safronov allegedly provided contained state secrets, and the Czechs shared it with the United States. Safronov was apparently nabbed in an operation carried out jointly by the FSB and the Foreign Intelligence Service (SVR). The SVR reportedly intercepted Safronov's e-mails and tapped his phone; he was under surveillance and investigated "for a long time." The decision to act was taken in June 2020. His joining Roscosmos could have been a trigger; but it remains unclear whether Safronov's arrest was, indeed, part of an effort to oust Rogozin (Kommersant, July 9).
As the situation came into better focus, Safronov's pro-Kremlin supporters began to backpedal. Simonyan agreed in a blog that the arrested former journalist may be a spy, but she stressed the authorities must provide proof he actually took any foreign money (Ekho Moskvy, July 8). A group of Safronov's friends and colleges have established a Telegram channel, T.me/freesafronov, to coordinate support (Interfax, July 8). They will face an uphill task. The Czech authorities have refused to comment on Safronov's arrest, which is not a good sign (Lenta.ru, July 8). Public gatherings or protests of any sort, involving any number of participants, are forbidden in Moscow on the pretext of the coronavirus pandemic. And since the July 1 referendum on the constitutional amendments that consolidated Putin's rule, the authorities have been viciously clamping down on any dissent (Newsru.com, July 9). Safronov may face up to 20 years behind bars. If the charges of espionage actually prove correct, his only hope may be to become part of some future exchange deal with the West.