RUSSIAN-KAZAKH "STRATEGIC PARTNERSHIP" LACKS EXCLUSIVITY
Publication: Eurasia Daily Monitor Volume: 3 Issue: 64
By: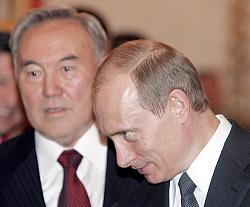 Russia has long considered Kazakhstan to be its main partner in Central Asia, but the Kazakh leadership seems to be seeking ways to hedge its bets by building an alternative partnership with China.
Kazakh President Nursultan Nazarbayev's official visit to Russia April 3-5 is billed as yet another manifestation of the bilateral "strategic partnership." Russia is a foreign policy priority for Kazakhstan, Nazarbayev said in his annual address to the nation on March 1. Kazakh-Russian relations are based on a strategic partnership and "there are no problems between Kazakhstan and Russia that cannot be resolved through constructive dialogue," he said. "Kazakhstan and Russia have similar or close positions on important international security issues," Nazarbayev added (RIA-Novosti, March 1).
On the eve of Nazarbayev's trip to Moscow, talks between Russian and Kazakh officials focused on economics. In particular Russian Deputy Prime Minister Dmitry Medvedev and his Kazakh counterpart, Karim Masimov, discussed "joint measures to increase the economic competitiveness of the two countries." Commenting on the bilateral agenda, Medvedev said that Kazakhstan had sufficient potential to join the ranks of the 50 most competitive countries in the world (Kazinform, March 29).
On March 24, Russian Industry and Energy Minister Viktor Khristenko met with Masimov in Moscow to discuss bilateral energy ties, the Russian Industry and Energy Ministry's press service said. They specifically discussed cooperation in the power grid sector (RBC, March 24).
Also last week, Russian Transportation Minister Igor Levitin and his Kazakh counterpart, Askar Mamin, met to review what they described as "strategic cooperation." They discussed joint transit and transportation projects, notably the frontier bridge across the Kigach River on the Atyrau-Astrakhan highway. The intergovernmental agreement on the bridge project was signed in December 2004, and its construction is seen as instrumental for developing an international transport corridor through Kazakhstan and the southern regions of Russia and Ukraine. They also agreed to launch a container shipment service by train from China through Kazakhstan and Russia to Western Europe, as well as a train-ferry link between the Aktau and Makhachkala ports (Kazinform, March 28).
Last January, Russian President Vladimir Putin attended Nazarbayev's presidential inauguration in Astana. Putin's attendance at the ceremony was seen as an unprecedented gesture, because it was the first time the Russian president opted to attend such an event on foreign soil. Following the bilateral talks on January 11, Putin and Nazarbayev said that in 2005 bilateral trade turnover reached nearly $10 billion, a 35% increase over 2004. The two leaders also pledged to double the bilateral trade level in the next few years.
However, trade between the two countries has not been without problems. For instance, in January-February 2006 trade between Russia and Kazakhstan amounted to $1.13 billion or down 4.5% compared to 2005.
On January 12 Russia and Kazakhstan signed an agreement to establish a joint bank, the Eurasian Development Bank, which Kazakhstan's parliament ratified on March 23. Under the agreement, the bank will have authorized capital of $1.5 billion, 33% of which will belong to Kazakhstan and the remainder to Russia. The bank will be based in Almaty and have a branch in St. Petersburg (RIA-Novosti, March 23).
Russia has prioritized economic interests in its relations with Kazakhstan. A bilateral pact reached in May 2002 on the division of the Caspian Sea played a pivotal role in improving economic cooperation between Astana and Moscow. In January 2005 Russia and Kazakhstan inked a major border treaty on delimiting the 7,500-kilometer-long frontier dividing the two states.
Now Russian state-controlled energy giants have set their sights on Kazakh hydrocarbon riches. Rosneft needs to acquire more assets, both in Russia and in Kazakhstan, to become one of the leading oil companies in the world, Rosneft head Sergei Bogdanchikov announced last February. "This is the goal we seek to achieve within the next 10 years," Bogdanchikov told a news conference in Astana (Interfax-Kazakhstan, February 26).
Russia has also been mulling nuclear energy cooperation with Kazakhstan. Astana may build its first nuclear power plant by 2015, and a working group led by Prime Minister Daniyal Akhmetov is considering the project, said Nesipkul Bertisbayev, head of the Department of Electricity and Coal Industry at the Ministry for Energy and Mineral Resources (Itar-Tass, March 29). Akhmetov stated in January that the republic needs a nuclear power plant of its own. Kazakh officials have designated a site near Lake Balkhash for a nuclear power plant to be constructed, presumably with Russian assistance.
Russia and Kazakhstan have forged close security ties. Last March, President Nazarbayev met Nikolai Bordyuzha, head of the Collective Security Treaty Organization (CSTO), at his Ak Orda residence in Astana. The Kazakh leader reportedly suggested "enlarging the scope of activities" of the organization. He said that the CSTO was moving towards becoming a multilateral body aiming to safeguard international security. The CSTO should have sufficient power and authority to allow it to face any global threats, Bordyuzha added (Kazakh Television first channel, March 27).
Yet despite the bilateral "strategic partnership," the Kazakh authorities have been keen to diversify the country's energy ties. Notably, last December Nazarbayev inaugurated the 1,000-kilometer long Atasu-Alashankou oil pipeline to funnel crude to China. In a message to his Chinese counterpart, Hu Jintao, Nazarbayev described the pipeline as a manifestation of yet another bilateral "strategic partnership."
The $800 million Atasu-Alashankou pipeline is expected to pump 10 million tons per year. It is also expected to make Russian oil shipments to China by rail economically non-viable. Subsequently, Russia Railways is set to loose up to 4 billion rubles ($140 million) a year.
Kazakhstan and China plan to jointly build a large-scale coal power plant in Kazakhstan's northern Pavlodar region, near the Ekibastuz coal field, Bertisbayev noted. The plant is due to have a capacity of 7,200 megawatts, an annual power output of 40 billion kwh, and it is to consume up to 20 million tons of coal a year. The mega-project is expected to cost up to $6-7 billion, and the funding is to be provided by the Chinese side, Bertisbayev said. If established, the power plant would be the largest of its type in the world, he added (Xinhua, March 31).
Kazakhstan subsequently announced an unprecedented joint mega-project with China just days before Nazarbayev's visit to Russia. Therefore, Kazakhstan appears to pursue a diversified and balanced policy, avoiding over-reliance on its "strategic partnership" with Russia.