Russian Media Leaks Sensitive Details of Armenia's Defense Posture
Publication: Eurasia Daily Monitor Volume: 13 Issue: 54
By: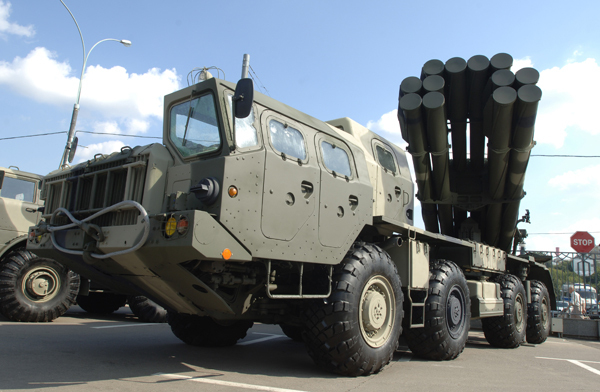 In February, Russian sources confirmed a $200 million loan to Armenia. The loan—extended by Moscow to allow Armenia to buy up-to-date Russian weapons—had been promised in June 2015 (see EDM, June 29, 2015). In a rather unusual manner, and contrary to the agreement's confidentiality clause, the Russian media published a list of weapons to be supplied, including Smerch multiple rocket launchers, portable anti-aircraft missiles, radars that may be used for coordinating surface-to-air systems, multiple thermobaric rocket launchers, wire-guided anti-tank missiles, anti-tank rocket-propelled grenades, trucks and other supplies (Interfax, February 18). The loan agreement came into force on February 10, and it stipulates that the procurement shall be carried out until the end of 2017 (Gazeta.ru, February 19).
The leak about the planned weapons purchases was quickly followed up by a letter of protest sent to Russia by Azerbaijan. The letter included a demand to guarantee that the supplied weapons not be deployed either to the breakaway Azerbaijani territory of Karabakh or near the border between Armenia and Azerbaijan (RIA Novosti, February 24). A reply publicized by Russia's Ministry of Foreign Affairs expressed hope that Azerbaijan would show understanding, asserting that Russia carries out military and technical cooperation in the South Caucasus with an eye to maintaining a regional balance of power. As noted by Armenian news agencies, Russia's assurances about maintaining a balance of power in the region were rather hypocritical. But the Armenian government, unlike its Azerbaijani counterpart, has never demanded an explanation from Russia in equally strong terms, despite the narrative of Moscow and Yerevan enjoying a "strategic partnership" and the fact that Azerbaijan buys about 80 percent of its weapons from Russia, having contracts worth billions of dollars (1in.am, February 26). Some Armenian sources openly called Russia the main threat to regional security, noting that none of the other co-chairs of the Organization for Security and Cooperation in Europe's (OSCE) Minsk Group sell arms to the conflicting sides (Lragir.am, February 26). At the same time, it was noted that the weapons included in the published list do not include the latest hardware comparable to the types of weapons that Russia routinely exports to Azerbaijan (Lragir.am, February 22).
On March 9, the Russian weekly Voenno-Promyshlennyi Kurier (Military-Industrial Courier) published an article by the deputy director of the Institute for Political and Military Analysis, Alexander Khramchikhin, which included a detailed account of the structure of the Armenian armed forces, the location of its units and their arms and equipment, as well as similar information about the local forces in Karabakh. The article also included speculation about possible scenarios in case of an armed conflict between Russia and Turkey, as well as warnings against possible attempts to develop cooperation between Armenia and the North Atlantic Treaty Organization (NATO) (Voenno-Promyshlennyi Kurier, March 9). At the same time, pro-Russian media and social network commentators started a seemingly well-coordinated campaign downplaying the significance of the article in Voenno-Promyshlennyi Kurier. But a Ministry of Defense spokesperson quickly admitted that some of the information in the article was confidential, and its publication by the Russian paper was unacceptable (Arminfo.am, March 10).
As noted in a Yerevan-based Regional Studies Center briefing, Voenno-Promyshlennyi Kurier had previously published similar articles about the armies of the Baltic States, Georgia and Ukraine; however, publishing such sensitive data about an ally's army contradicts conventional practice. Besides, the confidential nature of the published information, which included data previously not available from open sources, suggests that Russia's Ministry of Defense or other state agencies must have willingly provided some information to the author (Regional-studies.org, March 10). It is not quite clear why the Russian side might be interested in such information leaks just at this moment. A week later, Voenno-Promyshlennyi Kurier also published a similar article about Azerbaijan's army. While the piece admitted that all offensive weapons supplied to Azerbaijan came from Russia, and that Azerbaijan's military equipment is more numerous and modern compared to Armenia's, it also speculated that Azerbaijan would nonetheless not have a decisive advantage in case of a new war over Karabakh (Voenno-Promyshlennyi Kurier, March 16).
Armenian officials' reaction to the disclosure of sensitive information by Russian sources remained limited to the short statement by the defense ministry spokesperson. President Serzh Sargsyan did not publicly mention any controversial bilateral issues during his visit to Moscow on March 10. In a meeting with Vladimir Putin, he, in a habitual manner, supported Russia's policy in Syria and thanked Putin for Moscow's efforts at trying to resolve the Karabakh conflict (TASS, March 10). Sargsyan also avoided discussing economic issues that could potentially annoy the Russians. So despite previous suggestions about the possibility of some advantageous economic agreement, such as a gas price discount, no results were achieved. On the contrary, it was announced that the Armenian government would exempt Gazprom-Armenia's profits received in the first quarter of 2016 from taxation in order to compensate the company for the consequences of the devaluation of the Armenian dram—thus keeping Gazprom-Armenia's profits the same in dollar terms (Lragir.am, March 9).
As illustrated by Yerevan's muted reaction to the Russian media leaks of classified details of Armenia's defense posture, the Armenian authorities remain cautious when it comes to Russia. They either avoid discussions on practically any issue that might cause disturbance in Moscow or explicitly support Russia's interests. Nonetheless, by taking such a stance, they create more doubts concerning their sincerity and capability to solve any internationally significant issue related to Armenia's interests. Thus, despite the European Union's consistent interest in developing cooperation with Yerevan, Iran's offers concerning the transit of natural gas, and other possibilities, little, if any, progress should be expected. Armenia's dependence on Russia will likely remain unchallenged even with the latter's mounting economic problems (see EDM, January 28); and any alternative opportunities will almost certainly be missed.