Russian Power Vertical Fails to Deliver in Dagestan
Publication: Eurasia Daily Monitor Volume: 11 Issue: 139
By: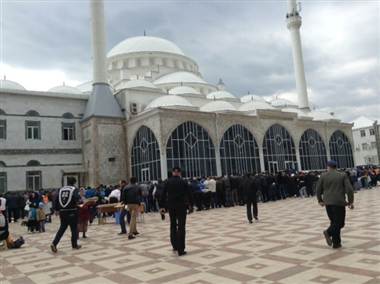 A series of mass arrests of practicing Muslims was carried out in Dagestan's capital Makhachkala and other cities in the republic in July. At the time, a Muslim parishioner described to Kavkazsky Uzel what was happening: "When a Muslim exits a mosque, the police are waiting for him. They force the person into their car. Then the Muslims are taken to the police station to check their documents, compare them against police databases and take fingerprints." The parishioner was especially appalled that such a campaign was taking place during the holy Muslim month of Ramadan. According to rights activist Aisha Selimkhanova, police detained mosque visitors without any visible logic, grabbing all of them (Kavkazsky Uzel, July 23).
Selimkhanova confronted the police, demanding explanations for the mass detentions, but they failed to provide any comprehensible response. Notably, the police released everyone they detained after a brief session of questioning and fingerprinting (Kavkazsky Uzel, July 23). So the purpose of the authorities was most likely not to arrest anyone in particular, but rather to crack down on certain mosques.
The unwanted Muslim groups are not small sects that exist on the margins of Dagestan's Islamic community. One of the mosques in question, located on a street named after Hungarian fighters, was built in the 1990s and accommodated only 60 people. However, the parish expanded so much that another building had to be built to accommodate over 1,000 parishioners. The campaign of intimidation is backed up by a substantial police force that often uses more drastic solutions, such as extralegal executions. What is relatively novel about these executions is that the police do not even admit being involved in them, and act as if the suspected militants accidentally blew themselves up with their own bombs (riadagestan.ru, July 23; Kavkazsky Uzel, July 25). Thus, illegal police methods are supplemented by informational warfare, as if a war was going on in Dagestan.
Dagestan's government took a much more aggressive stance against the spread of unwanted Muslim teachings after Ramazan Abdulatipov, a one-time Soviet-era functionary and Moscow-based politician, was appointed as the head of the republic at the start of 2013. In a recent interview with the Dagestani weekly newspaper Novoe Delo, Abdulatipov outlined his model of governance, which relies on his direct involvement, even at the municipal district level (Novoe Delo, July 20).
In a republic with a population of about three million, which has over 50 municipalities and a dozen large ethnic groups, such methods of governance are likely to result in chaos. Even though Abdulatipov claims he has a lack of competent administrators, which certainly may be the case, his constant reshuffles of officials in the republic without any tangible positive changes leave Dagestanis disenchanted.
Just a year after Abdulatipov's appointment, the independent Dagestani weekly newspaper Chernovik, conducted an informal poll that it called People's President 3.0. Abdulatipov did not even come close to first place (chernovik.net, March 28). Even though the methods of the poll may not have been entirely scientific, Moscow indirectly conceded in September 2013 that Abdulatipov was not very popular in Dagestan by replacing popular gubernatorial elections with a process of appointing governors. Abdulatipov's appointment and the related tactics of the law enforcement agencies in the republic have shown Moscow's reliance on administrative measures and crude power in dealing with the insurgency in the republic. It is far from surprising that the security situation in the republic has shown little improvement.
The Dagestani authorities recently designated another seven residents of a village in Untsukul district as fugitive insurgent "accomplices." The very term "insurgent accomplice," as opposed to an actual member of the insurgency, was invented by the government specifically to account for the insurgents' large social base of civilians who do not participate in armed attacks but provide the insurgents with supplies, passively resist the authorities or even simply share the rebels' beliefs. All seven fugitives—reportedly young men, aged 19 to 28—were residents of the village of Maidanovskoe. Earlier in July, the police implemented a large-scale operation in two other villages. Five suspects were killed in Maidanovskoe on July 6 and two more on July 8. The police detained and beat up the imam of the village's mosque and the head of the village's administration (Kavkazsky Uzel, July 19).
Kremlin officials believed that installing as the head of Dagestan a Moscow-based politician who is also an ethnic Dagestani would increase its control over the restive republic; but it has had the opposite effect. However, the growing police pressure on society, which manifests itself in various forms, is unlikely to work under current conditions, in which democratic institutions are not only ignored, but systematically dismantled by the central government in Moscow. Dagestanis are likely to react to the government's inability to take into account their interests, demands and expectations in a variety of ways, including switching their allegiances to more radical Islamic groups and engaging in violence.