RUSSIAN PRESIDENT TRAVELS TO MIDDLE EAST, BEARING GIFTS FOR ALL
Publication: Eurasia Daily Monitor Volume: 2 Issue: 83
By: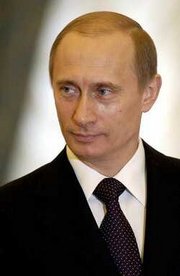 From April 26-30 Russian President Vladimir Putin will make an unprecedented trip to Israel and the Palestinian territories, and he will be the first Russian leader to visit Egypt in 40 years. Putin's Middle East tour has a very clear set of objectives. Essentially Putin intends to raise Russia's status as a visible player in the region and to enhance what he and his officials already believe are good relations with all of the governments in the Middle East. Thus he comes armed with various goodies, including expanded trade and business deals, for his hosts. All these statements are clearly intended to recast Russia as a major player throughout the region.
For Egypt he offers increased trade, support for Egypt's campaign for membership in the UN Security Council, and sales of air-defense systems. For Syria, he urges the Arab League to support Syria's president as he withdraws troops from Lebanon. For Iran, he urges that it not be humiliated in any settlement over its nuclear program. He deplores the violence in Iraq, seeks further internationalization of the efforts to bring about peace there, and looks forward to the revival of economic relations with Baghdad. For the Palestinians, he is again offering military and economic assistance as well as political support for their right to statehood. And for Israel he is bringing support for Prime Minister Ariel Sharon's disengagement plan. Putin also is making the usual grand gesture of statesmen visiting the Middle East, i.e. calling for a peace conference in his capital this fall, even though there has been not the slightest sign of any Russian diplomatic peace initiative. In other words, that call is essentially another propaganda stunt in an area that has seen too many of them.
However, it is unclear that he will achieve all or even most of his goals. Undoubtedly everyone is happy to have Russian support, but they also have demands upon Russia that Moscow may not be able to meet, because doing so would square the circle. Egypt and the Palestinians want Putin to put pressure on Israel in regard to the peace process, even though it is now clear that the Palestinian leadership has done little or nothing to advance it. The call for a peace conference in Moscow will get little support form Israel, because it contradicts the plan of the roadmap for peace to which all the parties are signatories. Putin undoubtedly knew this, thus his initiative will soon be exposed as hollow. Moreover, the extent of economic aid he can offer is limited compared to what the EU and Washington can give.
More importantly, Israel is asking Putin hard questions about the sale of air-defense missiles to Syria and Egypt, as well as Russia's continuing support for Iran's nuclear project and weapon. Despite Russia's statements that it does not support Iran having nuclear weapons, Tehran's intentions and anti-Israel posture are too well known to let this be a satisfactory answer. Israel's unhappiness over Putin's sale of Igla SA-18, anti-air missiles to Syria will not be assuaged by his officials' claims that they do not constitute a threat since they could be given to terrorists who have often threatened Israeli commercial aircraft. Even though these weapons will serve in place of the vastly more capable Iskander missile that Syria wanted, the fact of this sale and the threat it poses to commercial aircraft outweigh any Russian reassurances. Likewise, the sale of weapons to Egypt, which has permitted a flourishing underground weapons channel to get to Palestinian terrorists, will not sit well with Israel. Indeed Israeli Foreign Minister Silvan Shalom made clear that Israel wants Russia to be a major player in the area, provided it encourages moderates to trust diplomacy rather than terrorism and fight extremists who wish to restore war with Israel. Selling weapons all over the region and helping Iran's nuclear program are hardly signs of a policy aiming at those goals.
While Moscow no longer pursues an ideologically driven agenda based on hostility to American and Israeli policies as such, it too will find, as does every other government that aspires to play a major role in the Middle East, that it is extremely difficult to maintain a policy that proclaims itself friends with everyone. Cross-cutting animosities in this part of the world make it extremely difficult to sustain this pose while selling arms to virtually every government in the region. Even though Israel and Russia do cooperate on major arms sales and Israel does not need Russian weapons, it cannot be reassured (and neither can Washington) about Russian arms sales to Iran, Syria, Saudi Arabia, the Gulf States, Egypt, Algeria, Eritrea, Ethiopia, etc.
Thus it remains to be seen how long Mr. Putin can sustain his high-wire balancing act in the Middle East and his "multi-vector" foreign policy here at little or no cost.
(Vremya novostei, April 20, 22; Novaya gazeta, April 25-27; RIA-Novosti, Itar-Tass, RTR Russia TV, Kommersant, April 26; Trud, Interfax, April 27; globes.co.il, April 27; Reuters, April 23, April 26; www.president.ru, April 20, 25)