Russia's Armed Forces Strengthen Western Military District
Publication: Eurasia Daily Monitor Volume: 17 Issue: 91
By: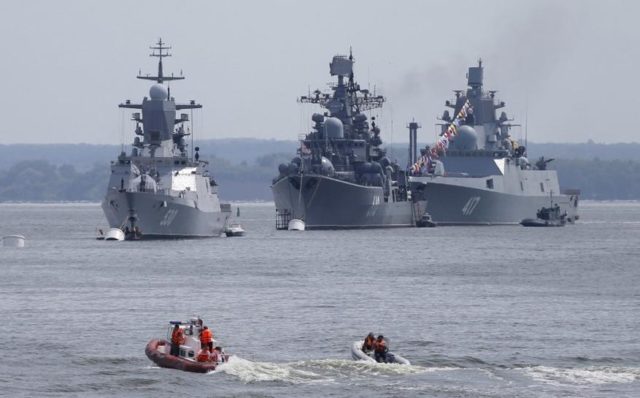 Despite the global coronavirus pandemic, Moscow is taking steps to modify its combat training and military exercises as well as further strengthen the Western Military District (MD) amid tensions with the Transatlantic alliance. Following a recent online meeting of defense ministers of the North Atlantic Treaty Organization (NATO), the Alliance's Secretary General Jens Stoltenberg characterized Moscow's increases in its missile power as "irresponsible." He added that members agreed on a "balanced package of political and military measures" in response to the growth in Russian military capability. These will include strengthening integrated air-defense systems, stepping up intelligence activities and making changes to NATO military exercises. In continued policy mirroring, Moscow also intends to boost its force modernization while simultaneously offering to alter plans for its annual strategic-level military exercises in September to avoid activity close to NATO (Gazeta.ru, June 13; Izvestia, June 1; see EDM, June 17).
Stoltenberg highlighted Moscow's missile capabilities, which had prompted the final collapse, in August 2019, of the 1987 Intermediate-Range Nuclear Forces (INF) Treaty: "Last year, the deployment of SSC-8 missiles by Russia led to the collapse of the treaty on the elimination of intermediate-range and shorter-range missiles. These are dual-use missiles; they can reach European cities and lower the threshold for using nuclear weapons. Russia is also modernizing intercontinental ballistic missiles. [And] Russia has a hypersonic glider" (Gazeta.ru, June 17). With tensions high between NATO and Moscow, Russian officials claim there is no effort to start an arms race with the Alliance.
In this context, as both sides stage long-planned exercises, Moscow has continued to strengthen the Western MD as well as hold tactical maneuvers close to NATO borders. The Russian defense ministry reported, "A separate guards motorized rifle Sevastopol Red Banner Brigade, named after the 60th anniversary of the [founding of the Soviet Union], was included in the army of the Western Military District to carry out tasks to ensure the defense of the Russian Federation in the western strategic direction." This brigade is relatively well equipped with modern weapons and specialist equipment, including "T-90A tanks, BTR-82A armored personnel carriers, BMP-3 combat vehicles, as well as 9A34 Strela-10 and 2S6M Tunguska air defense systems" (Gazeta.ru, June 17). Moreover, as the Alliance stages Baltops 2020 in the Baltic region, Russia's Baltic Fleet conducted planned training with firing at a variety of targets in mid-June.
The recent Russian Baltic exercise featured "single and group attacks against targets simulating missile launchers, airfields, defended objects and command posts of a conditional enemy," the Baltic Fleet press service announced in a statement. The same statement highlighted the size and scale of the NATO naval exercises in the Baltic region (Gazeta.ru, June 17). Such combat training doubles as a show of force designed to send a political message to NATO and its members. Today (June 24), it was complemented by displays of weapons and equipment in the delayed Victory Day military parade held in Moscow to mark the 75th anniversary of the ending of the Great Patriotic War.
Among the many systems on display were air-defense complexes. A commentary in Nezavisimoye Voyennoye Obozreniye notes some of the key characteristics of these featured assets. They all offer the possibility of early detection of a variety of potential air targets, while some use hypersonic missiles or "cheap ammunition," and are integrated into a single tactical air-defense control system (TASS, June 24). The commentary argues that this blends a wide range of air-defense assets functioning in real time, with an emphasis on cost efficiency. These systems include the Pantsir-S1, designed to intercept enemy cruise missiles, and the S-300 surface-to-air-missile system, and the Derivatsiya air-defense system; the latter uses 57-millimeter shells, making it a more cost-effective option. According to Defense Minister Sergei Shoigu, the overall share of new or modernized weapons and equipment in the inventory of the Russian Armed forces has reached 78 percent (Nezavisimoye Voyennoye Obozreniye, June 22).
Criticism in the Russian media of the NATO Defender Europe 2020 military exercise has been widespread and predictable. Most of these reports connect changes and activities in Russia's Western MD to the NATO exercise activities in the Baltic region and in Poland. On June 5, exercises between Poland and the United States began as part of Defender Europe 2020. These reports also acknowledge that the overall size of the Alliance exercise has been scaled back due to the pandemic. Last week, Shoigu said that the Western MD faces the direction of the greatest potential threat to Russia's security. According to Shoigu, more than 30 exercises have been held this year in the Western MD and, by the end of the year, a further 28 are planned, aimed at improving combat readiness and integrating the supply of new and modern weapons and equipment. Moreover, command staff exercises will be held in the Western MD with the Baltic Fleet and the 6th Combined-Arms Army (Vedomosti, May 26).
While Russian media outlets have presented a show of "disappointment" that NATO refused Moscow's offer to suspend staging military exercises during the pandemic, the details are more complex and granular. Stoltenberg, for example, highlighted the defensive nature of the Alliance exercises. NATO spokesperson Oana Lunjescu explained Stoltenberg's position, which he apparently expressed in his response letter to Russia: "[T]he enhanced forward presence in the eastern part of the Alliance is a response to Russia's use of military force against its neighbors and the building up of its military potential in the Baltic region and beyond." She added that "Russian military activities and exercises are continuing, including large-scale sudden exercises and unprofessional behavior by pilots in the Baltic Sea and the Mediterranean Sea," despite Moscow's written proposals for joint scaling back of tensions (Vedomosti, May 26).
Moscow's approach to conducting its military exercises has not substantially changed. Characterized as "defensive," not aimed at third parties, they nonetheless also appear to rehearse conflict up to state-level with a high-technology adversary. While the political rhetoric around the offer to suspend military exercises during the pandemic presented an image of a benign Russian military, the adjustments and frequency in their conduct remains undiminished.