Russia's Defense Industry Faces Deep Crisis
Publication: Eurasia Daily Monitor Volume: 8 Issue: 92
By: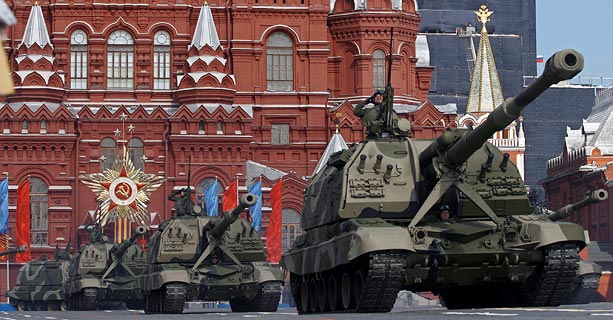 More than 20,000 servicemen marched on Red Square in Moscow on May 9, to commemorate victory in the Great Patriot War—9,000 more than on the same day in 2010. The amount of military hardware that rolled by the stands was smaller, however (106 pieces instead of 159 in 2010). On May 9, 2010 there was a flyby over Red Square involving 127 military aircraft. This year the flyby was reduced to five transport Mi-8 helicopters carrying the Russian national flag and the colors of the branches of the armed forces. The servicemen marched in "no thrills" field uniforms, and no new weapons were displayed (Interfax, May 6). The present day Russian military is indeed a pale shadow of the once awesome Red Army of the Cold War era.

Next day, after reviewing the Red Square parade, President Dmitry Medvedev verbally attacked Russia's defense industry chiefs, defense ministry and government officials for squandering money and failing to rearm the military with modern weapons. In the presence of journalists, Medvedev held a high-level meeting on developing the defense industry at his countryside residence in Gorky near Moscow. While delivering the opening remarks, the president demanded answers: "If high-level decisions are made, if funding is released, why are the weapons not delivered?" Medvedev quoted his presidential message—delivered to a joint session of parliament in November 2009—that in 2010, the Russian military would receive more than 30 land and sea-based long-range ballistic missiles, five Iskander ballistic rocket systems, 300 modern armored vehicles, 30 helicopters, 28 warplanes, three nuclear submarines, a naval corvette and 11 new military satellites in orbit. "Why is this not done? This is absolutely unacceptable," barked Medvedev, "I did not invent the figures—you all sitting here approved them." Recalling the times of Josef Stalin's terror and the Gulag, Medvedev announced: "In previous times, half of those present would already be doing hard physical labor in the fresh air" (www.kremlin.ru, May 10).

A new government rearmament program, allocating 20 trillion rubles ($720 billion) to design and procure weapons to 2020, was approved by the end of December 2010, while the previous ten year program utterly failed, Medvedev announced. "Who was to blame and how were they punished? Give me their names and concrete facts. If no one was, top officials and the chiefs of the government must answer," he demanded (www.kremlin.ru, May 10). Apparently, the passage about "the chiefs of government" did not implicate Russia's strongman Prime Minister Vladimir Putin directly. Rather, the target was Deputy Prime Minister Sergei Ivanov, who was present at the meeting and coordinates defense and defense industry in the government. Ivanov is an old-time Putin friend from the KGB and, for some time in 2007, he seemed to be in close competition with Medvedev to be chosen by Putin to become president.

The rearmament of the Russian military is indeed faltering despite the allocation of huge budget funding. By seemingly pointing the finger at Ivanov, Medvedev is undermining an old-time rival, who may become dangerous again as next year's presidential election looms. At the same time, Medvedev is putting pressure on Putin by accusing the government of failing to provide the military with new weapons—a serious political accusation in traditionally defense-obsessed Russia.

Since becoming president in 2008 by Putin's appointment, Medvedev has been experiencing a serious credibility problem: his many speeches and addresses are not taken seriously by the ruling bureaucracy or industry tycoons. It is well known in Russia that Medvedev is the junior partner in the ruling tandem, and that the government purse is in Putin's hands. It makes little sense to plead with Medvedev for budget funding—he does not control it. By applying pressure and threatening to punish top government officials, Medvedev might be trying to expand his powerbase and secure some badly needed respect from the ruling bureaucracy.

The military claims that the defense industry sells them outdated weapons while charging extravagant prices. Defense industry chiefs in turn allege that they produce weapons at a loss, while the defense ministry is holding back payment for goods and services provided (ITAR-TASS, May 11). Medvedev demanded that the defense ministry speed up the signing of procurement contracts and the disbursement of advance payments. The president wants the defense industry to make a profit that may be used to replace outdated equipment and attract private investors. At the same time Medvedev expects the prices of armaments "not to be excessive." At present, however, defense industry pricing policies are "absolutely opaque" (www.kremlin.ru, May 10).

A special government program to develop the defense industry to 2020 is being prepared, announced Medvedev, possibly costing some $100 billion. Nonetheless, there are no guarantees the money will not be misappropriated. Russian military procurement is indeed opaque: all concrete numbers of items procured and the prices paid are secret. Medvedev talks of "excessive prices," but not a single number has ever been officially provided to the public. Medvedev did not explain which items were not delivered in 2010 from the list he announced, while various unofficial sources give drastically differing assessments: only 30 percent of the 2010 arms procurement plan was executed (Nezavisimaya Gazeta, March 2); or it was executed by 65 percent (Vedomosti, May 11). The three nuclear submarines and the naval corvette apparently were not delivered in 2010, but it is impossible to be certain.

It is possible that the Russian defense industry is indeed producing outdated weapons with little or no profit, while charging excessive prices because of massive misappropriation and inefficiency. The wall of total secrecy provides good cover for corruption. The new massive 20 trillion ruble government rearmament program was approved with no public discussion and without providing details. The need to rearm the military is clear. Still, there is no guarantee the program will not again falter in the morass of corruption and special relations between government-controlled holding companies, which control Russia's defense industry, and the government itself. Medvedev may be using the defense industry crisis to promote his standing, but does not seem to be ready to open up.