Russia's Economic Relations With Japan Faces Continued Uncertainty
Publication: Eurasia Daily Monitor Volume: 8 Issue: 53
By: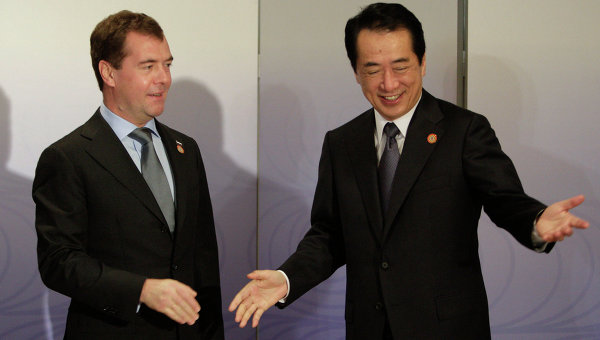 Russian officials pledged to assist neighboring Japan, hit by an unprecedented series of disasters, but in recent months, Moscow has struggled to forge stronger economic ties with Japan. On March 14, President Dmitry Medvedev held telephone talks with Japanese Prime Minister Naoto Kan and offered Russian assistance. Also on March 14, Medvedev urged Deputy Prime Minister, Igor Sechin, to consider increasing energy supplies to Japan. Sechin said that gas giant Gazprom was arranging additional supplies of 100,000 tons of LNG per month, while the Russian companies SUEK and Mechel were also preparing to increase coal supplies to Japan by some 3-4 million tons per year (Interfax, March 14).
Prior to the recent natural disaster, Russian officials urged developing bilateral trade and economic ties in order to create the conditions for eventually signing a peace treaty. But Moscow has refused to discuss returning the four islands (Kunashir, Iturup, Shikotan and Habomai) known as the Southern Kuriles in Russia and the Northern Territories in Japan. Moscow has consistently dismissed Japan's insistence on the return of all four islands.
Bilateral trade increased in 2010, reaching $20 billion or up from some $13.6 billion in 2009, but still down from $29 billion in 2008, according to official Russian statistics. Japan is currently Russia's ninth largest foreign trading partner. Japanese investments in Russia are estimated at around $8.6 billion. But bilateral political ties reached a new low after President Medvedev traveled to Kunashir on November 1, 2010, sparking vocal protests in Tokyo. In late January and early February 2011, Russian Defense Minister Anatoliy Serdyukov and Regional Development Minister Viktor Basargin, also visited the Southern Kuriles.
The Kremlin has consistently dismissed Japanese protests. On February 9, Medvedev told a meeting with Serdyukov and Basargin that Russia would continue to view the Southern Kuriles as its "strategic region." Basargin added that the program to develop the Kuriles to 2015 involves the disbursement of some 18 billion rubles ($640 million) in federal and regional grants and subsidies. Medvedev also ordered Serdyukov to arrange sufficient arms supplies to troops deployed in the Kuriles (Interfax, February 9).
In mid-February, Russian defense ministry officials denied plans to deploy the advanced S-400 air defense missile systems in the Southern Kuriles. But on February 18, Russian military officials confirmed that the S-400 would be deployed in the Russian Far East.
On February 17, the Russian foreign ministry reiterated that the country's top officials would continue visiting the Southern Kuriles despite Japanese protests. Before the earthquake, Japanese businesses appeared keen to pursue new ventures in Russia. In 2010, both sides announced plans to build a new production facility of Komatsu in Yaroslavl, and create a joint venture between Toshiba and Power Machines in St. Petersburg.
The authorities of the internal republic of Tatarstan selected Japan's Mitsubishi Heavy Industries and Sojitz Corporation as for a new fertilizer plant in the town of Mendeleyevsk. On March 5, the head of Tatarstan's regional government, Rustam Minnikhanov, announced that construction is due to start this summer. Building the new plant will cost up to $1.5 billion, Minnikhanov said (Interfax, March 5).
In recent years, Russian officials have repeatedly called for Japanese investment in the energy sector and invited Japanese companies to join the Eastern Siberia–Pacific Ocean (ESPO) oil pipeline and the Sakhalin-Khabarovsk-Vladivostok gas pipeline projects. Officials also indicated plans to build a major petrochemical complex in Russia's Far Eastern regions, and invited Japanese businesses to invest in these projects. In May 2009, Russian gas giant Gazprom signed a MOU with Japan's Natural Resources and Energy Agency, Itochu Corporation and Japan Petroleum Exploration Company to prepare a feasibility study on future gas supplies to Japan and other Asia-Pacific countries. However, the results of this feasibility study have been slow to emerge.
Yet, despite repeated Russian invitations, Japanese businesses have largely refrained from participating in Moscow's programs to develop its Far Eastern regional infrastructure, including ambitious pipeline projects. In the wake of Japan's recent natural disasters, sizable Japanese investments in Russia are less likely to materialize. Not surprisingly on March 3, Gazprom CEO Alexey Miller pledged to build a new oil refinery in Sakhalin. Its feasibility study is due to be completed later this year, he said after meeting Sakhalin regional governor Alexander Khoroshavin (Interfax, ITAR-TASS, March 3). Gazprom apparently stepped in after expected foreign, notably Japanese, investments failed to materialize.
The bilateral economic ties have been slow to develop in other energy sectors. In May 2009, Russia and Japan signed a deal to supply nuclear fuel to Japan. The bilateral nuclear energy pact was supposed to pave the way for contracts worth billions of dollars, according to Sergei Kiriyenko, the head of Russia's state-run Rosatom nuclear power corporation. But Japan has been slow to ratify the bilateral nuclear energy agreement that was ratified by Russia. Following the nuclear crisis in Japan, the bilateral nuclear energy pact may be dropped.
As Tokyo failed to respond with investment pledges, the Kremlin seemingly became upset by Japan's obduracy on the territorial dispute and Tokyo's reluctance to commit any funding for the Russian Far East projects. Subsequently, Moscow decided to take a more hard-line stance on the Southern Kuriles, and move ahead with its Far East projects unilaterally.