Russia's Looming Year of Predictable Stagnancy
Publication: Eurasia Daily Monitor Volume: 18 Issue: 5
By: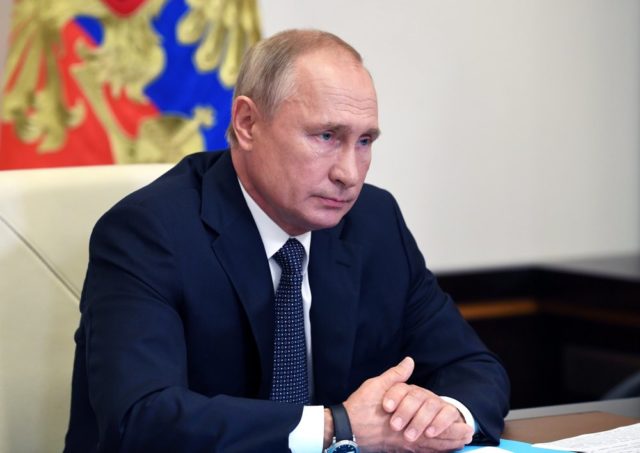 Recovering from the long seasonal holiday break, Russia usually begins a new year with high hopes and low activity. But last year had a strikingly different start, as President Vladimir Putin produced one of his trademark surprises and introduced a rushed constitutional reform initiative, which then had to be rescheduled because of the COVID-19 pandemic. At the same time, however, Putin sparked much public debate and political commotion by also appointing a new prime minister and reshuffling the government. No events of similar magnitude are expected this year, even though the State Duma (lower chamber of parliament) elections are scheduled for September. The campaign is anticipated to be a tightly controlled affair, with hardly any changes to the country's ossified political arena (Nezavisimaya Gazeta, December 28, 2020).
Concerns in the Kremlin about the impact of these elections are fueled by the ongoing crisis in neighboring Belarus, where the presidential contest last August were supposed to be a ritual confirmation of stability of the autocratic system but instead triggered an explosion of street protests. Embattled President Alyaksandr Lukashenka's harsh repressions have still not fully restored order in the streets, and some commentators warn that even a minor defection among Belarus's tired law enforcers could set off a chain reaction of betrayals followed by a renewed wave of huge mass rallies (Rosbalt, January 6, 2021). Lukashenka has had to give up his old game of distancing from Russia for now, and his regime has become increasingly dependent upon Putin's benevolence as well as vulnerable to Kremlin pressure (Grani.ru, January 6, 2021; see EDM, January 7, 2021). Moscow, nevertheless, measures the Belarusian leader as a political liability and will keep working on a plan for a reliable replacement (The Insider, December 25, 2020).
It is clear to Russian policy planners that the swift evaporation of Lukashenka's traditional popularity (or at least passive acceptance) among Belarusians was caused by his cavalier attitude toward the coronavirus pandemic, so Kremlin discourse consciously combines messages of herculean efforts to combat the disease along with purported evidence that the situation inside Russia is stabilizing (RBC, January 7, 2021). The manipulation of the daily stream of data enables official claims that the spread of the disease is under control, but basic statistics of excess mortality suggest Russia is suffering one of the worst health crises in the world (Rosbalt, January 8, 2021). Meanwhile, the relentless propaganda campaign about the high efficacy of the domestically developed Sputnik V vaccine cannot convince Russians to take it, and anger about the government's mismanagement of the disaster continues to build (Moscow Echo, January 4, 2021).
This discontent reinforces grave worries about the economic situation: as many as 73 percent of Russians expect 2021 to be a difficult year for the economy, and 62 percent believe the political situation will also be hard (Levada.ru, December 31, 2020). The government of Prime Minister Mikhail Mishustin promises more state interventions to key industries and tighter control over the financial system but remains stingy about providing social support (VTimes, January 6, 2021). Putin tries to show concern about the deepening poverty and talks about indexing pensions, but he conspicuously avoids any firm instructions or generous promises (Novaya Gazeta, January 5, 2021). Independent experts largely disparage the government's forecasts of a moderate recovery. They argue that the deep contraction in the purchasing power of the decimated middle class, combined with the continuing decline of energy export revenues, guarantees—at best—a protracted stagnation (Kommersant, January 2, 2021).
Russia's economic decline is indirectly but inevitably draining energy from the country's foreign policy, which has become distinctly more cautious than it used to be. Putin started the year 2020 with a series of assertive moves targeting primarily opportunities in the Middle East: an offensive against the rebel-held Idlib province was launched in Syria; new bands of "Wagner" mercenaries were deployed to Libya; and pressure was attempted on Saudi Arabia to prompt cuts in oil output in order to support the benchmark price (Newsru.com, December 30, 2020). All of these enterprises backfired astonishingly fast. And Turkey further undercut several of them by delivering, in autumn, the most serious blow to Russia's dominance in the South Caucasus with its forceful interference in the Armenian-Azerbaijani war (Rosbalt, January 7, 2021).
The capacity and willingness to project power had previously granted an edge to Russian foreign policy. But during 2020, the limits of this capacity became visible, and so the political will for risk-taking dwindled (Ezhednevny Zhurnal, January 1, 2021). It is not so much ambition as the need to proceed with the half-accomplished military modernization that prompts the Russian top brass to demand increases in funding; but forthcoming cuts in resource allocation will cause further delays in executing major rearmament programs (Riddle, January 6, 2021). Putin's protracted and continuing self-isolation makes him wary of the under-reported risks and costs of external endeavors; yet it also prompts him to prove that his control over policy-making is undiminished (Republic, December 24, 2020).
Russia's concealed but growing vulnerability to the challenges emerging in international affairs is eroding its habitual positions as well as inspiring some mainstream analysts to depict a massive crisis in global governance (Russiancouncil.ru, January 4, 2021). Grim foreboding of a further toughening of the United States' policy toward Russia underpins such analyses, and the characteristic gloating of Russian commentators about the failed "color revolution" in Washington, DC, last week (January 6) cannot hide these concerns (RIA Novosti, January 9, 2021; see EDM, January 7, 2021). In contrast, Russian commentary about the recent massive cyberattack on US government agencies has been predictably sparse, beyond the usual denials. But while the hack has yet to be convincingly attributed to the Foreign Intelligence Service (SVR), the incident is certain to bring about hard retribution (Gazeta.ru, January 6, 2021).
Domestic problems and external challenges are piling up for Russia, but even urgent responses are palliative and hesitant, with nothing resembling a strategic course. The prospect that China might emerge from the painful setback caused by the arrival of the pandemic even more economically dynamic and politically assertive brings no joy to Moscow, where concerns about asymmetric dependency are deepening. And the prospect of the rehabilitation of US global leadership, underpinned by the slow bridging of internal divides but quick strengthening of ties with key allies, is even more disturbing: Russia worries it will soon come under firmer containment of its "hybrid" attempts at projecting power. An opportunistic policy of steering clear of the US-China confrontation could have been profitable, but it requires greater attention, expertise and reputation than Putin can possibly muster. The Kremlin may succeed in quelling domestic discontent, but the disillusioned and demobilized Russia will almost certainly be one of the losers in the global post-pandemic recovery.