Russia's New Energy Doctrine
Publication: Eurasia Daily Monitor Volume: 6 Issue: 36
By: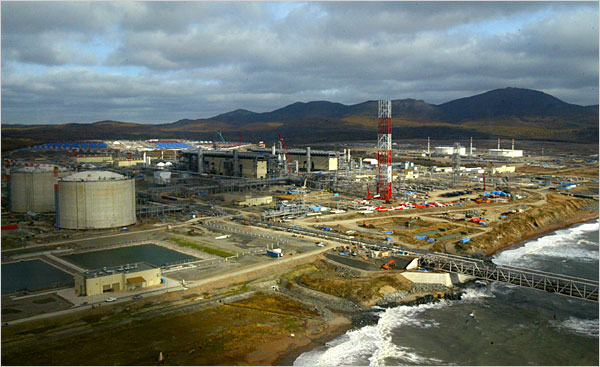 The Kremlin articulated some details of its new assertive energy strategy, following the inauguration of a major energy project on the Pacific island of Sakhalin and a significant energy deal with China.
Russian President Dmitry Medvedev dismissed perceived attempts to exclude Russia from global energy politics. Energy cooperation and dialogue should not be allowed to go ahead without Russia, he argued. Medvedev also ordered the government to draft a mid-term energy blueprint, including a plan of action to boost Russia's international clout. "We need an energy system that would involve an analysis of energy markets," Medvedev announced in Yuzhno-Sakhalinsk at a meeting with officials and business executives on February 18 (Interfax, ITAR-Tass, RIA-Novosti, February 18).
With a background of serious problems in the international financial system and energy markets, Russia has had to defend its position on energy prices, Medvedev said. He also complained that energy consumers also dominated the information flow on energy issues and suggested that Russia develop its own energy-related systems of analysis and forecasting, paying particular attention to trends in demand.
Russia needed to strengthen its cooperation with the Organization of Petroleum Exporting Countries (OPEC) and with gas exporting nations, as well as open discussions with the former Soviet states, the EU, and the United States, Medvedev said. He also urged the development of new energy projects in Siberia and the Far East.
Medvedev made these remarks after he launched Russia's first liquefied natural gas (LNG) plant to supply natural gas by tanker from Sakhalin Island to East Asia. The LNG plant is a part of the $22 billion Sakhalin-2 Pacific natural gas project. In 2007 Gazprom became the major shareholder in the Sakhalin-2 project, after acquiring a 50 percent stake from Royal Dutch Shell, Mitsui, and Mitsubishi for $7.5 billion.
Sakhalin-2 LNG exports were previously expected to start in the second half of 2008; but despite the delay, Medvedev hailed the LNG plant as a step in elevating Russia's position as a leading global energy producer and supplier. The plant's full capacity of 10 million tons a year would amount to 5 percent of the world's total LNG supply, he said (Interfax, RIA-Novosti, February 18).
On February 18 Sakhalin Energy representatives said that the LNG plant would start commercial shipments in March, with 3.2 million tons of LNG, or about 50 export shipments, expected this year (Interfax, RIA-Novosti, February 18).
The opening of the Sakhalin LNG plant was preceded by a new Russian agreement relating energy to exports, under which Russia's Rosneft and Transneft will receive a $25 billion loan from China in return for oil supplies of 15 million tons a year from Eastern Siberia for the next 20 years. The agreement was reached following talks in Beijing on February 17 between Russia's Deputy Prime Minister Igor Sechin and his Chinese counterpart Wang Qishan.
The arrangement also involves construction of a 67-kilometer (42-mile) pipeline spur of the Eastern Siberia Pacific Oil Pipeline (ESPO) from Skovorodino to the Chinese border. China funded the spur's $37 million feasibility study and worked out a project to build a 960-kilometer (597-mile) pipeline from its border with Russia to the Daqing petrochemical hub.
ESPO's first stage should have a capacity of 30 million tons per year, while the second stage is to transport 80 million tons of crude per annum. Transneft plans to finish construction of ESPO's first stage, Taishet to Skovorodino, by the end of 2009, and start the construction of the second stage, Skovorodino to Kazmino, in December 2009.
Russian and Chinese companies tentatively agreed on the ESPO spur when then-President Vladimir Putin visited China in March 2006. Three years ago Putin also promised to export up to 40 billion cubic meters of Russian gas to China via the proposed 6,700-kilometer (4,063-mile), $10 billion Altai pipeline. Also in March 2006, Gazprom and CNPC signed a memorandum on the delivery of Russian natural gas to China, a follow-up of a partnership pact signed in October 2004.
This month, Russia apparently moved to revive the Altai gas pipeline project, which has been stalled by disagreements on the gas price formula. During his trip to Beijing, Sechin delivered a letter from Medvedev to China's leader Hu Jintao, which pushed for the development of bilateral energy projects. Medvedev particularly suggested intensifying contacts between Gazprom and CNPC on possible Russian gas supplies to China (Interfax, February 17).
The same day, Gazprom reiterated its interest in forming a joint venture in the gas trade with China's CNPC. The gas-trade joint venture would allow Gazprom to take part in gas sales in China; and in return, Gazprom would become more flexible in its price talks with China, according to a company statement by Gazprom's Head of Foreign Economic Relations Stanislav Tsygankov. Gazprom is currently offering to export gas to China based on Japanese oil prices, but China remains reluctant to accept the offer, Tsygankov said (Interfax, February 17).
The opening of the LNG plant and the loan deal with China came at a time of concern that Russian energy production could decline. On February 16, in an apparent bid to dismiss these fears, Sechin said that Russia's oil production would actually go up this year. He also said that Russia was considering creating a state reserve to buy crude from other producers when prices are low and to store up to 16 million tons in Transneft's existing facilities (Interfax, RIA-Novosti, February 16).
In 2008 Russia pumped 488 million tons of crude or 0.7 percent less than in 2007; and at 243 million tons, the country's oil exports were down 6 percent, according to Rosstat, the Russian Federal Service of State Statistics (Interfax, February 16).
In the meantime, the Kremlin has also advocated economic diversification in Russia. At a state council meeting in Irkutsk on February 20, Medvedev encouraged broadening the base of the economy, developing the country's infrastructure, and strengthening the financial system. "We are working very slowly, unacceptably slowly during the crisis," Medvedev said in an apparent reference to the government's performance (Interfax, RIA-Novosti, February 20).
Russia's assertive energy strategy, as well as its efforts to reorient its hydrocarbon exports to Asia, appears to have been given a boost by the Sakhalin LNG plant and the contract with China. This energy strategy, however, still remains export-oriented, thus contradicting the proclaimed goal of economic diversification.