Russia's Refusal to Restructure Debt Hinders Assistance Plan for Ukraine
Publication: Eurasia Daily Monitor Volume: 12 Issue: 78
By: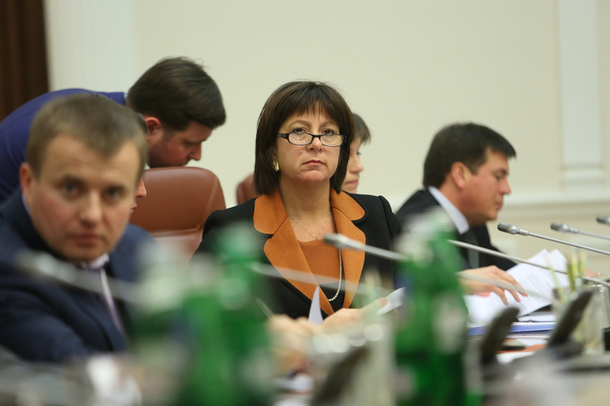 Ukraine has to generate $15.3 billion over four years with the help of a debt restructuring plan agreed, last March, with the International Monetary Fund (IMF). The IMF, which approved a new $17.5 billion loan for Ukraine and issued the first $4.9 billion tranche, expects that Ukraine and its creditors will agree on the terms of Ukraine's commercial debt restructuring before the IMF's review of the assistance program, scheduled for June, IMF First Deputy Managing Director David Lipton said in a recent statement (UNIAN, April 14). However, Russia's refusal to restructure a $3 billion loan, which matures in December, complicates talks with other creditors and may derail the international plan, according to which Ukraine is to receive a total of $40 billion of international assistance in 2015–2018.
Although the economic crisis caused Ukraine's GDP to plunge by 7 percent last year, and despite the fact that the war with Russia-backed militants in the industrial region of Donbas (area encompassing Donetsk and Luhansk provinces) threatens the very existence of Ukraine as a sovereign state, Kyiv repeatedly ruled out restructuring its international debt last year. However, in the wake of the government reshuffle last December, when many Maidan revolution amateurs were replaced with Western-educated professionals, Kyiv agreed with the IMF and other Western advisors that restructuring was unavoidable: there was no money to pay creditors in the shrinking state budget.
According to a plan approved by the government on April 4, 2015, Kyiv wants to restructure government bonds maturing in 2015–2018, the bonds of the state enterprise "Financing of Infrastructural Projects" maturing in 2017–2018, the debt of Kyiv municipality in 2015–2016, as well as debts of several state companies, including the big state-owned banks Oschadbank and Ukreximbank. Kyiv hired the international financial advisory firm Lazard for talks with creditors (Minfin.gov.ua, April 10).
If Ukraine's private creditors refuse to waive part of the debt, or at least to cut interest and allow Ukraine to pay off its debts several years later, the country will default. In this case, the creditors would lose even more, as large institutional lenders such as the IMF, the World Bank and the European Union would be likely to stop their assistance. Kyiv would be penniless for years to come, given the dismal state of Ukraine's economy and the fact that government debt is expected to jump to 94 percent of GDP by the end of 2015 from the current 71 percent (Lb.ua, March 12).
The leading credit rating agencies, in anticipation of a default, have lowered their ratings of Ukraine to dangerous levels. This should prompt lenders to be more willing to accept Kyiv's restructuring plans. Fitch downgraded Ukraine to "CC" from "CCC" in February, Moody's downgraded Ukraine to "Ca" from "Caa3" in March, and Standard and Poor's downgraded Ukraine to "CC" from "CCC-" in April (BBC–Ukrainian service, April 11). For comparison, Greece which has been teetering on the brink of a default for years, is rated higher at "CCC," "Caa1" and "B-," respectively.
Five international hedge funds holding about $10 billion of Ukraine's debt have formed a committee to work on a restructuring deal with Ukraine that would not involve a reduction of their principal holding. The US investment fund Franklin Templeton, which sits on the committee, is the biggest bondholder with about $7 billion of the debt (Bloomberg, April 8). Ukraine reportedly suggested a reduction of its Eurobond debt by up to 30 percent (Vesti.ua, April 22). However, Ukraine's negotiating effort has been complicated by the unwillingness of the second biggest bondholder, Russia, to restructure the $3 billion Eurobond that the Russian National Wealth Fund bought in December 2013 as compensation for then-Ukrainian president Viktor Yanukovych's rejection of an association and free trade deal with the EU. This was supposed to be part of a $15 billion Russian bailout, which Moscow scrapped after the Maidan victory last year.
Russia insists on special treatment, expecting repayment of the debt, due in December. Russia's argument is apparently that it is not a commercial debt, thus it should not be part of an international restructuring plan. However, the Ukrainian finance ministry believes that all of the Eurobonds issued by the government should be part of the restructuring scheme. Russian Finance Minister Anton Siluanov said Moscow did not demand early payment of the debt, although it had such an option. According to the December 2013 loan agreement, Russia could pursue such an acceleration to the repayment schedule if the Ukrainian government sector debt exceeds 60 percent of GDP—which it has (Vedomosti.ru, March 16). Siluanov said Ukrainian Finance Minister Natalie Jaresko told him there was a provision for the payment in Ukraine's budget for 2015. He threatened that Moscow would sue Kyiv if the Ukrainian government failed to honor the obligation (RIA Novosti, April 14).
The Russian "nyet" creates a psychological barrier for private Western creditors, who in the worst-case scenario may reject the restructuring plan. As the author of a recent article in the weekly Zerkalo Nedeli pointed out recently, private creditors complain that they are requested to pay for the war unleashed in Ukraine by Russia, while the aggressor state will collect its money and interest as scheduled (Zerkalo Nedeli, April 17).