RUSSIA'S THREATS TO UKRAINE, GEORGIA ARE CHALLENGES TO U.S., NATO
Publication: Eurasia Daily Monitor Volume: 5 Issue: 55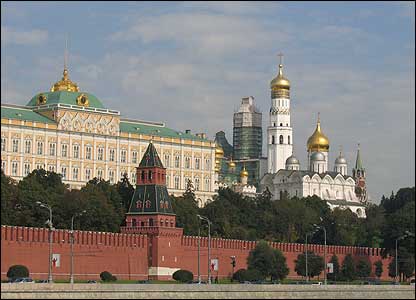 Representatives of the Russian government and the Kremlin are multiplying their threats to Ukraine (as well as to Georgia) ahead of next week's NATO summit, where Membership Action Plans (MAPs) for the two countries will be considered. Moscow realizes more clearly than some NATO governments that this issue is a defining one for the Alliance at its April 2-4 summit in Bucharest.
Government-run Rossiya Television aired a quintessence of such threats against Ukraine in its "National Interest" flagship political roundtable on March 22. The participants, who were until recently positioned as hardliners in the Russian spectrum, are nowadays in the policy mainstream.
Kremlin political consultant Gleb Pavlovsky warned on the program that Ukraine shall be "destroyed, divided" if it pursues a MAP leading to NATO membership. To deter Kyiv from pursuing a MAP, Pavlovsky recommended that Russia should raise the full range of complaints regarding the Russian language and rights of ethnic minorities in Ukraine and present Ukraine with a "yes-or-no choice." Should Kyiv choose the "no," Russia should "reconsider the [1997] framework treaty" with Ukraine. This clearly implies de-recognizing Ukraine's territorial integrity, which is a centerpiece of that treaty. With this, Pavlovsky is replaying the themes he used during Ukraine's 2004 presidential election campaign, which his team of political consultants based on threats to split eastern Ukraine from the rest of the country.
On the same program Konstantin Simonov, general director of the National Energy Security Foundation, warned that Ukraine's economy would collapse without Russian gas. Consequently, "If they do not see Russia as a political partner, they will not be getting any money from us" — that is, Russia would abruptly raise the price of gas for avowedly political reasons.
In a link-up from Brussels, the Russian envoy to NATO, Dmitry Rogozin threatened that granting MAPs to Ukraine and Georgia "would signify the breakup of their national states." He also warned the Alliance that it cannot tell Russia that it has no right to veto NATO decisions while at the same time requesting Russian assistance in Afghanistan, where the NATO operation faces a "fiasco for the entire alliance." Granting the MAPs would be "madness" and a matter for "adventurers" at NATO, Rogozin warned. In using such epithets Rogozin must be aware of NATO Secretary-General Jaap de Hoop Scheffer's indirect public signals that he supports the MAPs and opposes any indirect Russian veto (Rossiya Television, March 22).
Rogozin and other Russian government officials have in recent weeks multiplied threats to deprive Georgia of Abkhazia and South Ossetia permanently, if NATO approves a MAP for Georgia. Last month, Russian President Vladimir Putin threatened to target missiles at Ukraine if it joins NATO (see EDM, February 14). Now the threats to Ukraine's territorial integrity signify an escalation of this campaign.
Visiting Israel, Russian Minister of Foreign Affairs Sergei Lavrov warned that putting Ukraine and Georgia on a track to NATO through MAPs would result in the "gravest consequences" to U.S.-Russia relations (Interfax, March 20; AP, March 21). This phrasing seems tailored for the Israeli audience by raising the prospect that Russia might not cooperate with the United States on anti-Iran sanctions. It seems to indicate that Moscow is trying to induce Israel to use its influence in Washington for not giving cause to such grave consequences in U.S.-Russia relations.
While some NATO governments blink, Ukraine's leaders are standing up to these pressures. On March 17 President Viktor Yushchenko and Prime Minister Yulia Tymoshenko co-signed a set of letters to de Hoop Scheffer, German Chancellor Angela Merkel, and French President Nicolas Sarkozy (www.president.gov.ua, March 17). The German government is the principal opponent to the MAPs while the French government is tacitly resistant, although Sarkozy's personal stance remains unclear.
The Yushchenko-Tymoshenko letters express the hope that MAP approval at the upcoming NATO summit would confirm the irreversibility of Ukraine's Western orientation. The Ukrainian leaders "respectfully" address the view of those NATO governments that note a lack of consensus in Ukrainian society about NATO membership prospects for the country. However, they note, the MAP goal is enshrined in the coalition agreement (of Yushchenko's Our Ukraine and the Yulia Tymoshenko Bloc) and the coalition government's program. Their letters pledge to launch public education activities regarding NATO and allocate sufficient funding for this.
Yushchenko and Tymoshenko write that the authorities' pursuit of MAP is not a political tactic, but a strategic course of independent and free Ukraine. While the opposition in a democratic society has the right to dispute this strategy, Yushchenko and Tymoshenko express confidence that the moderate opposition (i.e., the Party of Regions) would revert to the pursuit of national interests and support a NATO MAP. This latter expectation is not misplaced, considering that the first Yanukovych government in 2003-2004 during Leonid Kuchma's presidency had supported the goal of Ukraine's integration with NATO. The March 17 set of letters is a follow-up to the Ukrainian top leaders' mid-January request to de Hoop Scheffer for MAP approval at the upcoming Bucharest summit (see EDM, January 18).
On March 21, a special session of Ukraine's National Security and Defense Council (NSDC) adopted a decision on coordination among all branches of the authorities to implement MAP goals, if a MAP program is approved at the NATO summit. As part of that decision, the authorities are to prepare a more effective effort through the mass media to inform the public about NATO. The NSDC announced that obtaining a MAP at the Bucharest summit is the joint goal of the entire state leadership (UNIAN, ICTV, March 21).
The United States publicly backs that goal. On March 19 U.S. Ambassador William Taylor declared to a news conference in Kyiv that no country outside NATO can veto the approval of a MAP. Taylor suggested that this issue needs to be resolved this year, ahead of Ukraine's 2009 presidential election campaign (UNIAN, March 19). U.S. President George W. Bush is scheduled to visit Kyiv on March 31-April 1, en route to the Bucharest summit. Many expect Bush to express full support in Kyiv for a Ukrainian MAP. However, it also seems possible that a Bush visit would become merely a consolation prize for postponing the MAP in deference to Russia, with Berlin perhaps earning in the process a title to Moscow's appreciation.
By resorting to threats in order to derail the Ukrainian and Georgian MAPs, Russia is targeting not only these aspirant countries. Through such threats and the accompanying wedge-drawing among European NATO countries, Russia is, in fact, targeting the Alliance itself, its policies, and the integrity of NATO's decision-making processes.