Russo-Chinese Naval Exercises Reflect Moscow's Delicate Balancing Act in Asia
Publication: Eurasia Daily Monitor Volume: 9 Issue: 95
By: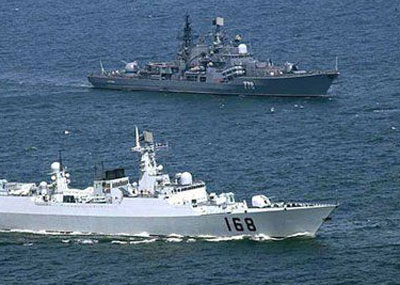 Historically naval exercises have sometimes played a key role in diplomatic signaling. One can only look back at the Franco-Russian naval exercises in 1891-92, which portended the creation of the Double Entente and the Franco-Russian alliance. Bearing that in mind what do the Russo-Chinese naval exercises of April 22-27 tell us? First of all it appears that there was far more commentary in the Chinese press than in the Russian one about these exercises. Second, although both sides announced the exercises only on March 29, they were the result of an agreement between both sides' navies and armed forces in April -August, 2011. The Russian press claimed the earlier date and the Chinese and Taiwanese claimed August (Interfax-AVN Online, March 30, Taipei times Online, April 2, Jiefangjun Bao Online, April 18).
Third these exercises appeared in the context of a growing frequency of exercises in Asia by Chinese, Russian, and US-Asian forces and amid the reorientation of US forces to East Asia, a change that Beijing has publicly labeled as unfriendly and hostile. Whereas US forces were conducting exercises with the Philippines just before these Sino-Russian exercises; only ten days before these bilateral Sino-Japanese exercises the Russian air force flew some 40 bombers near Japan's frontier as a Russian exercise (RIA Novosti, April 16).
Furthermore this exercise consisted of simulated cruise missile launches (Interfax-AVN Online, April 16). Consequently even if the exercises were planned before the US policy initiative and the divisive ASEAN Regional Forum of 2011 it is easy to see why the Chinese military media in particular emphasized the unity of the two sides and the implicitly anti-American aspect of these exercises (Jiefangjun Bao Online, April 18, Taipei Times Online, April 2, Kyodo World Service, March 29).
Indeed, the Chinese Press reported Chief of the General Staff, Chen Bingde's statements that bilateral military cooperation was an important aspect of the overall cooperation between Russia. These exercises represented a sign of the "unshakable determination" to implement the two governments' strategic partnership and strategic mutual trust between the two militaries, strengthen the two navies' capacity to deal with new threats (i.e. the US) and a willingness to work together to safeguard regional peace and security (Jiefangjun Bao Online, April 18). Such remarks suggest the greater willingness of the Chinese military to take a hard line against the US. But the Russian military remained more circumspect with regard to naval issues. Instead, the Russian military's public response was political in nature. On May 3 General Nikolai Makarov, Chief of the General Staff announced a new argument, but one that was long argued by Beijing, that the US missile defenses were objectionable because they will also target China's nuclear potential, an argument that has rarely figured in Moscow's public argumentation against those missile defenses, and a solicitude for China's nuclear capacity that is undoubtedly politically mandated given what we know of Russian defense thinking (Interfax-AVN Online, May 3). The next day Makarov announced that there would be more bilateral exercises (Interfax-AVN Online May 4).
This was Putin's way of sending a discreet but unmistakable signal as opposed to the rather more blustery tone of the Chinese military. Russian generals do not make these kinds of statements and announcements without strict political guidance. Thus Moscow is signaling to both Beijing and Washington that too much US pressure on missile defenses, on checking China in Asia, and on exporting democracy will lead Moscow closer to Beijing even though most analysts recognize that Russian security in the Asia-Pacific depends on the maintenance of an equilibrium and balance between the US and China, not on Russia's "leaning to one side." Indeed, Makarov's statements did not silence the debate in the Russian media, nor did the generals in China silence the civilian analysts there. Thus an April 28 article by Vasily Kashin of the Center for the Analysis of Strategies and Technologies explicitly waned against China's growing economic, political, and military power and influence. Kashin explicitly referred to a Chinese debate in the mass media and expert sources over switching to the creation of military-political alliances and tougher opposition to the West (Vedomosti Online, April 28). Thus Kashin confirmed earlier reports that there are those in Beijing interested in formulating a closer military-political alliance with Moscow and presumably vice versa even though that would lead in his view to placing Russian politics under the shadow of that bilateral competition between Beijing and Washington. Kashin certainly implied that this outcome would do Russia no good (Vedomosti Online, April 28). A Chinese commentator, Hai Tao also cautioned against reading too much into these exercises (Guoji Xianqu Daobao Online, April 6).
But it is clear that these exercises also signaled improved Chinese naval capabilities such as naval replenishment at sea and thus constituted a sign to Asia and the US of those enhanced capabilities. But those capabilities could also conceivably threaten Russian equities and interests. Putin's recent remarks that Russia hopes to catch the wind of China's sails may yet come through in ways that he certainly did not man or intend (Valdaiclub.com, March 1).