Scandal in Scandinavia: Gulnara Karimova's Shrinking Prospects to Become Next Uzbek President
Publication: Eurasia Daily Monitor Volume: 10 Issue: 113
By: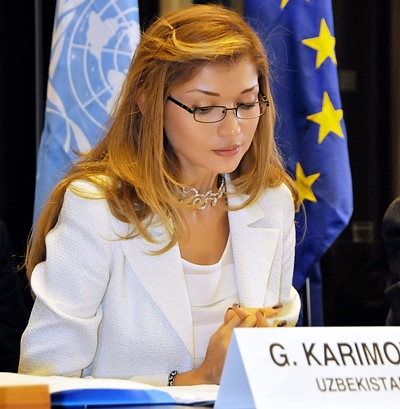 The issue of power succession in Uzbekistan gained momentum as a serious investigation has been launched in Sweden against Gulnara Karimova, the 40-year old daughter of Uzbekistan's President Islam Karimov. She is suspected of receiving a $320 million bribe, paid to her company Takilant Limited in exchange for a 3G mobile license and frequency, thus granting the Swedish-Finnish company TeliaSonera access to Uzbekistan's attractive telecommunications market under the Ucell brand. In light of this scandal, Gulnara Karimova subsequently became more aggressive in Uzbekistan's domestic affairs as this embarrassing development in Sweden and other incidents have increasingly forced her to reduce her visibility overseas. This, in turn, has placed a shadow over her prospects as a possible heir to the long time ruler of Uzbekistan, President Karimov.

In early June 2013, Sweden's General Prosecutor Berndt Berger applied to the Stockholm district court for the handover of documents that were made public by an investigation carried out by the Swedish television channel SVT on the program Uppdrag Granskning in May 2013 (www.thelocal.se/48364/20130607/). The documents available on the website svt.se are said to contain handwritten evidence indicating which services TeliaSonera should pay for and how often (blogg.svt.se/kommungranskarna/files/2013/05/3-Memorandum-ryska.pdf; blogg.svt.se/kommungranskarna/files/2013/05/1-Rapporten.pdf).

The case with TeliaSonera is yet another in series of scandals related to Uzbekistan's telecommunications market, whereby alleged bribery intertwines with political rivalries, spy wars and ultimately a succession issue. Commentators from the Uzbek website Uzmetronom.com question how the documents became available to the Swedish journalists and whether the Russian secret services might have played any role in this scandal. The Russian telecommunications giant MTS, which allegedly has high-level political connections, had been expelled from Uzbekistan's market back in September 2012, and its subsidiary Uzdunrobita had been prosecuted along with its former CEO Bekzod Akhmedov. The latter reportedly fled to Russia when Uzbekistan's prosecution requested Interpol's assistance. In response to an Interpol request, on July 30, 2012, Swiss authorities arrested several Uzbekistanis, employers of Coca-Cola Uzbekistan, who tried to access Akhmedov's bank accounts in the Swiss bank Lombard Odier. The detainees were allegedly affiliated with Karimova (www.centrasia.ru/newsA.php?st=1344890940). MTS's financial costs of losing access to Uzbekistan's market reached $1 billion, and the Russian company subsequently sued the government of Uzbekistan in the World Bank's International Center for Settlement of Investment Disputes (www.tdaily.ru/news/top-novosti/29537).

The ensuing scandal also appears to have had a serious impact on Gulnara Karimova's international postings. Although no public announcement was made, she seems to have left her position as Uzbekistan's ambassador to Spain in July 2012, as well as her job as Uzbekistani representative to the United Nations. Previously active abroad, Gulnara is believed to have made no visits to Europe or the Commonwealth of Independent States (CIS) in the past several months, and she did not appear at a high-ranked annual cultural event of Uzbekistan in Moscow, organized by her Culture and Arts Forum on June 3, 2013 (www.uznews.net/news_single.php?lng=ru&cid=30&sub=top&nid=22920). At the same time, Karimova traveled to China where she was quoted as saying at a conference on May 15 that relations between Uzbekistan and China may face (unnamed) "challenges and risks" (https://cps.uz/meropriyatiya-i-uchastie-tsentra/press-reliz-po-itogam-kruglogo-stola-pekin-knr-15-maya-2013g).

Based upon the information outlined above, it increasingly appears that Karimova's domestic positioning seems to be strained as well. For example, she apparently entered into a public dispute with Uzbekistan's influential Minister of Finance Rustam Azimov, accusing him of corruption. Yet, this quarrel had no effect on Azimov's standing, who was seated side-by-side with President Karimov during an April visit to Moscow, although according to diplomatic protocol one would assume that this seat should be occupied by Prime Minister Shavkat Mirziyaev, who is reportedly more sympathetic toward Russia (www.anons.uz/article/politics/9006/).

The next presidential elections in Uzbekistan will be held in the first half of 2015, but the succession question has become more acute than ever since reports emerged in March 2013 that President Karimov had suffered a major heart attack (Fergananews.com, March 23; Uznews.net, March 26). As a result, speculation intensified among observers of Uzbekistani politics over the list of possible individuals who might succeed Karimov. Rumored to be among the leading candidates are Rustam Azimov, Shavkat Mirziyayev and Rustam Inoyatov.

Azimov is sometimes referred to as the godfather of Uzbekistan's state-controlled economic and financial system. He serves an important role overseeing all the country's main cash flows, and President Karimov—who is an economist himself by background—might feel special sympathy for him, particularly, as Azimov domestically positions himself more in the economic field rather than the area of politics, which is less threatening to the current head of state. Shavkat Mirziyayev was appointed prime minister in 2003, and in this capacity he is responsible for domestic affairs only. He maintains a firm coordination of the various clans and regions in Uzbekistan. He is, therefore, potentially vulnerable to falling victim to inter-clan clashes, but, at the same time, he can gain if he is able to consolidate his support among the Uzbekistani elite. Rustam Inoyatov is one of the president's long-time advisors. He is Karimov's punishing arm and, since 1995, has headed the national security service, which protects the regime from local threats. In this highly vulnerable position, Inoyatov was able to survive and win over many challengers. Yet, at 68 years of age, he is among the oldest of Karimov's adviors, and this may serve against him. Moreover, Inoyatov's "ferocious" image of a suppressor of freedom inside Uzbekistan may not sit well with the more liberal, pro-Western circles inside the government.

Gulnara Karimova's fall from the top of the list of possible successors will mean a significant increase in new possible scenarios in the post-Karimov succession struggle. In fact, some prominent Western experts have described the emergence of a Western-oriented elite in the foreign ministry that may affect the post-Karimov succession question as well (see, for example Nicklas Norling, CACI Analyst, May 29).

In any case, Gulnara Karimova might end up following the fate of ousted Kyrgyzstani President Kurmanbek Bakiyev's son Maxim, who was also linked with bribery and provoked outspoken displeasure both outside and within local elites. Unlike Kyrgyzstan though, the power succession in Uzbekistan will likely preclude violence due to the high level of control maintained by the state's national security bodies. With Gulnara's reduced stature inside Uzbekistan, one is less likely to see a family scenario appearing in post-Karimov Uzbekistan, such as the one that occurred in Azerbaijan where Ilham Aliev succeeded his father Heidar following the latter's death. Rather, with Karimova quickly losing influence inside Uzbekistan, the increasingly likely scenario in the near future may resemble that of Turkmenistan where the ruling power elites inside the regime (in the shape of competing forces) came together to support a single candidate. This is what happened when Turkmenistan's leader Saparmurat Niyazov died in December 2006 after ruling the country for 16 years. A similar succession scenario may emerge in Uzbekistan as well.