SCO Attempts to Deepen Cooperation at Head-of-State Summit in Kyrgyzstan
Publication: Eurasia Daily Monitor Volume: 10 Issue: 165
By: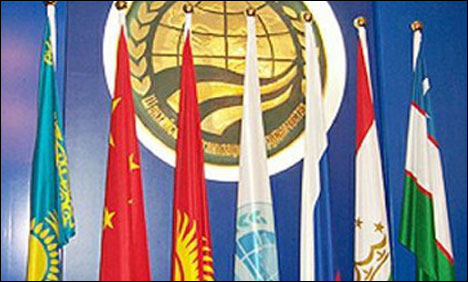 On September 13, the Shanghai Cooperation Organization (SCO) held its 13th session of the Council of Heads of State, in Bishkek, Kyrgyzstan, in a bid to strengthen cooperation on pressing security and economic challenges. The parties signed the Bishkek Declaration, calling for a joint struggle against illegal drug trafficking and the "three evil forces" of terrorism, extremism and separatism, as well as for a peaceful resolution of the crisis in Syria, the promotion of security in Afghanistan, and a development of economic links across Eurasia. But despite their shared agenda on many issues, the members still face a set of obstacles preventing the SCO from becoming a more potent and predictable force in steering global and regional politics and development.
The SCO was created in 2001 to foster economic, political and security collaboration among China, Russia, Kazakhstan, Uzbekistan, Kyrgyzstan and Tajikistan. Since then, Afghanistan, India, Iran, Mongolia and Pakistan have received observer status, while Belarus, Sri Lanka and Turkey achieved the status of dialogue partners. The SCO members account for three-fifths of the Eurasian landmass and one-fourth of the global population. In 2011, they produced 13 percent of the global GDP (sectsco.org, accessed September 18).
At the Bishkek summit, the members adopted a blueprint of actions for 2013–2017 to facilitate the 2007 Treaty on Long-Term Good-Neighborliness, Friendship and Cooperation and emphasized political approaches to resolving security challenges involving Afghanistan, Syria and Iran. The parties further reaffirmed their cooperation against the "three evil forces" and called for active involvement in the reconstruction process in Afghanistan as Western coalition forces pull out of the country by 2014 (trend.az, September 13; rg.ru, September 3;).
Afghanistan is home to al-Qaeda, the Islamic Movement of Uzbekistan (IMU), and the Islamic Party of Turkestan, which have sought to destabilize the regimes of various SCO members. According to Kyrgyzstan's Security Council, the Afghan part of Badakhshan has recently seen an uptick in activity by insurgent groups of Central Asian and North Caucasian origins, making it a priority for the SCO to ensure security in Central Asia's southern periphery—a region that has also served as a conduit for expanding drug trafficking into Russia, Europe and China (valdaiclub.com, July 3).
Ironically, just as SCO members expand their intra- and international economic links to Central and South Asia to address their development needs, they are likely to face more challenges in dealing with terrorism, illegal migration, refugee flows, and drug trafficking that such growing inter-regional connectivity will support. Perhaps, this prompted the SCO members to consider creating a universal center to counter security challenges, which would complement the SCO's Regional Anti-Terrorist Structure (rg.ru, September 3; valdaiclub.com, July 3).
As expected, during the summit, the SCO members voiced support for Russia and China's approach to the crisis in Syria and Moscow's proposal to place Syria's chemical weapons under international control. The participants also agreed on Iran's right to pursue a peaceful use of nuclear energy—something Iran's newly elected President Hassan Rouhani was glad to hear while attending the summit. Just like the regime in Syria, the Iranian leadership relies on Russia and China—two permanent members of the United Nations Security Council—to advance diplomatic solutions amid occasional calls for military action against Iran (presstv.ir, September 12).
Economic matters were on the agenda as well, with Russia and China pushing for the creation of a development fund and bank. In 2003, the SCO members signed the Multilateral Trade and Economic Cooperation Outline, which has facilitated a boost in trade and investment. In 2011, the trade volume between China and the other SCO members hit $113.4 billion, more than nine times what it was a decade prior (chinascope.org, July 15, 2012). Right before the summit, Chinese leader Xi Jinping toured several Central Asian capitals, inking strategic partnerships, enhancing ties with Turkmenistan, Kyrgyzstan, Kazakhstan and Uzbekistan, and lobbying the Central Asian republics to invest time, money and effort in a Silk Road economic bridge that would run through central Eurasia (warandpeace.ru, September 13). The creation of a bank and fund would help promote multilateral, region-wide development projects, and would also benefit Russia, which resents China's growing economic influence in formerly Soviet Central Asia, yet finds itself reliant on China and the region to develop its vast energy, trade and transit potential.
However, a number of obstacles have prevented the SCO from unleashing its full potential. First, Central Asian member states still fear the return of the old imperial master (Russia) while dreading the arrival of a new one (China). Second, while the SCO's predecessor, the "Shanghai Five," had sought to address border issues, border incidents involving Central Asian states continue to flare up (see EDM, January 30, May 6, 28). Third, considerable distrust persists among the members of the organization, with four member states being locked in an arguably healthy, yet potentially uncertain and volatile, rivalry over influence and, increasingly, even primacy in Central Asia: Russia and China as external regional powers, as well as Kazakhstan and Uzbekistan as intra-regional actors.
Other issues and obstacles concern the SCO's structure, mission and principles. The body has overlapping, even competing functions with other regional blocks, which are led or promoted by Russia but do not include China or Uzbekistan in some instances—the Common Security Treaty Organization (CSTO), Eurasian Economic Community (EurAsEC), Commonwealth of Independent States (CIS), Customs Union, Eurasian Union, etc. There are also questions about the SCO's long-term development and pressures for inclusion of other members. Finally, the group has not developed a viable formula for ensuring regional stability during a crisis without undermining the principle of non-interference in the internal affairs of its members. As China continues its rise and Russia pushes for Eurasian integration, the SCO may enable its members to manage related regional power shifts, but it is not yet fully ready to guarantee secure political transitions or outcomes in Eurasia. The SCO has a long way to go before it becomes a more potent and predictable force.