SCO's Tipping Point in Central Asia
Publication: Eurasia Daily Monitor Volume: 8 Issue: 117
By: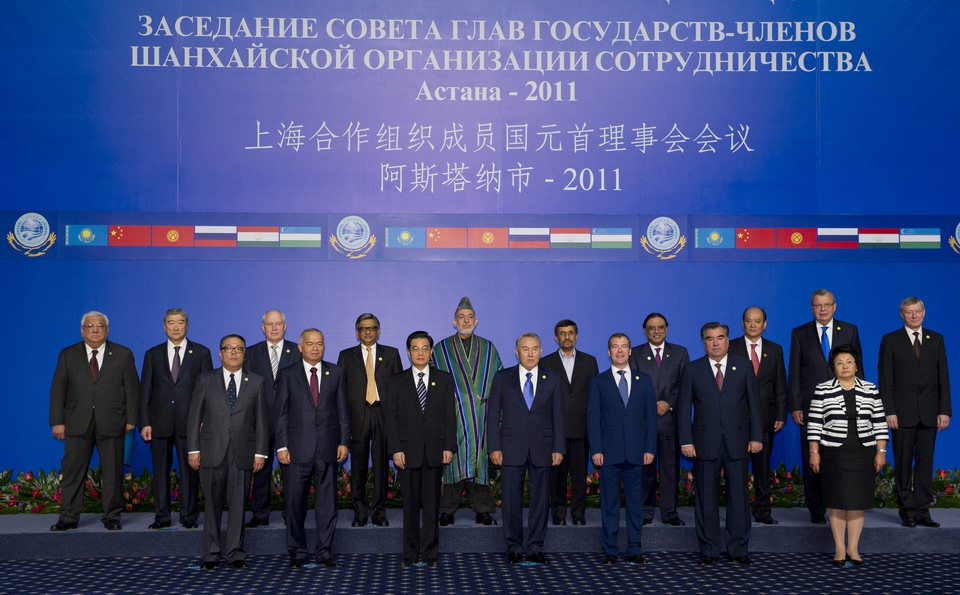 Ten years after its formation, the Shanghai Cooperation Organization (SCO) is overshadowing its regional Russian-led competitor the Collective Security Treaty Organization (CSTO). At the June 15 SCO summit in Astana, China demonstrated how its economic growth and political influence in the region has superseded that of Russia.
Although neither organization prevented the bloodshed or averted the spread of organized criminal groups on the territories of its member states, the SCO's penetration into Central Asian states' political and security sectors is rapidly expanding. Kazakhstan's President Nursultan Nazarbayev said that the SCO's Regional Anti-Terrorism Structure has to date prevented over 500 terrorist acts and saved thousands of lives (The Moscow Times, June 15).
During a meeting with Nazarbayev the Chinese President Hu Jintao suggested that Kazakhstan and China should double bilateral trade from $20 billion to $40 billion by 2015 (www.xinhuanet.com, June 15). Kazakhstan's trade with Russia reached $15.3 billion in 2010 (EDM, April 1). The Russian-led regional Customs Union is an unlikely contender to China's potential growth. Since Kazakhstan is an important link in the SCO's economic cooperation dynamics, the Astana summit presented an opportunity for Nazarbayev to demonstrate his skill in balancing the country's interests between its regional neighbors.
When the SCO was formed in June 2001 between China, Russia, Kazakhstan, Kyrgyzstan, Tajikistan, and Uzbekistan it had a reputation as a small regional organization where both Beijing and Moscow played an equal role. The organization's influence grew as a result of rather rapidly expanding economic cooperation, as opposed to its security ties. Trade between China and the Central Asian states reached $25.9 billion in 2009, compared to $527 million in 1992 (The New York Times, January 2). In its own right, the SCO might call itself an emerging economic bloc that advances China's political engagement through investment.
Over the past several years both the SCO and the CSTO have managed to gather a loyal group of members under their aegis, yet the SCO's horizons are much broader. The SCO's growing influence in the region is confirmed by India's wish to join the organization and the ever increasing list of states willing to participate in the organization's annual summits. For several years the heads of India, Iran, Mongolia, and Pakistan have held observer status with the SCO, while Belarus and Sri Lanka are SCO's "dialogue partners." Finally, ASEAN, the CIS, and Turkmenistan are the organization's guest attendees.
Importantly, cooperation between India and the SCO is developing around security goals in Afghanistan and the looming withdrawal of NATO forces starting in 2014. The SCO plays a "constructive and forward looking role in contributing towards peace in Afghanistan," India's External Affairs Minister S.M. Krishna said during the summit (www.hindu.com, June 16).
Starting this year, the SCO plans to implement a five-year counter-narcotics strategy that aims at reducing drug production in Afghanistan (www.kazinform.kz, May 14). The SCO has wanted deeper involvement in Afghanistan's security and economy for a number of years. Although like its Russian-led counterpart, the SCO was unable to meet the most critical challenges the Central Asian region faces today, China's security interests never dissipated. For the past eight years the SCO has held regular counterterrorism exercises with the participation of member countries to collectively combat what Beijing defines as the "three evils" of terrorism, separatism and extremism. Notably, the SCO's terrorists list includes individuals suspected of acts of extremism and separatism and contains roughly 1,000 names. That is longer than similar lists constructed by the UN or any Western security organization.
By sharp contrast, the CSTO is limited to expanding into former Soviet states. Even within the organization loyalty is not constant. Uzbekistan has been in and out of alignment with Russia, while Belarus' President Alyaksandr Lukashenka has behaved erratically, once calling the Kremlin elites "thugs and scoundrels."
Last year, the CSTO missed an opportunity to prove its own leadership in the region when Bishkek called for its support in ending ethnic violence in southern Kyrgyzstan that cost the lives of 470 people. One year later the CSTO announced its readiness to deploy troops into Kyrgyzstan when necessary. "If you [Kyrgyzstan] will continue worsening, the [Security] Council of the CSTO will take appropriate action. We are ready for action and have adequate capacity," CSTO Secretary-General Nikolai Borudzha said as Kyrgyzstan commemorated the tragic anniversary (www.centralasianewswire.com, June 9). Borudzha's announcement, however, sounded more like an act of desperation to be counted as a valid regional entity, rather than an affirmation of Russia's regional leadership.