SERGEI IVANOV CHALLENGES THE NEW POLITICAL GENERATION
Publication: Eurasia Daily Monitor Volume: 2 Issue: 114
By: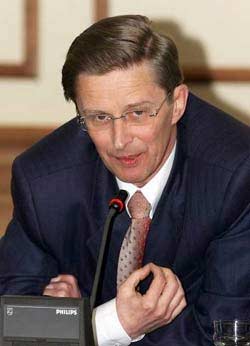 After four years on the job, Russian Defense Minister Sergei Ivanov has no impressive record of achievements. His most important "victory" happened some eleven months ago when Anatoly Kvashnin, the ambitious and stubborn chief of the General Staff, was fired and replaced with a quiet professional, Yuri Baluyevsky. Ivanov has not been eager to put his boosted authority behind any modernization projects in reforming the Soviet-era military structures.
That bureaucratic triumph helped in getting over the embarrassment of failures during the "presidential" military exercises in February 2004, when two strategic missiles failed at launch. Escalating the verbal war against terrorism, Ivanov then made several statements on the high readiness of the missile forces to deliver "preventive strikes" on any targets beyond Russia's borders. In recent weeks, he has not returned to this doctrine, but he condemned U.S. plans for the "militarization" of the outer space and confirmed that Russian Space Troops would find an "adequate response" (RIA-Novosti, June 2). He also dismissed the proposal to reduce the vast arsenals of tactical nuclear weapons (Lenta.ru, June 2).
The meeting of the Russia-NATO Council in Brussels last week provided Ivanov an opportunity to deliver Russia's concerns to the headquarters of the Alliance and to spell out his views for the international media. Always careful with words, he mainly praised the cooperative spirit and claimed credit for the lengthy program of joint exercises with only some minor reservations regarding NATO's activities in the Black Sea area (Lenta.ru, June 9). His main point, however, was aimed at Central Asia: he claimed to possess "reliable information" on the violent clashes in Uzbekistan that were allegedly caused by an incursion of Islamic extremists, including Taliban fighters, from Afghanistan (RIA-Novosti, June 9). In Moscow's opinion, the United States and NATO forces are not doing enough to check the "export of terrorism" and drug production in Afghanistan, while concentrating instead on "imposing democracy without taking into account local habits and national traditions" (newsru.com, June 9). Ivanov did not suggest any help from Russia in sorting out the Afghan problems but stated that there was no need for any international investigation of the "events" in Andijan, since those were organized from terrorist bases in Afghanistan.
This logic was perhaps not exactly linear and NATO Secretary-General Jaap de Hoop Scheffer voiced his disagreement. That did not bother Ivanov much: such "friendly confrontations" only add to the pleasure of the networking that he enjoys much more than dealing with the daily problems of his armed forces, where generals always grumble about the lack of resources and combat planes keep crashing (Ezhednevny zhurnal, June 9). There is, however, one issue that he has chosen to make his personal crusade — closing the loopholes that help students avoid the draft.
In December 2004, Ivanov outlined a plan for more a draconian call-up, but then the Kremlin became scared that students would join rebellious pensioners and create a "revolutionary situation." Ivanov backed off for a few months, but now he has chosen a new angle of attack, portrayed as a reform of the system of military education (Kommersant, June 10). The Ministry of Defense has announced its intention to close down most of the 229 departments that provide military training in civilian colleges and universities starting this autumn. It means that after graduation, young men would have to do their one-year service in the ranks before starting a professional career, while the graduates of some 30 "militarized" colleges would serve for 3-5 years as lieutenants (Vedomosti, June 10).
Where Ivanov has a point is that the present-day system is useless in providing any military training and none of the "civilian lieutenants" has a clue about the real-life burdens and hardships of the service. Where he is probably dead wrong is that the proposed reform would be perceived as reasonable and just. The students that the Ministry of Defense so desperately wants to draft represent the first post-Soviet generation, which cherishes no nostalgic feelings about the "great epoch" and has internalized values far different from the tired notion of "patriotic duty" (Gazeta.ru, June 8). Ivanov would never be able to convince them that the situation in the ranks is steadily improving, so that from January to May 2005 "only" 376 servicemen died in non-combat situations, including 99 suicides (newsru.com, June 6). These students are too well informed about the real situation in Ivanov's dedovshchina-infected army, so, according to a recent opinion poll, 84% of them are against canceling deferments and 70% are ready to use all available means in order to avoid service (Lenta.ru, May 19).
Confronting this negative attitude, Ivanov probably aims at more than just solving the manpower problem in the armed forces. He appears ready to challenge a new generation, which is expected to remain passive and uninterested in politics, but he counts on boosting his "patriotic" profile in the older generations that make the bulk of the voting electorate. His ambitions have never been centered on the ungrateful task of managing the military, but the post of the commander-in-chief may appear to be within his grasp. Indeed, while being one of Putin's closest confidants, he has managed to steer clear of the ugly infighting inside the Kremlin walls, incited particularly by the Yukos affair. Every time the question about a successor comes up, Ivanov's name appears on the short list. What might stand in his way is the fact that by attacking the students, Ivanov also antagonizes their parents and grandparents, whatever their Soviet mindsets. Even more significantly, he may underestimate this new generation that has briefly shown its joyful determination in orange-colored Kyiv and represents the best hope for a barracks-free post-Putin Russia.