Seven Chechens Arrested in Austria in Connection with Murder of Ex-Kadyrov Bodyguard
Publication: North Caucasus Weekly Volume: 10 Issue: 4
By: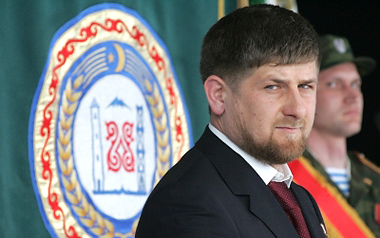 Agence France-Presse reported on January 28 that Austrian police had arrested seven suspects that day in connection with the murder of Umar Israilov in Vienna on January 13. Israilov, a 27-year-old former Chechen rebel who was subsequently forced to serve in Ramzan Kadyrov's security detail, later escaped to Europe and reportedly filed a complaint with the European Court of Human Rights in Strasbourg accusing Kadyrov of torture (North Caucasus Weekly, January 15 and 23).
The news agency quoted Gerhard Jarosch, a spokesman for the public prosecutors in Vienna, as saying that the seven suspects were all Chechen males aged 20 or older and were arrested during coordinated raids on 18 houses in the provinces of Vienna, Lower Austria, Upper Austria and Styria. Jarosch said it was too early to say whether those arrested included the trigger man, and also said that there was no evidence to suggest Israilov's murder was politically motivated. "We don't have any definite evidence yet pointing one way or the other as to what the motive really was … for the moment it's purely guesses and rumors," he said.
Yet, Peter Pilz, an Austrian Green Party lawmaker and security expert, accused the Austrian Interior Ministry of having "actively collaborated" with Russia's Federal Security Service (FSB) by providing information on Chechen refugees in Austria. A ministry spokesman denied the allegation, although he said an FSB agent has had routine contact with Austrian security services personnel.
The Associated Press (AP) on January 28 reported that when asked if Israilov's killing was politically motivated, Jarosch said "absolutely nothing can be excluded." According to AP, he also confirmed that Israilov's name appeared on an online list that was dubbed the "death list" by the media. Police were still trying to find out who compiled and posted it on the Internet, the news agency reported.
The New York Times reported on January 15 that Israilov had been pressed by a Kadyrov "emissary" to withdraw a human rights complaint against the Chechen leader that he had made both to Russian prosecutors and to the European Court of Human Rights. According to the newspaper, an Austrian police record provided to it by a friend of Israilov included a statement given last year to Austria's Office for the Protection of the Constitution and Action against Terrorism by a 41-year-old Chechen, identified as Artur Kurmakayev of St. Petersburg, who said he had been sent to Vienna by Kadyrov to bring Israilov home—"by the use of force if necessary." Kurmakayev told investigators last June 10 that he worked for a "secretive department" under Kadyrov charged with repatriating Chechens in exile and that he had seen a list at Kadyrov's residence in the Chechen town of Gudermes of approximately 5,000 names of Chechens who had either fought against Kadyrov or "have otherwise attracted unfavorable attention," and that 300 of those on the list "have to die," including about 50 Chechens living in Austria (North Caucasus Weekly, January 15).
The official website of Chechnya's president and government (Chechnya.gov.ru) quoted the head of the Chechen presidential and governmental analytical-information directorate, Lema Gudaev, as dismissing recent media reports suggesting Kadyrov was involved in the July 19 double murder in Moscow of Stanislav Markelov, the human rights lawyer who represented the family of Elza Kungaeva—the 18-year-old Chechen woman murdered by Russian Colonel Yuri Budanov—and journalist Anastasia Baburova (North Caucasus Weekly, January 23); the disappearance last August of Magomedsalikh Masaev, a Chechen living in Moscow who claimed he had been held prisoner by Chechen President Ramzan Kadyrov for several months (North Caucasus Weekly, January 23); the murder of former State Duma Deputy Ruslan Yamadaev in Moscow last September (North Caucasus Weekly, January 23); and the murder of Umar Israilov in Vienna. Gudaev said the reports were part of an ongoing large-scale information war against Kadyrov and his administration.