Shiite Proselytizing in Northeastern Syria Will Destabilize a Post-Assad Syria
Publication: Terrorism Monitor Volume: 9 Issue: 35
By: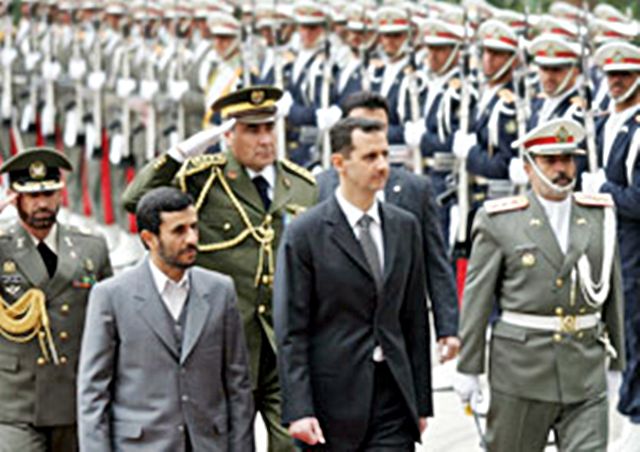 Iran's ties to Syria go beyond the geo-politics of the "Axis of Resistance." This is evident in the remote, volatile, and oil-rich al-Jazirah region of northeastern Syria, where there has been a noticeable increase in Iranian investment in religious and cultural centers over the last decade. Information gathered from interviews with Arab shaykhs, tribal youth, Kurds and Assyrians from the region suggest that Iranian financed Shi'a proselytizing, including cash handouts for conversion, is having an impact on conversion rates in the region. Arab shaykhs representing the six largest tribes in the region assert that the Assad government covertly supports a missionary effort that has affected both the Sunni (Arab and Kurd) and Christian (Assyrian) communities. [1]
The Jazirah region encompasses the areas including and surrounding the cities of Hasakah, Raqqah, Qamishli, Deir al-Zawr, Mayadin and Abu Kamal. This region includes the Euphrates River and its major tributary, the Khabour River. Al-Jazirah is considered to be the agricultural "breadbasket" of Syria. It is also the locus of Syria's oil industry and a major transit point for the entry, whether legal or illegal, of goods and livestock. [2] Arab tribal society is strongest in this region of Syria, which is comprised of tribal and mixed ethnic communities. Approximately 60% of Syria's Arab tribal population resides in this complex ethno-linguistic zone, which also includes significant numbers of "politically sensitive" (non-Arab) communities of Kurds, Armenians, Assyrians and Turkomans.
Lingering ethnic conflicts and Kurdish nationalism have resulted in an extremely heavy security presence in al-Jazirah. The Syrian government has historically employed a divide-and-conquer approach that has negatively impacted civil society and social cohesion in the communities of this region. Scores of individuals from al-Jazirah interviewed by the authors assert that the Syrian government is trying to create a pervasive atmosphere of distrust, especially between the Kurds on the one hand, and Arabs and Christians on the other. In addition to the intelligence and informant networks deployed by the regime in the northeast, other tactics to inhibit local level authority and autonomy are also utilized. These include land nationalization, restrictions on farming and grazing rights and even forced relocation of whole groups of people (e.g. tribal Arabs and Kurds). The Syrian government's attempts to assert total control over this oil-rich region have included blocking outside aid agencies from bringing relief to the area during the multi-year drought and subsequent famine that began in 2003.
The economic situation in al-Jazirah is dire. The Hasakah Governorate in particular has been fiercely impacted by the economic crisis, precipitated by a multi-year drought that crippled the local agricultural economy and forced 36,000 families to leave the land they once farmed. Over 1.3 million people have been affected by the drought, and more than 803,000 Syrians have lost their work because of its impact on successive harvests (Executive [Beirut], November 2009). Even the more wealthy shaykhs of northeastern Syria are feeling the economic effects of the drought. Many of them are in debt to either the Ba'ath Party (through government-controlled banks) or to private lenders who cooperate with the Ba'ath Party. Shaykhs who refused to pay the exorbitant fees of the loan sharks were forced to leave thousands of acres of their land uncultivated for the 2009 planting season. [3]
While there are no generally accepted figures for conversion rates to Shi'ism in Syria, information provided to us by local shaykhs is informative. Shaykhs representing the six largest tribes in the region stated repeatedly that Shi'a missionaries were having an impact on Sunni to Shi'a conversion in the region, especially among the economically vulnerable young men forced to seek work outside of al-Jazirah. A Baggara shaykh reported that a Shi'a religious center near Aleppo, for example, sustains young tribesmen who leave al-Jazirah in search of jobs with financial support, information on safe housing and a place of refuge where they can interact with other youth from their home region. When questioned about the financing of the mosques, one local shaykh from the Jabbour tribe became uneasy, and would only state that the mosques were financed by "outsiders," although he would not state who these outsiders were.
In a 2009 discussion with two tribal leaders, the Baggara shaykh (whose community is based both in al-Jazirah and south of Aleppo) stated that fully 25% of his tribe had converted to Shi'ism. While the second shaykh from the Shammar tribe (whose community is based in Hasakah) concurred with this figure regarding Baggara conversion, he stated that for his own tribe the conversion rate was less than one percent. He added that the reason the Shammar are largely immune to religious conversion is their very strong adherence to what he termed "traditional Bedu values." He went on to explain that the Baggara were never historically "noble" camel herders and thus were "weak" in terms of adhering to traditional Arab tribal or "Bedu" norms. In an interview that took place in June 2011, a local contact of one of the authors stated that the entire population of Qahtaania (a Baggara village between Qamishli and Malakiyya) has converted to Shi'ism, praying in the Ali ibn Abu Talib mosque built there in 2007. [4]
Conversion to Shi'ism is a contested phenomenon in the region. According to our interview data, the majority of converted Shi'a in al-Jazirah are secretive about their practices, preferring to practice their faith with fellow converts in husseiniya-like study groups in private homes. The main reason for this secrecy is the disapproval of the converts' families and/or tribes. A contact of one of the authors, a young convert to Shi'ism from the Walde tribe that live near Raqqah, stated in September 2010 that: "There is a problem between the tribes and the Iranians, but between the leader [Bashar Al-Assad] and the Iranians, there is no problem." Influential Sunni Syrians such as Ali Sadr al-Din al-Bayanouni of the Muslim Brotherhood have warned against "Shia-ization" in Syria. In a May 2008 interview, al-Bayanouni stated that: "on the cultural level, the Shi'ite school of Islam is spreading in Syria, funded by Iran and supported by the Iranian regime… This situation is exploited by people who give financial incentives, and pay the salaries of some tribal leaders, imams, and shaykhs, in order to convert these influential people to the Shi'ite school of Islam" (al-Arabiya, May 2, 2008).
The spread of Shi'ism in al-Jazirah, a majority Arab Sunni tribal region, adds another element of complexity to the dynamics of identity politics and organization of resistance to the regime there. Tribal, ethnic and sectarian differences exacerbated by decades of oppression and years of economic decay and out-migration, now coupled with Iranian cultural penetration through Shi'a missionary work, have destabilized the region and will have an impact on any attempt to form a post-Assad government in Syria. It is the view of the authors that Iran has "soft" tools or resources in place that it can draw upon in a post- Assad Syria that reach beyond military and political power politics into the sociocultural realm.
Carole A. O'Leary is a Visiting Scholar at the Columbus School of Law's Program in Law & Religion within the Catholic University of America (CUA).
Nicholas A. Heras is an M.A. Candidate in International Communication at the American University (DC) and a former David L. Boren Fellow.
Notes:
1. This article draws extensively from interviews conducted by the authors in 2008-2011 in Lebanon and Syria. The interview data suggests that there has been an increase in the number of Shi'a Muslim mosques and attendees at these mosques in al-Jazirah over the last decade.
2. See "On the Ground from Syria to Iraq," Harmony Project. (Combatting Terrorism Center at West Point: July 22, 2008), p. 86.
3. Information drawn from author interviews. See endnote 1 above.
4. The village of Hatla, near Deir ez Zawr in Hasakah Province, is also described as having been completely converted from Sunni Islam to Shi'ism (Washington Post, October 6, 2006).