Sino-Philippine Tension and Trade Both Rising amid Scarborough Standoff
Publication: China Brief Volume: 12 Issue: 9
By: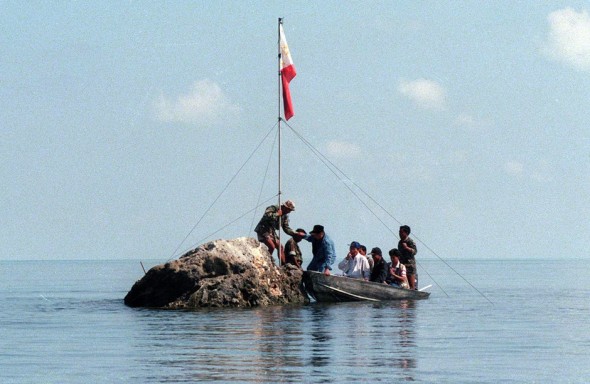 Tensions are once again on the rise in the South China Sea. On April 10, a standoff began when two Chinese surveillance vessels blocked a Philippine warship from detaining Chinese fishermen suspected of poaching near the contested Scarborough Shoal. There has been a tense deadlock since. Both sides claim they seek a peaceful resolution, but there is still no indication that the incident is drawing to a close. There is reason to be concerned about the possibility of the standoff escalating to armed conflict, but there is also reason to be hopeful that both countries have a threshold they will choose not to cross. China's Defense Minister Liang Guanglie said the Ministry of Foreign Affairs is handling the confrontation for now, and any military action would be "according to the needs of diplomacy" He further expressed confidence that the dispute will be resolved through diplomatic measures. (Sina, April 25).
By contrast, on March 20, the two countries celebrated the launch of the "Sino-Philippine Friendship and Exchange Year" (Phoenix Net, March 22). Despite mounting tension that led to the standoff, the notion of a friendship year did not appear to be all talk. China is currently the Philippine's third largest trading partner, and in 2011 bilateral trade reached an all-time high, exceeding $30 billion (The China and Philippines Portal, February 2). Last year, the two countries announced plans to double their bilateral trade to $60 billion by 2016 (Xinhua, September 1, 2011). Even with the South China Sea dispute unresolved, this goal is attainable. Such contradictions demonstrate the complexity of the Sino-Philippine relationship and make understanding the development of bilateral relations difficult. What factors have caused tensions to again increase? Will the dispute be resolved or is armed conflict between China and the Philippines in the future?
The standoff is not exactly a shocking development, but it is the most serious escalation of the territorial dispute in recent years. Sino-Philippine relations were characterized by bellicosity during the 1990s. In 1995, it was discovered that China had built military structures at the Philippine-claimed Mischief Reef located 135 miles west of the Philippines' Palawan Island (New York Times, February 18, 1995). Through 1998, tensions ran high as numerous incidents occurred in the disputed area, which also included other claimants.
In the 2000s, relations improved and it seemed the two countries might move past the dispute. There were indications that the idea of joint exploration was being seriously considered. In 2004, the Philippine National Oil Company and Chinese National Offshore Oil Company signed an agreement to conduct joint seismic studies in the South China Sea. Also by 2004, Beijing and Manila began to strengthen security ties in the disaster relief and humanitarian realms ("China and the Philippines: Moving Beyond the South China Seas Dispute," China Brief, August 16, 2006; Asia Times, September 20, 2007). During a 2007 goodwill visit, former Defense Minister Cao Gangchuan pledged an initial $6.6 million grant to the Philippine army for non-lethal military equipment as a confidence-building measure (Asia Times, September 20, 2007). Trade also improved dramatically—by 433 percent between 2000 and 2005 ("China and the Philippines," China Brief, August 16, 2006; China Daily January 16, 2006). These developments indicated the two countries were moving toward a cooperative relationship.
Economic ties have continued to improve, but the impact this has on overall relations seems negligible. Philippine President Benigno Aquino III made his first state visit to China from August 30 to September 3, 2011. During the visit, both sides emphasized cooperation by focusing on economic relations rather than on their territorial dispute. So far this year, trade and investment are expanding. In January, China represented the highest percentage of the Philippines' imports, which increased by 13.9 percent year-on-year to $535.63 million. Philippine exports to China totalled $591.23 million, giving it a trade surplus of $55.6 million (GMA News, March 27). In February, the Philippines' second largest telecommunications firm, Globe Telecom Inc., signed a $700 million deal with China's Huawei Technologies Co. and Alcatel-Lucent to upgrade its infrastructure (Xinhua, February 18). Despite continued bilateral trade and investment growth, this month's standoff indicates economic cooperation has failed to diminish the South China Sea friction.
At the core of the South China Sea dispute are the SpratlyIslands, which lie south of the Scarborough Shoal. They are a group of several hundred reefs and islets, located across some of the world's most vital sea lanes. Manila's claims are based on its 200-nautical mile exclusive economic zone, and on the country's extended continental shelf, as defined by the UN Convention on the Law of the Sea (UNCLOS) (Manila Bulletin, April 20). China claims most of the South China Sea. Beijing also draws on the UNCLOS to argue historical claims over the waters (People's Daily, April 18).
China's greater assertiveness over territorial claims probably is the source of renewed tensions between the two. Chinese surveillance vessels increasingly patrol the contested area. They often harass foreign vessels, enforce fishing bans and detain crews. Chinese fishermen operating in the area have complained of increased policing by other countries and called for more Chinese patrols (People's Daily, February 22). China uses such claims to justify its assertiveness. These surveillance vessels also harass foreign businesses operating in the region. One such vessel recently reported it discovered 30 so-called "illegal" foreign oil wells in the South China Sea (Phoenix Net, March 21).
To China's dismay, Manila has resisted these assertions. President Aquino recently accused China of expanding its claims over the disputed territory. He, admittedly a bit flippantly, asked: "If you don't say 'oops we have a 200-mile economic zone, you're already claiming something from our coastline,' What's the next thing they'll claim? The other side of Palawan [Island]?" (Philippine Star, April 8). The Philippines consistently has been firm with China. For instance, in March 2011, two Chinese surveillance vessels forced a survey ship contracted by the Philippines to conduct seismic studies in the Sampaguita gas field at Reed Bank 80 miles west of Palawan Island. Manila responded by flying two warplanes over the location (VOA News, March 5, 2011).
Tensions are on the rise, but why is China aggressively asserting sovereignty in lieu of a peaceful settlement? There are many issues at stake, but there are two issues that stand out: access to energy resources and strategic concerns.
The South China Sea is believed to be resource rich. Estimates of its potential oil and gas reserves vary widely. One Chinese estimate placed oil resources as high as 213 billion barrels of oil (bbl), whereas a U.S Geological Survey from 1993/1994 estimated about 28 bbl (U.S. Energy Information Administration, March 2008). As the world's largest consumer of energy, and second largest consumer of oil, China has an insatiable and growing demand for energy resources (U.S. Energy Information Administration, May 2011; International Energy Agency, July 20, 2010). On the other side, the Philippines hopes to expand its domestic production so as to improve self-sufficiency [1].
In the buildup to the Scarborough Shoal standoff, debate over oil and gas exploration was a key irritant. On February 27, Energy Secretary Jose Almendras announced the administration decided to go forward with plans to open 15 offshore drilling blocks, including two claimed by China in waters northwest of PalawanIsland, for bidding by petroleum companies (The Guardian, February 29). The offer was open to any investor, including Chinese, willing to be governed under Philippine law (Philippine Star, March 18; Global Nation, February 27). China's foreign ministry strongly protested the move, stating any country or company engaging in oil and gas exploration activity without China's permission was acting illegally (Sina, February 29). As the disputed drilling blocks are explored, confrontation is liable to increase. For example, Forum Energy Plc has just announced it found larger-than-expected gas reserves at Sampaguita gas field (GMA News, April 24). Given the incident over the gas field in 2011, there is reason to be concerned over what the political impact of this discovery could be. Standing alone, access to energy resources still does not explain China's assertiveness because China has demonstrated that it can use cooperation to gain advantage in energy markets in places such as Central Asia.
The South China Sea is also one of the world's most vital shipping lanes. Approximately 80 per cent of China's energy imports must pass through the South China Sea before reaching China. The PLA Navy's expanding capability and the assertiveness of surveillance vessels can serve to protect such interests. As China's capacity to protect these and other strategic interests has expanded, distrust from other countries also has grown.
The U.S. "pivot" toward Asia has played a role in increasing Sino-Philippine tensions. In January, the Pentagon announced it was holding a bilateral strategic dialogue with Manila, where a spokesperson said the United States would discuss "how our enhanced posture in Asia can be useful to them as we expand our cooperation" (Reuters, January 26). Indeed, U.S.-Philippine military relations are broadening, and the United States clearly is showing greater interest in the territorial dispute. From April 16-27, the United States and the Philippines conducted an annual joint military exercise off the Palawan coast near the contested SpratlyIslands. One drill involved retaking an offshore oil platform at the hands of terrorists in the South China Sea (VOA News, April 16). Normally, the exercise takes place near Luzon, which is a less sensitive location (Sun Star, March 8). Philippine and U.S. officials have stressed that the exercise is not meant to provoke China (GMA News, April 15; VOA News, April 16). Regardless, Beijing thought the exercise was provocative, so it encouraged wariness of Washington and Manila's intentions (Xinhua, April 17).
Changing military relations with the United States have perhaps made the Philippines feel more comfortable asserting its claims. For example, on March 30, Manila announced it would "exercise territorial sovereignty" by building a pier in the disputed islands (Global Nation, March 30). This unsurprisingly was rejected by China as a challenge to its sovereignty (Sina, March 30). Also last month, the Philippine and Vietnamese navies signed a memorandum of understanding to hold joint naval patrols along the contested South China Sea territory. There also was talk of a potential joint exercise (Global Nation, March 28). These actions possibly have prompted China escalate its assertions.
With the standoff continuing, the status Sino-Philippine relationship remains in question. How can we expect bilateral ties to develop?
The South China Sea dispute has overshadowed positive elements of bilateral ties—specifically, the rapid development of trade and investment. So far, the dispute seemingly has not affected the positive direction of economic relations. While economic relations might help restrain behavior in the South China Sea, they are unlikely to help lead to a resolution.
Potential to resolve the dispute peacefully is harmed by China's inflexibility in both bilateral and multilateral settings. Manila has proposed to bring the current dispute to the International Tribunal on the Law of Sea, but China refused on the grounds that the Scarborough Shoal is China's territory (Huanqiu, April 19; GMA News, April 17). Manila also has attempted to use ASEAN as a vehicle for resolving the dispute. Last year, President Aquino proposed a "Zone of Peace, Freedom, Friendship and Cooperation" (ZoPFFC) as a way to solve territorial questions, but idea was rejected quickly by China and has received little support from ASEAN ("The South China Sea Dispute: Movement in Lieu of Progress," China Brief, April 26).
The lack of progress toward a peaceful resolution inevitably raises the potential for armed conflict. This is a real possibility, and the current standoff balances precariously. This possibility is small and if armed conflict does occur it would likely be limited. On the surface China's navy has a huge advantage compared to the Philippine Navy. The U.S.-Philippine mutual defense treaty however guarantees the two countries would come to each other's defense if an external party attacks either. This arrangement is a double-edged sword. On one hand, if Beijing presses the Philippines to the brink of armed conflict, Manila would have Washington's support. On the other, if Manila is in fact emboldened by its renewed military relationship with Washington, it potentially could prod China too far. The Philippines is not likely to receive U.S. support if it has provoked conflict. Also, it is Manila's best interest to ensure China's naval superiority does not come into play. If the premise that Beijing prefers to avoid conflict is accepted, then China probably will continue to assert its claims using the indirect military arm of surveillance vessels for "law enforcement," instead of further escalating the situation by directly involving the PLA Navy. In any case, there is reason to believe that there are enough incentives on all sides to keep any confrontation low-level.
Still, there are uncertain factors about Beijing's decision making that could impact Sino-Philippine relations. How much authority has the PLA been granted to enforce Chinese territorial claims, and how far might it push this authority while remaining within the limits? The communist party is obsessed with staying in power, and one way it has accomplished staying in power is by promoting nationalism in place of communism [2]. The risk this runs is that the government may find itself in a situation where foreign policy constructed to legitimize the CCP domestically is in severe conflict with China's best, or even Beijing's desired, interests. This does not mean Sino-Philippine tensions will lead to armed conflict—both China and the Philippines claim to seek a peaceful resolution of the dispute. It does, however, make matters far more complicated than bilateral negotiations between China and the Philippines might be able to resolve. Ultimately, there is no certainty as to where the threshold lies and whether both countries can ensure it remains uncrossed.
Notes:
Leszek Buszynski, "The South China Sea: Oil, Maritime Claims, and U.S.-China Strategic Rivalry,"

The Washington Quarterly, Vol.

35, No. 2, 2012, pp. 139–156.
Steve Tsang, "Consultative Leninism: China's New Political Framework,"

Journal of Contemporary China, Vol.

18, No. 62, November 2009, pp. 865–880; Peter Hays Gries,

China's New Nationalism: Pride, Politics, and Diplomacy,

Berkeley: University of California Press, 2004.