Slavic Brotherhood 2015 Rehearses Anti–Color Revolution Operations
Publication: Eurasia Daily Monitor Volume: 12 Issue: 160
By: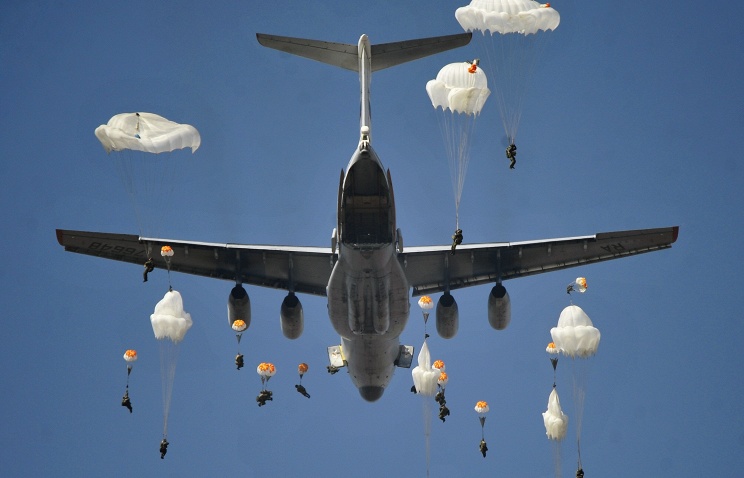 Russia's Armed Forces conducted a military exercise indicating Moscow's intent and planning to use military force to thwart future "color revolutions." Elite Airborne Forces and special forces from Russia, Belarus and Serbia participated in Slavyanskoye Bratstvo (Slavic Brotherhood) 2015, signaling that color revolutions—as a potential threat to the Russian state—have a direct influence on military training and operational planning. Accordingly, Russia's top brass hailed the exercise as the "first of its kind," and basked in the controversy surrounding Serbia's involvement. However, Slavyanskoye Bratstvo 2015 reveals a significant doctrinal shift now impacting combat training, affording insight into the types of forces envisaged in such hypothetical operations as well as a possible search for additional "anti-color revolution" allies (TASS, September 4).
Serbian Foreign Minister Ivica Dacic stated that Belgrade would not tolerate criticism from the European Union over Serbia's participation in the exercise. "Who can read us a lecture?" Dacic asked rhetorically, adding "the EU is not a military bloc. Let them go about their business." The joint Belarusian, Russian and Serbian military exercise prompted little reaction from Washington or Brussels. Nonetheless, presumably aiming to pre-empt any critique of Belgrade's decision to send forces to the exercise Dacic said, "We have the right to work with those with whom we want. It is our right! Serbia is a separate, independent state." Moscow's interest in widening the joint exercise to include a country from outside the Commonwealth of Independent States (CIS) could also suggest Russia is searching for possible political support over future actions related to this type of threat (Komsomolskaya Pravda, September 5).
Slavyanskoye Bratstvo 2015 was staged on September 2–5, at the Rayevskiy range, near Novorossiysk, in Southern Military District. The exercise itself was comparatively small, involving a total of 700 personnel, 20 aircraft and helicopters, and around 100 pieces of equipment; the bedrock of the force was drawn from the Russian 7th Air Assault Division, with a Serbian airborne company and Belarus sending two companies of special forces. Colonel Roman Breus, the commander of the 7th Air Assault Division, was placed in overall command of the exercise (Nezavisimoye Voyennoye Obozreniye, September 2).
Yet, its importance as part of the combat training year was explained by the chief of the General Staff, Army-General Valeriy Gerasimov, referring to "so-called color revolutions" as a form of armed struggle that must be met by military force. Gerasimov noted that interpreting such color revolutions as a form of warfare provides the basis for adjustments to the Russian Armed Forces—including changing the combat training system and necessitating working out the ways and means to combat these popular movements (Nezavisimoye Voyennoye Obozreniye, September 2).
Details of exercise scenario were elaborated by Colonel-General Vladimir Shamanov, the commander of the Airborne Forces (Vozdushno Desantnye Voyska—VDV). Shamanov said the scenario centered upon anti-government protests in a notional country, escalating into riots in the streets followed by armed groups attempting "provocations," including mounting terrorist attacks to further destabilize the situation. The security forces in the notional state were overwhelmed by these events, and the government called for foreign assistance (Regnum, September 3; Nezavisimoye Voyennoye Obozreniye, September 2). On this basis, the joint force grouping was deployed to bring the situation under control. Beyond the predictable phrases Shamanov used to outline this response, including joint anti-terrorist actions, as well as localizing and eliminating illegal armed groups, he also said that in the early stages of the operation, the forces used non-lethal weapons. Consequently, the operation divided into three stages: following initial deployment and the use of non-lethal weapons, the follow-on phases witnessed special operations and other tactical elements (Nezavisimoye Voyennoye Obozreniye, September 4).
Reporting in the Russian military media noted the real danger of "color revolution"—highlighting events in Kyrgyzstan, Georgia and Ukraine—and how this was influencing Russian security thinking. Russia's top brass and defense officials have referred to color revolutions as a security threat to the Russian state on numerous occasions; the political-military elite view popular uprisings quite differently from their international counterparts. For example, Eduard Rodyukov, a member of the Academy of Military Sciences, said that riots are acts of civil disobedience. He made a series of observations concerning events in Kyiv during the Maidan protests. In his view, the natural conclusion is that the military must be capable of protecting the regime. Another individual who regards color revolutions as a threat demanding a military response is Lieutenant-General (retired) Yuri Netkachev. Indeed, Netkachev has consistently argued that countering color revolutions must be calibrated into Russian military exercises, on the basis that a color revolution per se falls below the threshold of what governments would normally define as overt revolution, thus arguing that the Russian General Staff has to interpret such events as a form of warfare and prepare troops to respond (Nezavisimoye Voyennoye Obozreniye, July 10; Dokwar.ru, June 9, 2014).
Slavyanskoye Bratstvo 2015 is a unique Russian military exercise, as it provides evidence that the General Staff now folds anti–color revolution themes into its exercises. It is no surprise to see small-scale forces being used, or that these were drawn from the VDV with possible support from other elite units, including special forces. But the military press is silent on the actual techniques and methods at the disposal of the Russian military to adequately respond to a Euro-Maidan-style crisis. While Shamanov referred to the force grouping possessing non-lethal weapons, much of the exercise seemed scripted around regular combined-arms training. According to the VDV spokesperson, Major Irina Kruglov, the Serbian company helped to localize enemy forces, while Belarusian forces performed water crossings and the VDV battalion destroyed an enemy "training center." The joint forces then engaged in maneuvers to block enemy forces. Firepower included artillery with bombing provided from air assets, including Su-24 and Su-25 aircraft and Mi-35 helicopters. "A pair of Su-25s performed three hits with unguided rockets, a pair of front-line Su-24 bombers carried out the bombing, and Mi-35s struck two blows [against] groups of illegal armed groups," Kruglov noted (TASS, September 4).
Slavyanskoye Bratstvo 2015 will most likely prove to be the first of many exercises in which the scenario concentrates on EuroMaidan-style events, allowing the Russian General Staff to develop and refine the planning for intervention during such crises. The firepower used in the exercise also confirms that Moscow is prepared to use force in this type of crisis.