Soul-Searching in the Opposition Amid Growing Threats to Belarusian Sovereignty
Publication: Eurasia Daily Monitor Volume: 19 Issue: 159
By: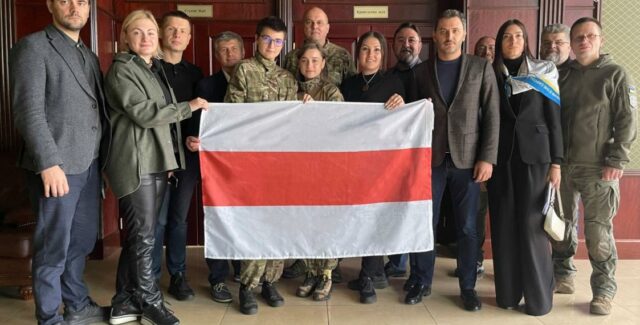 The Belarusian opposition media continues to be frustrated with Ukrainians' worsening attitude toward Belarusians in their country. The September 2022 telephone and online survey of 2,000 Ukrainians by the Kyiv-based International Institute of Sociology revealed that, regarding Belarusians, Ukrainians view the group with the third-most negative attitudes. Only Russians and the Roma received worse ratings. As the November 2021 survey showed, a year ago, attitudes toward Belarusians in Ukraine were incomparably better (Usp-itd.org, October 21).
Of the Belarusians fighting for Ukraine, Kyiv prefers the so-called Kalinowski battalion, whom the Ukrainian officials juxtapose to Svetlana Tikhanovskaya and her entourage. In early October 2022, 12 Ukrainian members of parliament met with members of that battalion and endorsed their political ambitions (Euroradio, October 18). Alexander Klaskovsky, a veteran of Belarusian opposition-minded journalism, believes this is dangerously shortsighted on the part of the Ukrainians (Gazetaby.com, October 20).
This is not only because it exacerbates the internecine struggle within the Belarusian opposition but also because it betrays the "older brother" syndrome on the part of Ukrainian politicians—for which the Russians are notorious. Additionally, the professed desire of the Kalinowski battalion members to "liberate" Belarus is fraught with Gleiwitz-style incidents—a false-flag operation that the Russian side may use to ensure the Belarusian army eventually enters the war—the plans for which President Alyaksandr Lukashenka continues to adamantly deny.
Thus, soul-searching and reassessment of lasting articles of faith by the opposition is in full swing. Ryhor Astapenia, an associate of Chatham House, is one of just two sociologists who continue to probe public opinion in Belarus by way of telephone and online surveys. Astapenia calls into question the opinion popular among his comrades-in-arms, according to which Belarus is still experiencing a political crisis. This categorization was accurate back in August and September 2020 but is not any longer.
Our understanding of the situation, claims Astapenia, persistently boils down to some magic wand that would terminate Lukashenka's rule (Ideasbank, October 20). First, mass protests acted in that capacity followed by the "people's ultimatum" declared by Tikhanovskaya in mid-October 2020. Western sanctions on Minsk, Belarus's constitutional reforms reportedly demanded by Russian President Vladimir Putin, the Belarusian government-in-exile and plans for forcible regime change also embodied that magic wand. Now, some believe in such chimeras as a popular hunger strike in Belarus—an idea so preposterous it is not even worth countering. Or they choose to believe in the dawn of a new era that the upcoming defeat of Russia would signify, though we have no idea how and when the war will end and whether the Belarusian state will still exist then.
In the meantime, the Belarusian opposition's influence on the situation inside the country is diminishing, and what that means for their fellow citizens is still unclear. While Astapenia admits that opposition-minded pundits often feel an obligation to put on a good face about the situation so their audience will not lose hope, he believes in the obligation to question "our own policy:" Does it really promote Belarusian national interests? Does radicalization within the opposition weaken or strengthen the Lukashenka regime? Should we continue to disapprove of the West's negotiations with Lukashenka, if only for the release of some political prisoners? Should we still be neglecting the problems of Belarusians at home and, by way of doing so, continue to lose their support (Ideasbank, October 20)?
Each of these questions is not without precedent, but their array in one publication by a serious researcher and opposition activist is telling—especially against the backdrop of a growing threat to Belarusian statehood. According to Artyom Shraibman, non-resident scholar at the Carnegie Endowment for International Peace, the ongoing deployment of the Russian military in Belarus is different in nature from that preceding Russia's invasion on February 24, which happened in conjunction with joint military exercises (Carnegieendowment.org, October 18). In particular, "those exercises, at least on paper, had their own deadline, which the parties thwarted, but they were finite by their very design. In contrast, today's deployment is motivated by heightened threats to the Union State."
While Shraibman believes these threats are fictional, he concedes that Lukashenka's reasoning regarding them is not that far off. That is because hundreds of Belarusian volunteers are fighting for Ukraine, while the Belarusian opposition in Lithuania and Poland is becoming militarized. In August 2022, Tikhanovskaya created her own cabinet in exile, appointing two former security officials, Alexander Azarov and Valery Sakhashchik, as ministers, who in turn declared they were preparing for forceful regime change in Minsk (see  EDM, August 17). Accordingly, they are establishing contacts with Belarusian volunteers in Ukraine and have launched combat training courses in various Eastern European cities with a noticeable Belarusian diaspora.
In any case, "the erosion of Belarusian sovereignty, which began in 2020 and accelerated sharply in 2022, is quite real. [Moreover,] the changing form and scope of the Russian military presence in Belarus is being normalized in the eyes of all Belarus's neighbors and is becoming a new constant of regional security. All parties, including Moscow and Kyiv, will compile their plans based on this reality, in which Lukashenka's autonomy is absent or reduced to control over his own troops, but not territory" (Carnegieendowment.org, October 18).
Meanwhile, the pro-regime political flank is consolidating, and some recognized poets author odes praising Lukashenka and his successful efforts, thus far, to preserve calm in Belarus (Facebook.com/Avrutin, October 21). In parallel, draconian prison sentences continue to be announced, this time reaching up to 25 years behind bars (Svaboda, October 17).
Combined, such occurrences apparently stand behind the opposition's new attempts at soul-searching. As Astapenia acknowledges, "I do not imply that the questions I posed amount to a plan of our victory. Rather, they are about potentially enhancing our chances of using a window of opportunity, should it again present itself" (Ideasbank, October 20). This is a modest conclusion that undergirds a sober-minded assessment of the current situation in Belarus.