South Korea Grounds Its Position in the Central and East European Defense Market (Part One)
Publication: Eurasia Daily Monitor Volume: 20 Issue: 10
By: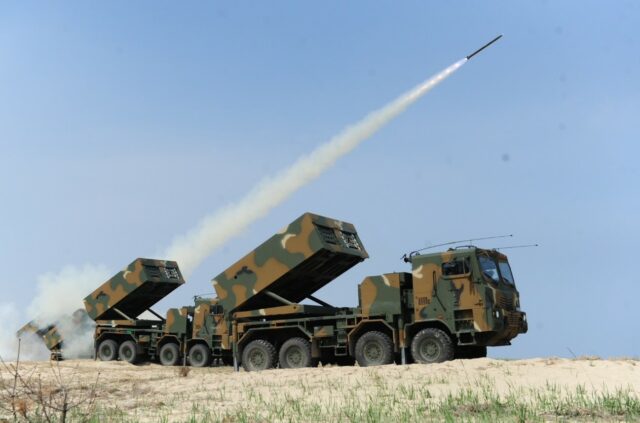 Russia's large-scale war against Ukraine has become a game-changer for the architecture of international security—and not only from a regional perspective. Most recently, it provided a window of opportunity for South Korean security and energy companies to deepen engagement with the countries of Central and Eastern Europe (CEE).
Over the past few years, South Korea has witnessed rapid and spectacular growth in its arms exports. The country, which for 2017–2021 was the eighth-largest arms exporter accounting for 2.8 percent of the global share, increased the value of its exports by an enormous 177 percent as compared to 2012–2016 (Sipri.org, March 2022). What is more, as reported by the Korea Eximbank, this trend continued throughout 2022 and will most likely increase moving forward (Nikkei Asia, September 29, 2022). Yet still, for that period, only one-fourth of South Korea's arms exports reached Europe, with the United Kingdom alone accounting for more than half of those imports (Armstrade.sipri.org, accessed January 15). This, however, may very well change as the war in Ukraine has pushed North Atlantic Treaty Organization (NATO) members to significantly and rapidly develop their military potential.
Already in June 2022, this shift began to materialize when Polish Defense Minister Mariusz Błaszczak signed agreements for the purchase of 1,000 K2 main battle tanks, 672 K9 self-propelled howitzers and 48 FA-50 light combat aircraft from South Korea. The total net value of the contracts signed by Korean companies Hyundai Rotem, Hanwha Defense and Korea Aerospace Industries amounts to $8.77 billion. This bilateral cooperation intensified even more in October 2022, when Poland decided to purchase 218 K239 Chunmoo rocket artillery systems with logistics packages and ammunition supply worth $3.55 billion. All four deals represent the largest arms contracts in the history of the Korean military industry (Polskieradio.pl, August 27, 2022).
The scale of arms purchases from South Korea is also unprecedented from the Polish perspective. Their implementation—combined with other deals from American and domestic contractors—would make Poland one of the largest non-nuclear military powers in Europe. And this is strategically critical given the ongoing Russian aggression against Ukraine and the necessity to deter Moscow on NATO's eastern flank. What is more, if Warsaw is to continue further arms deliveries to Kyiv, replacements for the donated armaments are essential. Unquestionably, Ukraine needs such assistance as it is unlikely that the war will end soon. And Poland should have the ability to sustain this aid as the Technical Modernization Plan announced in 2019 assumes that the Polish military plans to replace the vast number of post-Soviet armaments still in its arsenal, including T-72 tanks and their Polish-developed PT-91 tanks (Polska-zbrojna.pl, October 10, 2019). Around 300 of these tanks are left after Poland donated more than 200 to Ukraine. This shift is even more likely as it is counterproductive to keep four active types of tanks in the Polish arsenal. What could come next, in this context, is the replacement of the post-Soviet BMP-1 infantry fighting vehicle (IFV) with the Korean-manufactured AS-21 Redback. This IFV was already tested by the Polish Armed Forces in late 2022 (Pap.pl, Nov 26, 2022).
In Poland, the South Korean offer was seen favorable for several reasons. To begin with, the Korean industry offers a rapid pace of manufacturing and deliveries. The first batch of 10 K2 tanks and 24 K9 self-propelled howitzers were already delivered to Poland in December 2022. Another "gap-filling" delivery of 180 K2 tanks will be deployed by 2025 and an additional 24 K9 howitzers by the end of 2023 (Dziennikzbrojny.pl, July 24, 2022). Warsaw expects the first 12 FA-50s to be delivered by mid-2023 (Yonhap News Agency, July 28, 2022).
In truth, the speed of delivery was one of the key arguments for the K239 Chunmoo deal as well. At first, Poland wanted to purchase 500 High Mobility Artillery Rocket Systems (HIMARS), but when it became obvious that such a giant supply would be impossible in such a tight timeframe, Warsaw decided to proceed with the deal for the Korean alternative. The first batch of Chunmoo systems is expected to reach Poland sometime in 2023. Furthermore, such large-scale contracts include beneficial offset agreements. Delivery for the rest of the tanks are planned to start in 2026 and will include modernized and partly "Polonized" equipment in its K2PL version. The K2PL will be largely manufactured in newly established industrial plants in Poland. This will trigger the transfer of know-how and technologies from South Korea, which would improve the production and service capacities of the technically backward and long-neglected heavy military industry in Poland (Defence24.pl, September 23; December 9, 2022). That, in turn, would create logistical facilities that are not only essential for maintenance but could also provide an opportunity to become South Korea's production hub for further arms deliveries to Europe, Africa and the Middle East.
A great example of this is Hanwha Defense's aims to combine its potential with the Polish Armaments Group (Polska Grupa Zbrojeniowa) in the production of the K9 howitzer. To this end, the new K9PL version will be produced in Poland starting in 2026. These two companies have already enjoyed some past cooperation, as Hanwha Defense has supplied the K9 Thunder chassis for the AHS Krab self-propelled howitzer designed in Poland. The Krab's generally successful production, however, cannot meet the urgent requirements of the Polish Armed Forces due to the Polish Armaments Group's low production capacity, which is only now being boosted. Nevertheless, the Polish Ministry of Defense continues to expand the purchase of home-grown howitzers (Defence24.pl, September 5, 2022). In this context, it is interesting that the K9 and Krab systems may be merged into one project, starting with development work in 2025–2026 (Dziennikzbrojny.pl, July 24, 2022).
Additionally, in striking these deals with Poland, South Korea had a "doctrinal" predominance that resulted from the Law and Justice–led government's decision to resign from any major military purchases with its European partners. This policy has been only recently reversed as Poland acquired two observation satellites and a receiving station from French Airbus (Notes From Poland, December 29, 2022). One should not exclude, however, that such a deal may have been a one-off.
A few factors undergird such reasoning. Poland's policy of not buying Western European weapons was politically motivated and most likely resulted from Warsaw's distrust of some Western European states, including France. This distrust was caused by Western Europe's decades-long ambiguous policy toward Russia, which has only started to dissipate following Russia's re-invasion of Ukraine. Furthermore, given the Polish policy of putting all its eggs in the American basket, South Korea is a political beneficiary of its close ties with the United States.
Finally, these arms purchases were in fact a "package deal." On October 31, 2022, the Polish Energy Group (Polska Grupa Energetyczna) signed a deal on developing a nuclear plant with South Korean state-owned Korea Hydro & Nuclear Power (KHNP). What is more, KHNP vice director added that the offer included additional investments in the semiconductor, battery and hydrogen industries (Energetyka24.pl, July 22, 2022). Additionally, the Korean offer was much cheaper that its, for example, German equivalent (Nikkei Asia, September 9, 2022).
As Russia's war against Ukraine moves into a more protracted phase, the Korean-Polish deal represents only the tip of the iceberg for the overall impact South Korea's arms exports could have for defense and security in Central and Eastern Europe.