South Ossetian Separatist Leader Becomes Envoy of 'Russkiy Mir' in the Balkans and Ukraine
Publication: Eurasia Daily Monitor Volume: 15 Issue: 9
By: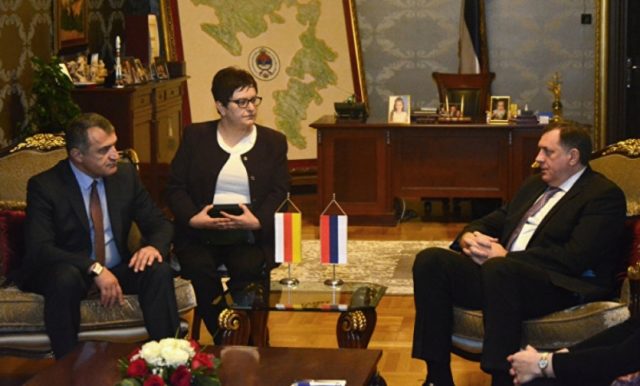 On January 9, the so-called "president" of the Russian-backed "South Ossetian republic" ("Tskhinvali region"), Anatoly Bibilov, undertook a three-day visit to Republika Srpska, a constituent entity of Bosnia-Herzegovina. There, he held a meeting with Republika Srpska President Milorad Dodik and took part in the disputed Day of the Republic celebrations in the administrative capital of Banja Luka (YouTube, January 9).
While speaking with Bibilov, the Bosnian Serb leader Dodik said he believed South Ossetia had a "completely sovereign right to decide on their destiny" and that it was "entirely legitimate" for his administration to cooperate with "South Ossetia"—a breakaway region of Georgia occupied by the Russian army since the August 2008 Five Day War. Bibilov, in turn, drew parallels between Republika Srpska and South Ossetia, calling the two entities "twins" and adding that they shared a similar relationship with their common "strategic partner—the Russian Federation" (Civil Georgia, January 10).
During the visit, Republika Srpska Minister for Economic Relations and Regional Cooperation Zlatan Klokic signed a memorandum of cooperation with Tskhinvali's "foreign minister," Dmitry Medoev (Civil Georgia, January 10).
Foreign Minister of Bosnia-Herzegovina Igor Crnadak confirmed that Georgia sent a diplomatic note of protest to Sarajevo over Bibilov's trip and added that he hopes no lasting harm would come to their bilateral relations. "This visit has damaged the international position of Republika Srpska and has devalued its importance and international status," Crnadak stated (Civil Georgia, January 12). But Anatoly Bibilov answered on the same day that he was visiting "Republika Srpska, not Bosnia and Herzegovina" (Civil Georgia, January 10).
Prior to his trip to Bosnia, the South Ossetian leader traveled to Belgrade and Novi Sad, in Serbia, where he met with Serbian Crown Prince Alexander Carageorgievich. During their conversation, Carageorgievich noted "the importance of communication between people close to the spirit, faith and culture of the peoples of Serbia and Ossetia," as well as "Russia's positive role in maintaining stability in many countries of the world" (Ekho Kavkaza, January 12).
The former rector of the Georgian diplomatic academy, Iosif Tsincadze, told the author that the trip of the so-called "president of South Ossetia" to the Balkans was the separatist leader's first official visit to any European country. "There is not the slightest doubt that Bibilov received a visa at the Serbian Embassy in Moscow, and his 'visit' was completely arranged by Russian diplomacy, including all his meetings in Belgrade and Republika Srpska," Tsincadze suggested (Author's interview, January 13).
Before journeying to the Balkans, Bibilov flew to the Russia-backed "Donetsk People's Republic," in eastern Ukraine. There, he visited the frontline in the Donetsk airport area and gifted military uniforms to local militants fighting against the Ukrainian army. Tskhinvali's separatist leader also met with Ossetian combatants fighting in Ukrainian Donbas. He publicly likened the separatist regions of Georgia and Ukraine: "The events in South Ossetia, the events in Abkhazia, [and] the events here today in the People's Republic of Donetsk and the People's Republic of Luhansk are tied together in a single chain that cannot be torn," Bibilov underscored (Ekho Kavkaza, January 8).
Georgian experts believe that the South Ossetian "president's" foreign trip to Ukraine and the Balkans this month is part of Moscow's strategy to legitimize the region's Russian-backed separatist entities as well as validate the Kremlin's aggressive policy toward neighboring states. "Moscow is trying to position itself as a defender of national minorities living in Georgia and Ukraine," political scientist Petre Mamradze said in an interview with the author (Author's interview, January 13).
Former Georgian foreign minister Irakli Menagarishvili described a second, though no less important, goal of Moscow in sending Bibilov on his European tour. He recalled that Georgia and Serbia enjoy normalized relations. Moreover, unlike most countries in the West, Georgia never recognized the independence of Kosovo. "Russians are very concerned that Serbia is trying to move closer to the European Union despite all the disagreements over the status of Kosovo. [In response,] Moscow is trying to drag Serbia into its project of the so-called "Russian World" ["Russkiy Mir"] or to turn Belgrade into a "Trojan horse" of the "Russian world" in the European Community. This explains Bibilov's provocative visit to Belgrade and then to Republika Srpska. But such attempts by the Kremlin will be completely inconclusive, Menagarishvili asserted (Author's interview, January 13).
The former Georgian official is confident that Moscow will continue to "promote" the "Russian World" project until it is finally convinced that attempts to split the European community are absolutely futile and that Serbia cannot be induced to play the role of a "Kremlin agent" in Europe. According to Menagarishvili, "It is especially comical to see the leader of the Ossetian separatists in the role of the messenger and envoy of the 'Russkiy Mir.' " He concluded, "Serbs have already made a pragmatic choice in favor of the European Union" (Author's interview, January 13).
Meanwhile, Tbilisi University professor Ghia Nodia believes that Anatoly Bibilov's trip will not have any impact on the European policy of "non-recognition" of Abkhazia and South Ossetia. "If the separatist leader met in Belgrade with actual Serbian officials, this would have caused anxiety in Tbilisi; but the [Serbian] crown prince is not a government official," Nodia told the author. As for the president of Republika Srpska, although he leads a legitimate federal entity that is part of Bosnia, all the same Dodik is "only a provincial politician," Nodia argued (Author's interview, January 13).
Despite all of Moscow's efforts to invest in "soft power," including pro-Russian propaganda, in neighboring countries, the concept of the "Russian World" has yet to bear any real diplomatic fruit for Russia. Over the past decade, temporary "successes" across Eurasia came about only as a result of direct military support for aggressive separatism in Georgia and Ukraine. Anatoly Bibilov's foreign trip thus demonstrated that the Kremlin has run out of "attractive" figures or ideas to promote its influence in Europe and its close neighborhood.