Strained Thaw Between Tashkent and Ankara
Publication: Eurasia Daily Monitor Volume: 11 Issue: 144
By: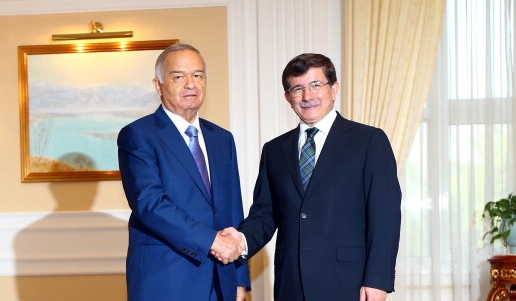 On July 10–12, Turkish Foreign Minister Ahmet Davutoglu paid an official visit to Uzbekistan—the first one by a Turkish foreign minister in 13 years—in the hopes of bringing about a détente to the two countries' frozen relations (Daily Sabah, July 10). Turkey was among the first countries to recognize Uzbekistan's independence; and diplomatic relations between them were established on March 4, 1992. However, over the years, bilateral and multilateral relations deteriorated to the point of "strategic failure" (mfa.gov.tr, accessed August 6; Hurriyet Daily News, July 10).
While meeting with Turkish businessmen residing in Uzbekistan, Davutoglu—who was incidentally born in a Turkish city also named "Tashkent" (Konya province)—announced that the "stagnant period [in bilateral relations] is over, and a new era is beginning" (tashkent.emb.mfa.gov.tr, accessed August 6). Nevertheless, outstanding issues in their relationship—spanning such sensitive areas as politics, religion, culture, trade and economy— persist, which may stand in the way of rapidly warming Turkish-Uzbekistani ties.
Foremost, Tashkent's years of resentment toward Ankara has been political. For example, in 1993, Uzbekistan had blamed a serious bombing in its capital on Muhammad Salih, who was then living in exile in Turkey. But while trying to fulfill its commitment to human rights as part of its effort to join the European Union, Ankara refused to extradite him. Salih was a candidate in Uzbekistan's first presidential elections in December 1991, and officially won 12.5 percent of the votes (muhammadsalih.com, July 19, 2010). In addition, in 2005, Turkey backed a United Nations resolution condemning the Uzbekistani government's actions in cracking down on protests in Andijan (Hurriyet Daily News, July 10).
The intersection of religion and education has been another point of contention. As of 1999, Tashkent began closing Turkish schools supported by the Nurcu Movmement, and called back its citizens studying in Turkey (state.gov, September 13, 2011; GMF, January 5, 2012). There were 22 Turkish-Uzbek lyceums throughout Uzbekistan in 2000, with an enrolment of 4,800 students (unesco.org, August 2000). The Nurcu Movement, also called the Hizmet Movement, is led by Fetulla Gulen, who currently lives in exile in the United States. Gulen's organization has been outlawed or scrutinized not only in his native Turkey, but in Azerbaijan, Germany, Russia and in other countries.
Additional antipathy followed Ankara's efforts to politicize the meetings of the Turkish-centered Cooperation Council of Turkic Speaking States (CCTS—commonly known as the Turkic Council), which occasionally put Turkey's cause of Northern Cyprus on the agenda. Wary of growing pan-Turkic nationalism and a perceived imposition of a supra-national body on its state sovereignty, Uzbekistan was reluctant to attend either CCTS summits or its Parliamentary Assembly meetings (see EDM, July 9). The broadcasting of popular Turkish television sitcoms dubbed into Uzbek was also abruptly ceased in early 2011, without prior notice.
Such resentments also left a mark on bilateral trade and economic relations. In early March 2011, Uzbekistani authorities wearing balaclava masks raided a network of Turkuaz hypermarkets in Tashkent on charges of tax evasion and distribution of banned Nurcu literature. They confiscated hundreds of thousands of dollars' worth of property as well as jailed and deported dozens of Turkish businessmen. One of the amnestied Turkish entrepreneurs filed a complaint regarding his treatment to the UN Committee against Torture (ohchr.org, December 10, 2013). Turkuaz buildings remain dysfunctional and almost empty to this day. Nevertheless, Turkey remains among the top five foreign trade partners of Uzbekistan. Trade turnover between the two countries reached $1.3 billion in 2013, growing by 10.5 percent since 2012. There are 485 enterprises with Turkish capital operating in Uzbekistan, including in the textile and pharmaceutical industries (uza.uz, July 10). And economic cooperation is set to grow even further when Turkey and Uzbekistan are joined by transportation corridors being constructed as part of China's $150 billion Silk Road Economic Belt strategy, designed to connect Xinjiang to Europe (https://news.xinhuanet.com/english/china/2013-10/25/c_132831175.htm).
Despite bitter experiences of the past, Davutoglu's ice-breaking visit to Uzbekistan was necessitated by a mutual desire to exchange opinions and mutual consultations on burning issues of regional and international importance. According to one Uzbek media outlet, the "foreign minister's visit was dictated not by a desire to develop bilateral relations at the political level, but more by the interests of NATO [the North Atlantic Treaty Organization], which charged the Turkish official to convey [this message] in a popular form" (uzmetronom.com, July 11). Hence, Tashkent and Ankara might exchange consultations on the security situation in Afghanistan, particularly in light of the Western military drawdown after 2014.
The Ukrainian issue might be another topic of joint interest. In particular, the situation of the Crimean Tartars—a nationality native to Ukraine's Crimean peninsula, which Russia annexed in March of this year—is important to both countries. Large communities of Crimean Tatars, who had been expelled en mass from Crimea in 1944 by Soviet authorizes, still reside in Uzbekistan and Turkey. Reports also periodically emerge about Central Asian nationals crossing through Turkey to fight in Syria against Bashar al-Assad's forces. And Tashkent may have requested Ankara's assistance in possible extraditions of its citizens, if there are any (journal-neo.org, June 22).
The Turkish foreign minister's July visit certainly came out of a desire in both countries to jointly tackle urgent issues related to their national interests, political-military affairs and, possibly, economic relations. But the two countries are not necessarily ready yet to resume strengthening their centuries-old ethno-linguistic, cultural and/or religious affinities. Arguably, the door separating the two has finally been unlocked, but it is not yet wide open.